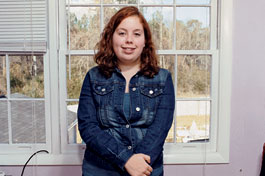 Fight disinformation:
Sign up
for the free
Mother Jones Daily
newsletter and follow the news that matters.
One crisp, sunny Saturday last fall, I found myself walking through the heart of downtown Montgomery, Alabama, heading toward the state Capitol. It was about a 10-minute walk, but I didn't encounter a single person. I could hear freight trains whizzing by the Alabama River, and did see evidence that a "You Know You're a Redneck When…" theme party was being planned for later that night. But without weekday office workers, there were no pedestrians and very little traffic of any kind. A technicolor replica of the 1950s gmc bus that Rosa Parks rode eerily circled the streets, which were otherwise as still as a diorama.
Gleaming white, neoclassical, its wrought-iron balconies giving it a touch of plantation style, the Capitol was built in 1850; 11 years later, Jefferson Davis was sworn in as president of the Confederacy on its steps. In 1955, Martin Luther King Jr. seized on Parks' refusal to sit at the back of a Montgomery bus as a way to bring attention to Jim Crow; a decade later the Capitol became the iconic destination of three marches from Selma that were key in ending it.
I was here for activism of a different age. I was going to attend a birthday party for Ava Lowery, a homeschooled teen activist who posts professional-quality antiwar video shorts on her website, peacetakescourage.com, from her bedroom in a small town about an hour's drive from Montgomery. Ava, whose videos have a worldwide following thanks to the blogosphere, had decided to throw her Sweet Sixteen party on the steps of the Capitol to protest the war in Iraq.
A decade earlier, a teenage girl out of the local political mainstream might have held her tongue until she could leave Alabama. But these days the Internet provides a means out—a community of like-minded people, albeit a virtual one. Ava's website averages 30,000 hits a day and is recommended by Michael Moore's. It remains to be seen, however, whether such virtual, viral efforts can serve as a replacement, or even a stimulus, for face-to-face networks such as church groups or labor unions. Ava's rally/birthday party was a small test of what Internet activism can look like on the ground. And it was a particularly ambitious test: scheduled to last six hours, and be executed on the same steps where Governor George Wallace had delivered his famous pro-segregation speech, a few blocks from the state Supreme Court building where Chief Justice Roy Moore erected his Ten Commandments monument, in a city that is home to an Air Force base, on a day when the streets were empty and there were, I had been repeatedly told in pained tones by Ava's supporters, two must-watch college football games—Auburn vs. Tulane and Alabama vs. Tennessee.
Is it possible to have a rally if no one sees it? And was I about to spend six hours at a birthday party—for a girl who, Internet superstar or not, was not quite 16, with dimples, pink rubber bands on her braces, and a galloping enthusiasm for chess tournaments—to which no one would show up? I have reported from prisons and war zones, but the prospect of witnessing that particular form of adolescent suffering felt unbearable.
Upon reaching the Capitol, my fears seemed realized, for things were off to a slow start. Ava and her mother, Tamara, had arrived to find that an unanticipated box-car race was taking place directly in front of the Capitol steps; their preparations would have to wait. Ava's grandâ€ather, a veteran who had been scheduled to address the rally, was sick. There were complications setting up the sound system. A half-hour after the start time, Ava's three little sisters—Gracie, Lana, and Livi (ages six, four, and four)—were racing up and down the steps bearing finger-painted signs that read "George Bush needs a time out" and "George Bush stinks." ("AH TRACED IT MAHSELF, MA'AM!" Lana announced gleefully.) Tamara, a youngish assistant district attorney who was wearing heels, Levi's, and a sassy blazer, was placing a tablecloth and a vase with pink flowers on a table bearing a pink Sweet Sixteen banner and three pink-frosted Sam's Club birthday cakes inscribed with "bring," "them," and "home" in black cursive icing. Three bands' worth of edgy musicians who'd driven in from the more cosmopolitan Birmingham to perform were grousing because the late start would mean they wouldn't get to be on the news. And the opening act, Rachel Furr, 16, was having a case of stage fright. A Montgomery high school student who was wearing a pink-striped baja hoodie and a peace sign painted on her cheek, Rachel had emailed Ava about the rally after her friend Morgan's mom saw it mentioned on the evening news. This would be Rachel's first public performance, outside of church choir and an impromptu rendition of Jewel's "Who Will Save Your Soul" she had delivered on a mission trip to New Orleans.
Aside from the musicians, their friends, the Montgomery media, a political singer from San Francisco whom Ava had paid (partly by soliciting donations on her site) to fly in, Ava's family, a few friends, and me, there were three additional attendees, who had heard about the rally from the evening news. Natalie Wright, a middle-aged black woman whose son had served in Iraq, was sitting awkwardly at the top of the Capitol steps with Don Nolte, a white lawyer and computer programmer at nearby Maxwell Air Force Base, and his wife, Ursula. No one seemed to know quite what to do.
About an hour late, Rachel took the stage. She climbed onto a stool and gave a wavery, though well-rehearsed, rendition of Phil Ochs' "There But for Fortune," followed by Pink's "Dear Mr. President." The local media moved in to get their final shots and quotes from Ava. Although she looked much younger than 16, with Frodo-blue eyes, camo capri pants, and laceless Converse, she addressed the camera with the studied seriousness of a college professor. Afterward, the media packed up and headed out. (Ava's stepdad, Jeremy, later told me they were hustling to finish by halftime of the Alabama game. He himself was checking the score on his cell phone.)
There were five more hours of the rally left.
This was the third trip to Montgomery Ava had made that week. She lives a little over an hour away in a town called Alexander City, best known as the soon-to-be ex-home of the Russell textile corporation, whose jobs have mostly gone overseas. Other than the factory, the closest major landmark is a man-made lake 20 minutes away with a statue of Kowaliga, "the wooden Indian" that Hank Williams wrote a song about.
The morning after the rally, Ava flexed her newly acquired learner's permit and gave me a tour of her town. She showed me Central Alabama Community College, where she takes karate—"All the homeschooled kids take karate, but it's just a coincidence"—and the bowling alley, which has broken bumper cars parked in front of it and where she and her friend Katherine go at least once a week. Other attractions included the movie theater—Katherine's retired missionary parents won't let her go there (or wear nail polish)—and the parking lot of Fred's 99 Cent store, where kids hang out after movies. Ava drove by Jim Bob's Chicken Fingers—"People eat there because they know he is a good Christian"—and then we took a quick detour past the soda fountain at Carlisle Drugs, before concluding the tour in the parking lot outside of Hardee's.
Ava has to drive 45 minutes to see an independent movie or go shopping, and the rally had made this week especially busy. What with securing permits for electrical outlets, going to Kinko's, and distributing 1,000 flyers in Auburn, "I haven't hardly had time to do any schoolwork," Ava told me in her room, where paperback copies of A Tale of Two Cities, The Art of War, and various Faulkner tomes sat atop autographed books and name tags from recent ventures to Crawford, Texas (to meet Cindy Sheehan), and Washington, D.C. (for a Mother's Day vigil against the war).
Ava's mother and stepfather are both lawyers who grew up in the fundamentalist Pentecostal tradition but who've gradually moved toward a more moderate outlook. Of course, they are not, Jeremy emphasized, "super liberal," adding, "We don't, you know, grow marijuana in the back yard, and we believe in law and order and everything."
At an early age, Ava revealed herself to be more zealously political than her parents, and more left-leaning. By the seventh grade, she had persuaded her mom to let her be homeschooled. Ava didn't fit in at regular school, being more interested in the Electoral College than the latest gossip. She told me her teachers teased her for wearing a Gore-Lieberman T-shirt or reading Dude, Where's My Country? in homeroom. "There was a reading initiative in Alabama where you can read anything—a magazine, Baby-sitter's Club, whatever—as long as you just read for a half-hour. But the homeroom teacher said I couldn't read Michael Moore," she complained. The final straw was when her enrichment program, which allowed accelerated kids to take extra classes in German culture and mythology during club time, got cut back from once a week to once a semester.
Tamara, herself homeschooled (though for religious reasons), wanted Ava to experience regular school. But eventually she realized her daughter was just miserable and bored. Soon after, Ava's older brother, Gordon, a shy, shaggy-haired kid who has taught himself web design, followed his sister back home. The two rise at 7:30 a.m. and work in their adjoining rooms:ordon with the shades drawn, a black light casting a bluish glow on a teenage-boy cocoon of dirty laundry and Vans sneakers, and Ava next door, perched on a stool by her meticulously made, shimmery periwinkle bed, her fuchsia flip-flops lined up by its side.
Ava starts the day checking the headlines for blog fodder and searching for images and footage to incorporate into her videos. The rest of the day she spends graphing trigonometric functions and studying online Western-civilization tutorials. Around 3 p.m. she returns to the work of her website, peacetakescourage.com. The content is ever changing, but the site's mostly filled with homemade videos that are hard to categorize. Ava crafts short films with emotional soundtracks against the war or George W. Bush. They are melodramatic, hard to stop watching, and extremely effective propaganda. One of her most commented-upon videos, WWJD?, was a series of gruesome shots of wounded and terrified Iraqi children. Layered under the first half of the film are children singing, "Jesus loves me, this I know," then the singing gives way to an air-raid siren. The film crescendos to slides listing the Sermon on the Mount's eight beatitudes—ending with "Blessed are the peacemakers, for they shall be called the sons of God. Blessed are those who suffer persecution for justice's sake, for theirs is the kingdom of heaven"— before asking, "What Would Jesus Do?" More recently Ava layered cnn footage of Bush and close-up shots of grieving Iraqis and underscored it with a solemn "Ave Maria."
If the innovation of cable news shaped the representation of the first Gulf War, then this war is partly being defined by another new form of media, one practiced by amateur diarists and commentators. Soldiers blog and upload their footage to Google Video or YouTube more quickly than the government can pull it down. The website of the Iraq and Afghanistan Veterans of America, iava.org, regularly posts videos of attacks shot from the perspective of an Abrams tank gunner or of soldiers misfiring their weapons. In 2005, the Pentagon declared that soldiers must register their blogs with the military—which has a special unit to monitor them—and ordered commandinelficers to take responsibility for what their subordinates post.
Ava initially got the idea for her site in 2004 from bushflash.com, one of the first websites doing video agitprop against the president. Those videos, produced by graphic designer Eric Blumrich in his spare time, are often gruesome, showing corpses and mutilated children. Ava, though, says she tries to use "emotion" more than shock, because she thinks a viewer is more likely to follow the video to the end if it's not disgusting.
As Ava's website was linked to by high-profile sites such as CrooksandLiars and Daily Kos, its viewership grew. After Yearly Kos kicked off its 2006 convention in Las Vegas with one of Ava's videos as a rallying cry, a New York Times editorial asked: "Could a 15-Year-Old With a Laptop Be the New Campaign Media Guru?" More recently, United for Peace and Justice solicited her to produce a video promoting its January 2007 march on Washington.
Ava spends a big part of her day responding to emails from all over the world, some from active-duty soldiers. Many letters politely disagree with her or egg her on; others express doubt that a young girl could be behind the videos and speculate that they are the work of a 50-year-old man trying to get attention. Some of the mail gets nasty. There are references to Ava's mother sticking her "hand up your ass, you sad meat puppet." One viewer wished she would "get raped." Conservativeunderground.com displays a special fixation on Ava, pasting a Hitler mustache on a picture of her face, calling her an "attention whore," "a pig with lipstick," or an "ugly little bitch." It also posted Ava's parents' political contributions and Jeremy's work address. After Ava posted WWJD? on her site, a woman from Atlanta repeatedly sent her emails that said, "Call me as soon as possible about a possible threat to your life." When Ava and her parents called the number from an untraceable phone, the woman asked Ava whom she was working for. That prompted Tamara to contact the fbi and order Ava to shut down her website, although she knew Ava would be "devastated." Jeremy intervened and said Ava shouldn't back down, although privately he told me he'd talked to security companies about how to protect the family.
And until recently he and Tamara did their best to conceal Ava's hometown, refusing to allow the local Alexander City newspaper to interview her, for example. Sitting by the family's backyard pool in sneakers, jeans, and a fleece pullover, Jeremy acknowledged Ava's unusual position: "People halfway around the country are inspired by what she does, but people next door have no idea."
By hour three of Ava's birthday rally, the 20 to 30 people scattered across the steps of the Capitol were still going strong. A van with a cannabis leaf and the word "imagine" painted in red, yellow, and green letters was parked in front. Friends of the bands from Birmingham had shown up. Amanda Braddock, 28, wearing red pointy shoes, a preppy yellow sweater, and huge round hipster sunglasses, had driven in after her classes at the University of Montevallo, 1 1/2 hours north of Montgomery. She propped her glasses on top of her head, surveyed the scene, and said to no one in particular, "I always thought a peace protest would be bigger." When pressed, she said that the only other protest she had ever seen in Alabama was "five people—I think they are Quakers, maybe—and they just stand at this traffic circle quietly, and people shout at them. So I guess this is bigger."
A little later, Ava's friend from her homeschool group, Katherine, arrived with her parents, Bob and Shirley Jones, the retired missionaries. All three are Republicans. Katherine was wearing a shirt with a picture of a horse and a quote from the Book of Job about thundering hooves. She explained that her family didn't come for the "politics" of the rally, but because "we have a lot of respect for Ava."
The sky darkened and the Capitol glowed in the pinkish dusk; Ava's mom lit an island of candles on the steps for the troops who had been killed, and everyone held hands in a silent circle around it for 15 minutes. Then Stanley Adkins, the owner of the cannabis leaf van, who had driven up from Louisiana's Gulf Coast, played beautiful bluegrass tunes that echoed against the Lurleen B. Wallace (George's wife, whom he installed as governor after term limits ended his reign) office building across the street. Maggie Louie, a musician, arrived from a gig in Memphis in the middle of Adkins' set. She took the stage, belted out a few songs, Janis Joplin style, before telling the crowd, "In spite of the lack of attendance, all you here muscled it out for five hours. It's awesome! This is one of the few rallies I actually heard of!"
Ian Rhett, the San Francisco songwriter who had also performed at Kerry campaign events, told me, perhaps a bit apologetically, "You see these steps and you think of them being filled with 25,000 people marching in from Selma, all the way down the block. But we live in a different time. The nature of our lives is so mediated."
But most people at the rally—who weren't comparing it to San Francisco or the 1960s—saw it differently. One of Ava's online friends, Bronwyn Scott-McCharen, had driven with her mom five hours from Jackson, Mississippi. She attends what she said is the most liberal school in her region, but still, "There is only one other girl who is real liberal. She's from New Jersey." Bronwyn had worried on the ride over about whether the rally would be "adequate." "I just didn't want us to look stupid," she said. "And considering we are in Alabama I thought we'd be outnumbered by counterprotesters or way too small. But this was a good amount."
Ava later told me that the only otheeltiwar event she had attended in-state was a vigil organized by MoveOn at Auburn University to commemorate the death of the 2,000th soldier killed in Iraq—a vigil attended solely by Ava and her mother. "Ava's small now, but she was a lot smaller then," Tamara added somberly, "because it was over a year ago. She wanted to go so much, but we were just standing there and people were cussing at us—it was pretty awful."
At 11 p.m. everyone helped pack up the leftover pizzas and pick up stray water bottles. Jeremy took Ava's little sisters home in the minivan; Gordon drove the family car back with the tables and equipment; and Ava rode home, mostly asleep, in the used cop car that her mom drives for work, a 1994 Crown Vic with a spotlight still mounted on the side that smells of Virginia Slims.
A Is for Agitprop…
"The first thing I do when starting on a new video is select the music. I think the music is the most important part of a video because it sets the mood. I have always tried to use music that isn't commonly used so that the video is more original and the viewer doesn't have any preconceived notions about the song. Some I get from my stepdad's CD collection; 'Jesus Loves Me' is a song I always sung in church when I was younger and my little sisters sing now, and it fit perfectly with what I wanted to make. I find photos from different news sites that may be featuring an article about the Iraq War. If I see a photo that I think could be used in a video I'll save it. I also Google for images and find many that way. Most of the images aren't really in very high definition (they aren't usually any wider than 500 pixels). I use what I can find and do my best with Photoshop and the video editing program to make sure that the images are as high-def as I can get them. Once I have the music, images, and a general idea of what the video should turn out like I begin working with an editing program, PowerDirector. I choose which images to use and when to use them in the video. I'll add text to help the viewer understand the video and my beliefs about the war, but for the most part I let the photos and music tell the story. My brother, Gordon, helps me with some of the technical aspects of running the website and maintaining the domain name."
-Ava Lowery