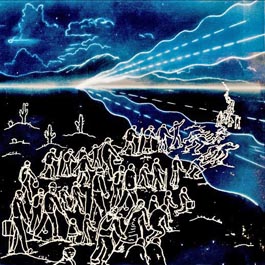 Fight disinformation:
Sign up
for the free
Mother Jones Daily
newsletter and follow the news that matters.
Eager to score political points prior to the November election, congressional Republicans pushed through a bill calling for 700 miles of fencing to be built along the border with Mexico. That's on top of a multibillion-dollar Bush administration program to help seal the frontier with high technology. Sounds pretty impressive. Except that the fence might not get built and the technology probably won't work.
Local governments and property owners, along whose land much of the border runs, immediately kicked up a fuss over the proposed fence—and gop leaders promised them a say in its placement. Meanwhile, the bill doesn't specifically allocate funds to pay for the barricade, which is expected to cost at least $2.1 billion. And Democrats have promised to use their control of Congress to revisit, and perhaps even scrap, the whole plan. All of which means that if any fence does ultimately materialize, it is likely to end up considerably short of 700 miles.
The Department of Homeland Security will also have input into where any fence—currently planned as five sections in California, Arizona, New Mexico, and Texas—is built. But DHS prefers its own Secure Border Initiative (sbi), a multiyear plan that includes building a technology-based "virtual fence"—an estimated $2 billion project recently awarded to Boeing. It will include batteries of motion and heat detectors, cameras linked to monitors in field agents' vehicles, ground radar, and aerial drones. That gear will augment an already substantial array of sophisticated gadgetry deployed in recent years, including infrared cameras and underground sensors that can detect motion, metal, and vibrations from people walking by.
Trouble is, this equipment has failed to perform as advertised. In December 2005, DHS's inspector general reported that nearly half of the remote surveillance technology in a $429 million, late-1990s project did not work or was never installed, and that in 90 percent of cases, ground sensors were triggered by animals, traffic, or trains rather than by immigrants. Moreover, when triggered, the sensors alert a Border Patrol monitoring station but don't automatically signal a camera to take a look.
The cameras are often knocked out by power outages, bad weather, or rock-throwing immigrants, and the sensors can be damaged by moisture, bugs, and curious animals. The first drone, or unmanned aerial vehicle, the Border Patrol put in the air—a $14 million bit of tackle—crashed last spring, and faa concerns about their safety will restrict their use for a decade. All in all, the DHS report concludes, the whole system of remote surveillance "yielded few apprehensions…resulted in needless investigations of legitimate activity, and consumed valuable staff time to perform video analysis or investigate sensor alerts." In November, the dhs inspector general added that the department wasn't ready for the vast management challenge of the sbi, and that its cost could balloon to $30 billion.
And then there's the human factor. "Once we do something, the other side figures out a way around it," says Border Patrol spokesman Sean King. Smugglers have got "guys with metal detectors looking for sensors. They use night-vision goggles. They can see which way our cameras are pointing and go around them." Plenty of people are clearly finding their way past the technological sentries. By dhs's own estimates, the number of illegal aliens in the United States has climbed from 8.5 million to more than 11 million since 2000.
All of which has even some Republicans in Congress skeptical of the new plan. "We have been presented with expensive proposals for elaborate border technology that have eventually proven to be ineffective and wasteful," thundered Rep. Harold Rogers (R-Ky.), chairman of the Homeland Security Appropriations Committee. "How is the sbi not just another three-letter acronym for failure?"
Homeland Security Secretary Michael Chertoff stresses that the Boeing contract will be doled out incrementally, starting with a pilot program, so that the system can be monitored and adapted before it is expanded. And a Boeing spokeswoman adds that today's technology is superior to that used in the past. But T.J. Bonner, head of the union that represents most Border Patrol agents, is unimpressed. "At this point, sbi is a colossal waste of money," he says. "It's based on a false premise, which is that people in desperate economic straits will stay home because they see more law enforcement at the border. As long as they can find work here, they'll keep coming."