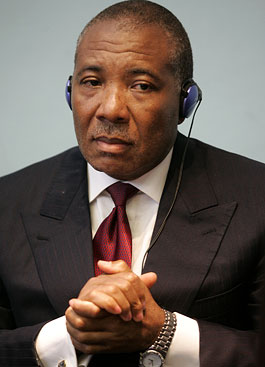 A few weeks before the escape, recapture, and extradition of Charles Taylor, the murderous former leader of Liberia, I'm in the bullet-pocked legislature on Monrovia's Capitol Hill, meeting with his ex-wife, Jewel Howard-Taylor. The destitute capital is ecstatic over the recent election of President Ellen Johnson Sirleaf, its citizens engaged in a mass public exorcism, celebrating their release from the demons of the recent past. But Howard-Taylor, who has just been sworn in as a senator from Bong County, the former base of Taylor's forces, is still hoping that her ex-husband, who's spent the last three years in exile in Calabar, Nigeria, will resurrect himself. "Go to Calabar," she urges me, as her senatorial aides busily decorate her new office with a bright orange carpet, a framed portrait of Jesus, and gold and turquoise wing chairs. "He wants to talk to the press. There are all these allegations against him, and he can't even say, 'I didn't do that.' He's very frustrated."
Howard-Taylor is an energetic woman who set up charities and women's organizations in Monrovia while her then-husband was plundering the country, and who has been building a life apart from Taylor since separating from him two years ago. (The cause of the rift may have been Taylor's insistence on having other wives.) But Howard-Taylor remains one of her ex-husband's most loyal defenders, and has suffered the consequences: In 2004, the United Nations froze her assets abroad and banned her from traveling outside of Liberia. "I didn't buy arms, I'm not an ex-combatant. It's illegal what they're doing," she says. "We have an eight-year-old daughter, and I can't go with her when she visits her father in Calabar. This is nothing but a political gimmick."
Howard-Taylor insists her ex-husband is the victim of powerful international players, including the Bush administration, which was pressuring President Johnson Sirleaf and Nigerian leader Olusegun Obasanjo to work together to hand over Taylor to a U.N. war crimes tribunal, the Special Court for Sierra Leone. She glosses over the sordid facts of Taylor's résumé. How, as Liberia's most powerful warlord in the early and mid-1990s, he commanded an army of drug-addled child soldiers, the Small Boys Units, who engaged in a savage campaign of rape, looting, and killing. How, during his 1997 presidential campaign, terrified Liberians took to the streets chanting, "He killed my ma, he killed my pa. I'll vote for him!" How, before fleeing into exile in Calabar in August 2003, Taylor provided weapons to Sierra Leone's Revolutionary United Front (RUF), limb-chopping teenage rebels who maimed and murdered tens of thousands during Sierra Leone's brutal civil war. "We did the best we could have done under very difficult circumstances," Howard-Taylor tells me. "Of course there were shortcomings in Taylor's government. I'm hoping he'll be given a chance to explain his story."
A FEW DAYS LATER, I'm sitting in the back of a taxi on a hilltop overlooking the Calabar River, six miles north of the Gulf of Guinea. Far below I can see a picturesque cluster of rusty-roofed houses, some of which date to the 16th century, when the port was the center of West Africa's slave trade. Just up the road is the Cross River State governor's residence, where Taylor has been playing tennis with a Nigerian trainer two afternoons a week. And 200 yards away, the tile roof of Taylor's villa peeks out from behind a cement-block wall. The compound has a garden with mango and date palm trees and a parking lot filled with sport utility vehicles, a Mercedes, and a black Jaguar with tinted windows. One building houses one of Taylor's wives, another is home to two dozen teenage girls, supposedly the orphaned daughters of Taylor's comrades killed during Liberia's civil war. "He showed up with 27 of them when he arrived three years ago," says Anietie Ben-Akpan, a local Nigerian journalist, as we draw closer to the residence. "When they arrived, we were shocked to see all of them. What he does with them nobody knows."
Ben-Akpan gets out of the car, walks toward a Nigerian naval compound across from Taylor's house, and confers with a guard at the gate. Moments later he returns. "Taylor is at home now, and so are Taylor's girls," he says. Then two uniformed Nigerian policemen appear. "You there!" one shouts. "What do you want here?"
"Let's go!" Ben-Akpan shouts to our panic-stricken driver, who takes off with a screech of his bald tires. Ben-Akpan, it turns out, was arrested at this spot three months earlier, interrogated for half an hour, and let go with the warning: "Don't try it again."
CHARLES GHANKAY TAYLOR, now 58, was an accused embezzler facing extradition to his native Liberia when he and four other prisoners escaped from a Massachusetts prison in 1985. The other prisoners were quickly recaptured, but Taylor made his way to Libya, where he began organizing a rebel force to overthrow Liberian president Samuel Doe, his former mentor. One of Taylor's backers in those days, ironically, was Ellen Johnson Sirleaf, a former finance minister who'd fled Liberia after narrowly avoiding execution by Doe. "We believed that Taylor offered hope because of what he said about ending tyranny, ending bloodshed," she told me. "But he betrayed everybody." In 1989 Taylor and a hundred ragtag rebels, the National Patriotic Front, entered Liberia from Ivory Coast and fought their way to Monrovia. Doe was tor­tured to death the next year by a breakaway rebel faction; Liberia fell into civil war and carnage largely perpetrated by forces loyal to Taylor, a born-again Baptist who, when asked about the killings committed by his men, told a BBC reporter that "Jesus Christ was accused of being a murderer in his time."
A 1996 peace agreement between Liberia's factions ended the conflict; a presidential election was held the following year. Taylor, who hinted he'd resume the war if he lost, swept to victory with 75 percent of the vote; Johnson Sirleaf, who'd returned from exile to challenge him, came in a distant second. Once in power, Taylor looted Liberia's timber, rubber, and mining industries; set up death squads that picked off political opponents; and allied himself with Foday Sankoh, a former army corporal and wedding photographer whom Taylor met in Libya and who went on to found the RUF. In a deal to seize control of Sierra Leone's diamond mines, the U.N. Special Court's indictment charges, Taylor provided the RUF with "financial support, military training, personnel, arms [and] ammunition." RUF rebels hacked off the arms, legs, and noses of suspected government supporters, including women and children; during three weeks in January 1999 alone, 8,000 civilians in Freetown were butchered and 30,000 were raped. The indictment accuses Taylor and the RUF of forming a "joint criminal enterprise" that engaged in "unlawful killings, abductions, forced labour, physical and sexual violence, use of child soldiers, looting and burning of civilian structures." Not long after the indictment was handed down, in August 2003, Taylor fled to Nigeria, and President Obasanjo refused to hand him over unless asked to do so by a duly elected head of Liberia.
A MONTH AFTER I leave Calabar, President Johnson Sirleaf formally requests Taylor's extradition to the Special Court. "The man is very worried, but he's calm, and there's no sign of packing yet," Ben-Akpan tells me when I call him in Calabar. "He seems to know that he's going to leave. He's been on the cell phone around the clock. And he has repaired all his cars that were broken down—eight or nine of them—probably to sell them before he goes."
A few days later, as Taylor supporters in Monrovia threaten "bloodshed and chaos" if he's arrested, Nigeria announces that Liberia is free to take custody of Taylor—a ploy that effectively buys him time to escape. On March 27, Taylor and a small number of aides slip away under cover of darkness and drive more than 1,000 kilometers to a remote border crossing with Cameroon. Though reminiscent of Taylor's 1985 escape, this time his period of liberty doesn't last long. Nigerian border guards arrest Taylor, who was traveling in a Range Rover with diplomatic license plates and two sacks full of U.S. dollars. He is handcuffed, taken to a military barracks, flown by presidential jet to Monrovia with a contingent of troops, then transported by U.N. helicopter to the Special Court in Freetown, Sierra Leone. On April 3, three years after his indictment, a subdued Taylor pleads not guilty to 11 counts of war crimes and crimes against humanity. David Crane, the former chief prosecutor for the Special Court, tells me that Taylor's capture represents "a great victory for international justice."
Yet immediately there are indications that Taylor's prosecution may prove to be as protracted and problematic as his extradition. Days before Taylor's escape, Desmond de Silva, then the tribunal's chief prosecutor, assured me that, once in Freetown, Taylor would be well guarded, citing "a company of Mongolian troops who came in from Baghdad" and "a quick reaction force of Irish and Swedish troops who are in Liberia at the moment." He added, "One way or another, there will be a sufficient military presence here to ward off any immediate threat to the court, either by his presence or an assault made by his assistants against us."
But within a day of Taylor's capture, the U.S. State Department calls for moving Taylor's trial to The Hague, and that same day, the president of the Special Court sends a request to this effect to the Dutch government, saying that "stability in the region" would be threatened if the trial were held in Freetown. Many judicial experts and regional experts concur, citing the continued combustibility of Sierra Leone and Liberia. The Dutch agree, so long as the United Nations furnishes a Security Council resolution authorizing the transfer and a holding cell and courtroom at either the International Criminal Court or the Tribunal for the Former Yugoslavia, and so long as another nation commits to imprison Taylor if he's found guilty. But likely contenders Austria and Sweden have already refused to do so, throwing the move in doubt.
Meanwhile, the battle over Taylor's future quickly escalates into a clash over Africa's capacity to judge its own. Critics accuse the African Union of being all too willing to strip the Special Court of its mandate just as it is preparing for the biggest challenge of its existence. A senior official with the U.N. tribunal for Sierra Leone told the International Justice Tribune that "an African head of state being tried in Europe is highly offensive on a symbolic level." Taylor chimes in, claiming that his transfer to The Hague would derail his chances of a fair hearing. And thus far, no move has been made to hold Taylor accountable for any crimes committed in his own country.
Still, wherever Taylor ends up facing his accusers, the reverberations of his prosecution are likely to be profound. He'll be the first head of state in Africa to stand trial for war crimes. African dictators have been put on notice that they can't enjoy impunity for crimes committed while in office, nor count on countries that gave them refuge. (Welshman Ncube, a Zimbabwe opposition leader, tells me that, should his party win the presidency in 2008, it will extradite former Ethiopian dictator Haile Mengistu, sheltered by Robert Mugabe since 1991.)
In Liberia, meanwhile, Taylor's arrest is being met with joy and trepidation. Testimony is certain to expose the misdeeds of many powerful figures. Taylor used the millions he stole from the country's timber, rubber, and mining industries to bankroll cronies in the 2005 elections, including Adolphus Dolo, formerly known as General Peanut Butter, one of Taylor's top field commanders, who won a senate race in Nimba County; and Speaker of the House Edwin Snowe, Taylor's former son-in-law, whom human rights groups accuse of looting millions from Liberian Petroleum Refinery Corp. Any attempt to prosecute them by the Johnson Sirleaf government could provoke a new outbreak of violence. In Liberia's Lofa County, Taylor "has a battalion-sized group of soldiers standing by," says former U.N. prosecutor Crane. "It's a triple-canopy forest up there, and if they don't want to be found, they won't be found." The 16,000-strong U.N. peacekeeping force deployed across Liberia, says Crane, "is a well-led group, but they can't go in there."
Unless and until Taylor is convicted, safely imprisoned, and forgotten by the rebels of West Africa, nobody is going to rest easy. "Having fought his way to power, Taylor could do so again," says Rep. Edward Royce (R-Calif.), who led the bipartisan congressional effort to pressure Nigeria to surrender Taylor. Royce recalls the words Taylor uttered upon fleeing Liberia, in his own aircraft, back in August 2003: "God willing, I will be back."