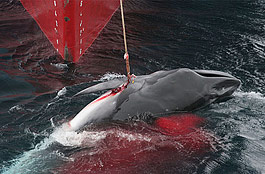 In mid-January, Japan's official whaling organization, the Institute of Cetacean Research posted a video on its website titled "Greenpeace increasingly dangerous stunts: Part 1." The minute-long clip shows a small inflatable boat, manned by Greenpeace activists in orange polar survival suits, swerving out in front of an 800-ton steel-hulled whaling ship. On the ship, high above the bow, a man in a thick jacket stands behind a mounted harpoon which is angled toward the horizon, where the choppy ocean meets a bright sky of scattered clouds. A few seconds later, a whale breaks the surface about 30 yards in front of the boat, and the inflatable tries to steer in between as the harpooner fires. It's hard to tell from the footage, but the whale has been hit by the grenade-tipped harpoon. It splashes down and disappears. The inflatable, now only a few feet away from the whale, slows and drifts out of the frame. In the next frame, after a cut, it reappears, entangled in the harpoon rope. The whale, obviously now dead, floats in a spreading circle of bloody water. Then the camera zooms out and the clip cuts off.
The video, shot in the Antarctic Southern Ocean, which is intended to portray Greenpeace activists as "foolish" and "reckless," is quite similar to those found on the website of Greenpeace International, except there the clips are titled "Between the whale and the harpoon" and "Death of a minke whale," and are designed to show the bloody brutality of whaling.
The harpoon ship was part of a six-vessel, 250-man Japanese whaling fleet that entered the Southern Ocean in late November. The whalers hoped to have killed more than 900 minke and 10 fin whales by mid-April, ostensibly to study them. By the time Greenpeace's two ships caught up with them, they had been killing whales with grenade-tipped harpoons—the modern method designed to kill quickly—for three weeks, impeded only by inclement weather.
Whaling was banned by international treaty in 1986, with a limited exception for "scientific research." Many whale species were near extinction, including in the Antarctic Oceans, where the Japanese have been whaling since the 1930's. Blue whales in the mid-1800s were thought have numbered more than 600,000, but today there are only about 1,000 in the southern hemisphere. Japan is one of the few countries still killing whales. Kyodo-Senpaku, the company that operates the whaling fleet and is partly owned by Japan's second largest marine products company Nissui, gets their permit through the government-sponsored Institute of Cetacean Research. Greenpeace and other environmental groups don't recognize special permits. They insist that all whaling should be stopped, and that the study of whales should always be non-lethal. For 30 years Greenpeace has disrupted whalers in the world's oceans, including six campaigns over the last fifteen years in the icy waters around Antarctica.
Greenpeace International's expedition leader Shane Rattenburry and 57 hired crew members, found the whalers on December 21 in the Southern Ocean Whale Sanctuary, which mostly covers the sea inside the 40 degrees South latitude circle all the way to the Antarctic ice-edge. Rattenbury radioed the whaling captains and ordered them out of the whale sanctuary—established in 1994 by the International Whaling Commission—and reminded them that their activities were illegal.
Technically, it is illegal under the Commission's 1996 resolution to issue special permits of any kind for whaling in sanctuaries. "Because we placed a reservation on the decision of the sanctuary, we do not abide by the ruling," ICR's Tokyo-based Far Seas Fisheries Division deputy director Hideki Moronuki told MotherJones.com by phone. (Any of the 66 IWC-member countries are allowed to reject a decision it feels will seriously affect its national interest.)
ICR fleets have been killing about 400 whales a year in the Southern Ocean sanctuary. That changed this year, when they more than doubled their quota for minke whales. "It's perfectly legal," Moronuki said. Even to kill endangered fins, he said, which have recovered to somewhere between 25,000 and 45,000. But killing endangered species is illegal under the Convention on International Trade in Endangered Species of Wild Fauna and Flora.
When I spoke with Rattenbury via satellite phone aboard the Greenpeace's ship Arctic Sunrise he was cruising in a calm, iceberg-filled sea along the Antarctic coast. He and his crew were headed back to Cape Town, South Africa, where they'd set out months before. "We came to document what was going on," he said, "to share with the world that whaling is still happening, and to save as many whales as possible. I think we all go home with a mixed sense of what it's been like."
The Arctic Sunrise and another Greenpeace vessel, the newer, faster Esperanza, were equipped with a helicopter and 8 inflatable Zodiac boats, which activists from 21 nations, including Canada, America, Japan and the Netherlands, routinely launched to put themselves between the harpooners and the whales. But by mid-January one crew member said he believed the whalers had caught 242 minke whales. "It's very tiring," Rattenbury said. "When you're out there for a few hours, and then the harpoon shot is taken, and you hear the grenade explode and the whale starts to thrash in the water, it's the most empty feeling I think I've ever had." He didn't know how many whales got away. If it was only 50, he guessed, then they were successful.
Rattenburry has been on other Greenpeace expeditions, including a voyage to Indonesia to stop shipments of illegal timber. But the protest and intervention against the Japanese whalers has been his most intense. On the morning of Jan. 8, when the whaler's factory and supply ships, the Nisshin Maru and Oriental Seabird, were anchored next to each other transferring whale meat, activists pulled up along side the Maru in their inflatable boats. With rollers on long poles and white paint the activists wrote WHALE MEAT FROM SANCTUARY on the factory ship's hull. Later that afternoon, perhaps out of frustration, the Maru rammed the Arctic Sunrise, breaking a sizeable chunk off its bow. Both sides have video of the incident, but because the ships from both viewpoints appear to be moving, it's hard to tell who's at fault.
The only outside observer was Captain Paul Watson of the Sea Shepherd Conservation Society and some of his 44 volunteer crew members. Aboard the Farley Mowat, the Greenpeace co-founder Watson and his more aggressive activists hoped to damage the Japanese whaling ships so extensively that the whalers would be forced to stop their hunt. But with a ship 5 knots slower then the others, they were unsuccessful and were left behind the day of the ramming incident.
The confrontations came to a head about a week later, off the Mawson coast in the Australian Antarctic Territory, when a harpooner fired a shot over Greenpeace's inflatable boat. The harpoon hit a whale, and as the animal descended beneath the surface the rope (which had fallen across the inflatable) knocked activist Texas Joe Constantine off balance and into the zero-degree water. Moronuki denied that the whalers caused the accident. "We have video," he said. "And if you look at the videos provided by Greenpeace, you can find modification on their video." He said that in an earlier video Constantine grabbed hold of the rope and then let himself fall into the water. Moronuki said Greenpeace later edited that out.
"It's the most hardcore thing that Greenpeace does," Rattenbury said of his work disrupting whale hunts. "It's an emotional roller coaster down here. There's a complete spectrum of emotions and experiences, from the most beautiful scenery you will ever see, the icebergs and the Antarctic coastline, to the horror and brutality of watching whales harpooned."
ICR has plans for 17 more years of whaling "with the purpose of paving the way to achieve sustainable use of whale resources," including endangered humpbacks. They have plans to kill 50 humpbacks over the next two years, even though there may only be about 10,000 left. "What we are trying to do is to sustain utilization of whale resources based upon scientific evidence," i.e. to know enough about how whales eat, grow and reproduce, so they can use the data to justify whaling.
ICR scientists claim that their research—since 1987 they've recorded killing 6,795 minke whales—has led to a number of discoveries that prove whaling can be sustainable. They claim they found two distinct species of minke whale, where there was thought to be only one. Their populations are abundant and healthy. Blubber and muscle tissues of Antarctic whales are the least contaminated with PCBs and DDT in the world. Whaling is even necessary now, they claim, because whales' large appetites are depleting the ocean of fish, a staple human resource.
But ICR's research has been backed by only a small minority of IWC committee scientists. Most say that ICR scientists' conclusions are tenuous. "To say that you can exploit whales commercially and have it be sustainable is a complete oxymoron," said marine mammal scientist Naomi Rose, who is also an IWC subcommittee member for the U.S. "Fish have the ability to reproduce at a much higher rate than whales, and even their numbers are crashing."
Moronuki agrees with Greenpeace activists on one issue. The Japanese don't want to see whales disappear either, but for a very different reason. If whales are gone, then a tradition is gone. "It is very simple, we have a tradition and culture to eat whale meat. Every tradition, in every country eats something someone else does not eat," he said. A matter of fact, he said, he recently ate whale sashimi at a Tokyo restaurant for about four dollars per 100 grams. "So, we think, every side should respect tradition and culture." (Greenpeace argues that the motivation has less to do with tradition than economics, and point out that younger generations of Japanese don't eat much whale meat.)
During Greenpeace's campaign to stop the whaling, 17 nations, including Brazil, Australia, France and Germany, asked Japan to end its whaling program in an official demarche delivered to Japan's foreign ministry. The letter reminded the Japanese that the IWC committee had recommended they only use "non-lethal" methods for research. The United States was not represented in that multi-nation protest. Though in response to a formal complaint about Japan's whaling from representatives of the Fujian islands, Ambassador Larry Dinger released a statement on January 17 from the U.S. Embassy in Suva, Fiji. The statement read: "The longstanding position of the U.S. government remains unchanged—we are opposed to the current practice of lethal research whaling." He went on to write that "we are concerned about the perilous incidents reportedly taking place between whaling and NGO vessels in the Southern Ocean over the past several days."
A few days later, the battle between activists and whalers was coming to an end, though their media and PR campaigns were just beginning and getting a bit bizarre. Both sides posted similar videos as evidence for their respective causes. Some images on one side seemed like a better argument for the other. For instance, the Japanese posted a clip of a bloody whale killing that also showed one of Greenpeace's boats racing to put themselves between the whale and harpoon, and used it as an argument against their recklessness. Greenpeace used similar images to report the cruelty of the Japanese whalers: whales reaching skyward out of the water just as grenade-tipped harpoons struck; and whales frantically flopping, suffocating and dying in bloody water.
The first montage posted on Greenpeace International's website in mid-January is called "Greenpeace confronts the whaler." It shows their Zodiac boats racing along side the behemoth Japanese ships. Cut to whaling deck crew firing water cannons at activists, one man violently swinging a long gaffing poll. Cut to a whale being pulled in the Nisshin Maru's stern ramp. Cut to a capsized inflatable and two activists crawling up onto the bottom. Cut to the bloody flensing deck, to an eviscerated whale cut neck to tail, bones visible, the crewmen working on the fins, some holding white placards that read GREENPEACE MISLEADS THE PUBLIC and another that explains what they're supposedly doing, SCIENCE BASED LETHAL RESEARCH. Cut to the last shot of the canopied stern deck with six dead whales stacked like wet fire wood.
"We hope we've slowed them down," Rattenbury said, after traveling more than 10,000 miles. He and his crew would sail through the treacherous weather and roiling seas of the infamous roaring 40s and fierce 50s (latitudes) before reaching home in early February. "If they come up 50 whales short, then that's an achievement. But I think, now we've left them, they will be working as hard as they can to reach that quota."