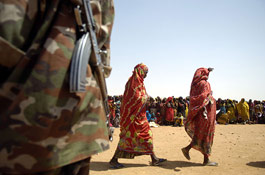 Fight disinformation:
Sign up
for the free
Mother Jones Daily
newsletter and follow the news that matters.
El Geneina is a dusty frontier town on the edge of Western Darfur, about thirty kilometers from the border with Chad, Sudan?s weaker, poorer, and increasingly unstable neighbor. There is only one spot of pavement in the town, a couple square meters of blacktop reserved for the Sudanese military?s three massive Russian Mi-24 attack helicopters.
The helicopters cut through the desert landscape in El Geneina, where donkey carts and men on horseback far outnumber motorized vehicles. You might not think a place like this?one of the most landlocked spots in Africa?would also be one of the continent?s most diverse. But each day dozens of peacekeepers from Nigeria, Zambia, Kenya and South Africa, aid workers from American and Europe, contractors from China, and native Sudanese fly in and out rickety turboprops flown by Russian pilots.
In the past few months a new group of international visitors has come to town: heavily armed rebels from Chad.
?Chad is a sister state to Darfur.? Says Dr. Eltayeb Hag Ateya, the director of the Center for Conflict Research at the University of Khartoum. ?You cannot do anything in Darfur without thinking of Chad. All the presidents of Chad are either installed by or forced out by forces that have come from Darfur.?
Eight to nine thousand Chadian rebels, mostly army defectors, have arrived in wide swath of Western Darfur, given over to them by the central government in Sudan?s capital, Khartoum. There they are training, planning, and coordinating their takedown of the government of Chadian President Idriss Deby.
In contrast to the Sudanese rebel groups in Darfur, the Chadians are equipped with new cars, equipment, and heavy artillery weapons. They are a formidable fighting force and pose a real threat to civilians on both sides of the border.
Many of these rebels? children, wives, and parents live apart from them, a short drive from El Geneina. (The rebels' camps are quite a few hours outside of town, across punishing terrain.) For fear these refugees might pass along any supplies to their armed relatives, organizations like the U.N.?s refugee body, UNHCR, have so far held back from providing them with aid, leaving the task to groups like Catholic Relief Services.
Khalia Daoud is one of the recent arrivals, living in a small straw hut, box-like, lined up with others like it in neat rows. Inside her home there is a bowl, a mat, a few pieces of cloth–nothing more. She squats in the shade of her straw hut, which provides little protection from the desert?s chilly nighttime winds.
A mother of six, Khalia fled from Chad to Darfur more than a month ago. Still, she is glad to be free from the violent turmoil in her village. ?It seems as if we are welcome here. No one has harassed us yet,? she said.
The conflict in Darfur is now entering its third agonizing year. Ultimately, the determined obstructionism of the Sudanese government to bring an effective international peacekeeping force with a strong leadership will ensure that the number and diversity of places like El Geneina will only grow, swelled by refugees and rebels alike.