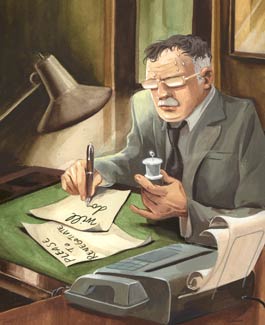 Fight disinformation:
Sign up
for the free
Mother Jones Daily
newsletter and follow the news that matters.
This story, which appears in the May/June issue of Mother Jones magazine, comes out of an investigation jointly sponsored by Mother Jones, the Center for Investigative Reporting and the PBS series FRONTLINE/World. View video clips of interviews with key players in the story at FRONTLINE/World's website.
ON NEW YEAR'S DAY 2004, conditions in the Rocky Mountains seemed ideal for the ski vacation that Asher Karni had long anticipated. Fresh snowfall had slowed Denver to a cool calm, and the mountain resorts were bursting with record-breaking crowds. Karni, a 50-year-old, Hungarian-born Israeli and South African businessman, planned on staying in the area for three weeks, according to the dates on his airline tickets, but he never made it to the slopes. As he stepped off the plane with his wife and a teenage daughter at Denver International Airport, U.S. Customs agents arrested him on charges of violating American export laws. Speci?cally, he was accused of exporting, without the proper license, quantities of a device known as a triggered spark gap.
Triggered spark gaps are unremarkable in appearance—each is a cylinder set atop a four-inch-square black box—and small enough to ?t in the pocket of a raincoat. They emit an intense electrical pulse whose timing and duration are controlled to the microsecond. Hospitals use the devices to power lithotripters, which deliver an electrical punch that pounds kidney stones to dust so they can be expelled from the body. That, however, is not their only function. Installed into an enriched uranium casing, a triggered spark gap can ignite a nuclear explosion. Karni, according to the Justice Department, was in the middle of a deal exporting 200 of the devices to a buyer who might use them for just such a purpose. The buyer was Humayun Khan, an Islamabad businessman with close ties to Pakistan's military and who has been linked by U.S. government officals to militant Islamic groups, some of which are suspected to be arming fighters in the Kashmiri conflict.
According to Justice Department spokesman Channing Phillips, the U.S. government is now pursuing leads "in several countries" as it attempts to track the extent and nature of Karni's business dealings. But in March, anonymous law enforcement officials complained to the Los Angeles Times that the State Department—afraid of offending Pakistan, its partner in the war on terror—had blocked agents from the Commerce and Homeland Security departments from pursuing those leads and going to Pakistan to interview Khan and others. [Ed note: This shot across State's bow evidently worked. On April 8, the Justice Department announced it had formally indicted Khan.] A federal judge sealed records in the Karni case last September. But legal documents obtained before then indicate that his transactions reached, tentaclelike, in two directions from the headquarters of his company, Top-Cape Technologies. One tentacle extended from Cape Town through a broker in Secaucus, New Jersey, to the Salem, Massachusetts, laboratories of PerkinElmer Optoelectronics, a high-technology ?rm that is one of the world's few manufacturers of triggered spark gaps. The other tentacle extended from Cape Town through Dubai to Islamabad, into the recesses of one of the world's most dangerous black markets, the international traf?c in "dual-use" nuclear technology.
Dual-use items are those, like triggered spark gaps, that are under export restrictions because they have both peaceful and weapons applications. The U.S. Commerce Department subjects these products to varying degrees of licensing and other controls, and the International Atomic Energy Agency (IAEA) observes their trade as a way of discerning if an illicit nuclear program is under way. The suspect roster includes about 3,000 products, from accelerometers (which can be employed as a guidance system for missiles) to zirconium alloy tubes (which are used in uranium-enriching centrifuges).
Aside from actual uranium and other radioactive material, triggered spark gaps—number 2,641 on the control list—are among the most tightly restricted items in the world. Producing countries like the United States permit them to be shipped to nonnuclear countries like South Africa without a license, but for countries like Pakistan and India, "rogue" nuclear powers outside the existing nonproliferation system, shippers must request an export license. Triggered spark gaps can't survive a nuclear blast, but when installed in lithotripters, they can ?re hundreds of thousands of times, so the demand for new ones is not great. In the 1990s, when the Iraqi Health Ministry requested small numbers of the devices for use in several hospitals, the IAEA con?rmed the proper use of every one of them. "The only way for the Iraqis to get a new trigger," says Mark Gwozdecky, an IAEA spokesman in Vienna, "was to send back the one they used." The surveillance system worked, he said, and the agency is con?dent that none were diverted to nonmedical purposes.
Critics of the current patchwork of nonproliferation agreements complain that the system lacks teeth. "None of the regimes are legally binding," says Seema Gahlaut, a senior research associate at the Center for International Trade and Security (CITS) at the University of Georgia, which completed a survey of the nonproliferation system last fall. "They are more like gentlemen's agreements, based on each member country's discretion." The system is also stymied by a reporting loophole. The Nuclear Suppliers Group, an international coalition to which the United States belongs, asks that its members report export requests for dual-use items that have been denied. But it doesn't require the reporting of export requests that have been approved. According to the Government Accountability Of?ce, in a report to Congress in 2002, some 45 to 65 percent of denials are never reported. CITS claims that those numbers have changed little over the past three years. That, says Gwozdecky, seriously hobbles the agency's ability to track "which nations are seeking—even unsuccessfully—technology with potential nuclear application."
But the main weakness in the oversight is the central feature of the dual-use economy: the overlapping imperatives of commerce and international security. The global trade in parts for nuclear weapons is, for the most part, not conducted through secret espionage channels or along smugglers' routes. It's accomplished through straight-ahead business deals between companies operating in the open, trading in the vast commercial gray zone of dual use. The trade is hard to follow and harder still to regulate. The Commerce Department's control list comprises some 3 percent of all commodities exported from the United States, giving industry a powerful incentive to resist strengthened restrictions.
Ultimately, Karni was tripped up not by the system, but by an odd bit of serendipity: a mysterious individual who, starting in the summer of 2003, guided investigators along Karni's labyrinthine trail. The government's complaint against Karni is peppered with references to the "anonymous source in South Africa" who clued them in to the "possible diversion of U.S. origin equipment."
Gahlaut says, "I believe there's a ?fty-?fty chance the Karni deals would never have been discovered if it had not been for that anonymous tipster." In other words, Top-Cape's blizzard of false end-user certi?cates, misleading shipping manifests, and concocted usage rationales might have worked, and a shipment of weaponry-capable spark gap triggers might have proceeded unquestioned from Salem, Massachusetts, all the way to Islamabad.
And Karni might have become the latest middleman in a long-simmering chapter of the nuclear arms race.
THE DEAL THAT ALLEGEDLY put Karni's ?ngerprints on Pakistan's nuclear ambitions was pieced together in a mansion in the lush Cape Town neighborhood of Sea Point. The tree-lined enclave—locally referred to, not always fondly, as "Millionaires' Row"—is among the most exclusive in the city. The mansion, rising three stories behind a cream-colored stucco wall on Ocean View Drive, belongs to Asher Karni.
For almost two decades, Karni had thrived in Cape Town. In 1985, he resigned his major's commission with the Israeli army and emigrated to South Africa to work for a Jewish charity serving the Orthodox community in Cape Town. Karni's ?rst four years in the country were spent educating Jewish youth and encouraging them to relocate to Israel, according to an article the Israeli newspaper Ha'aretz published shortly after his arrest. He became a respected member of the Beit Midrash congregation, teaching Torah at the synagogue and conducting services when Rabbi Jonathan Altman was out of town. "He is a thoroughly honest, hardworking and responsible person," South Africa's chief rabbi, C.K. Harris, wrote to the court after Karni's arrest. "He enjoys a very good reputation in the Cape Town community, both Jewish and general."
In 1989, Karni left his of?cial religious duties to take a job with Eagle Technology, a ?rm owned and run by one of Cape Town's leading families, Alan and Diana Bearman and their son, Nathan. With an M.B.A. from an Israeli university, and his military background, Karni was a good ?t for the job. Eagle Technology has a storefront off Green Market Square in downtown Cape Town, where it sells to the public high-tech spying devices like surveillance video systems and recording machines; an adjacent outlet, Eagle Appliances, sells espresso makers, electric radiators, and other consumer electronics. But the real action goes on upstairs, where Eagle plies a more serious trade. It specializes in obtaining sophisticated electronic, optical, and other sensitive equipment, originally for the South African military during the long years of the country's apartheid government, and now for a wide variety of clients in the "new" South Africa. These items became Karni's specialty.
When Karni joined the company, South Africa's apartheid government was operating under severe international sanctions, making the country a smugglers' paradise. Everything from ri?es to ammunition to missile casings had to be obtained on the black market. Importers learned the circumlocutions necessary to evade foreign prohibitions on exports to South Africa.
"We had a government then of vipers," says Michael Bagraim, a Cape Town attorney who would play a large role in Karni's fate, "and companies did what they had to in order to obtain equipment for the military." Eagle had no connection to the country's illicit nuclear program; its work was exclusively for the conventional armed forces. But with the blanket sanctions then in place, buying even conventional ordnance required guile. "Anyone procuring those kinds of technologies would have had to be familiar with all kinds of clandestine sources and networks," says Jean du Preez, who served on South Africa's Nonproliferation Council in the 1990s and is currently director of the International Organizations and Nonproliferation Program at the Monterey Institute of International Studies.
Then, in 1991, Nelson Mandela was released from prison on Robben Island and Eagle and similar companies found their universe turned upside down. South Africa held its ?rst democratic elections in 1994 and, with Mandela as president, joined the world community. International sanctions were lifted. Eagle Technology, accustomed to life in the shadows, was suddenly operating in the open, governed by laws of transparency that would be the envy of any Western democracy.
Within the company, Karni was, according to his colleagues, a superior executive. He'd taught himself the basics of electrical engineering and developed a familiarity with the worldwide manufacturers of sophisticated electronic technology. He rose to be the company's top purchasing of?cer, bringing in as much as $100,000 a month in new orders from companies in the United States, Europe, and Israel. He, like the rest of the company's top executives, ?ourished. His salary and commissions amounted to about $10,000 a month, according to his employment records. He mingled with the Cape Town elite and lived in Sea Point with his wife and three daughters in a house provided by the company, rent free.
Karni's extraordinary slide from those heights to a cell in the Metropolitan Detention Center in Brooklyn, where he is now incarcerated, began in the fall of 2001, when his coworkers at Eagle began to sense something amiss. Karni seemed distracted, heading off for meetings without explanation and spending a lot of time apparently working but without the results the company was accustomed to seeing. Given the sensitivity of Eagle's line of work, such behavior elicited suspicion. The company hired a private detective.
The detective's ?ndings alarmed Eagle's managers: Karni was leaving work in the middle of the day to meet a recently ?red executive secretary of the company, the 36-year-old, American-born Marisa Kirsh. Kirsh, the company discovered, was on the lam from the United States, which she had ?ed in 1996 with her then 10-year-old son in violation of a joint custody order with her former husband. She'd left a trail of arrest warrants and missing-person alerts in South Carolina and Texas. Eagle subsequently discovered that Karni had helped Kirsh set up a trading company, which was importing from some of Eagle's own overseas clients and underbidding Eagle's prices. Furthermore, an independent company that Karni had created, Top-Cape Technologies, was contacting those clients and supplying assistance to Kirsh. Karni's email traf?c revealed odd behavior: He'd send messages from his of?ce at Eagle to his Top-Cape address, then delete them from his of?ce computer. By October 2002, the company had a dossier of Karni's outside deals, and had evidence he was competing with Eagle's own import business. There were hints he was depositing some of the pro?ts from his sales in offshore accounts. His deals had the potential to tarnish the company's good standing inside South Africa. Alan Bearman, Eagle's chief executive, confronted Karni, accused him of being in competition with his employer, and ?red him.
Karni did not seem unduly damaged by this professional setback, at least judging by his living conditions. He moved his family out of their Eagle-supplied house and into the much grander Sea Point mansion on Ocean View Drive.
Had the matter rested there, Karni very likely would have remained just one more ordinary (albeit self-employed) executive in Cape Town—a nonentity, certainly, from the point of view of American law enforcement, and anonymous to the world. But Karni made a fateful misstep: He challenged his ?ring. As attorney Bagraim explains: "Up to that point, nobody really cared what it was that Karni was actually selling. But rather than just packing up and moving on, he disputed the grounds for his dismissal. And that's where I got involved."
Michael Bagraim is sturdily built, articulate, and gregarious; he has the wiliness of a lawyer, and the outgoing ease of a politician—which he is, in a way. As chairman of the South African Jewish Board of Deputies, the largest Jewish organization in the country, he represents the community's political, economic, and cultural interests in Parliament. He's also one of the country's leading practitioners of labor law, representing some of South Africa's most prominent companies. Early in his practice, Bagraim defended individuals wrongfully dismissed by employers, who in those days needed little rationale to get rid of unwanted workers. This role, too, was upended by the collapse of apartheid. In 1995, South Africa's democratic government passed the Labour Relations Act, intended to reverse the extreme discrimination and abuse tolerated by the old regime, and established a new body to mediate labor disputes: the Commission for Conciliation, Mediation and Arbitration, or CCMA. Bagraim now found himself going before the CCMA to defend companies hit with wrongful-dismissal claims by ?red employees. Karni, being white, white-collar, and wealthy, was atypical of CCMA claimants. (The crowd camped on folding chairs awaiting interviews with counselors when I visited the CCMA of?ces in March was overwhelmingly black and Indian, and working class.) When Karni decided to contest the grounds for his dismissal, Eagle Technology turned to Bagraim.
The hearing commenced in late September 2003. Karni's attorney, Peter Kantor, argued that his client had done little more than assist a friend in establishing her business, and that Eagle's desire to get rid of him was prompted by Karni's own complaints about commissions he claimed the company owed him. The proceedings concluded in early October, after Bagraim had cross-examined Karni for four days, with a settlement in which Karni withdrew his demand for a year's back salary, and the company apologized for any distress his ?ring might have caused.
His distress was just beginning.
THE ANTAGONISM THE LABOR dispute had engendered between Karni and the Bearmans had forced open the portals to Karni's business deals through Top-Cape. Those dealings had been venturing into increasingly dangerous terrain since Karni's ?ring. Throughout the summer of 2003, as Karni prepared to face Eagle in the hearing room, he was simultaneously negotiating with Pakistani contacts to cement a deal to supply them with triggered spark gaps. The negotiations were not as private as Karni presumed.
Even as Michael Bagraim was amassing evidence of past misbehavior, including reams of old emails pried from Karni's Eagle Technology computer, Karni's current email correspondence to and from Top-Cape was being intercepted, and those emails spelled out an ongoing plot with sinister rami?cations. In July and August, some individual who was surveying Karni's every step—the "anonymous tipster"—began feeding the plot's details to the U.S. Commerce Department's Of?ce of Export Enforcement.
Few people around Karni had access to that information, yet the identity of the tipster is still a mystery. Was it the police? The Bearman family? (Alan Bearman refused a request for an on-the-record interview while I was in Cape Town.) Or was it someone else at Eagle with the technical expertise to eavesdrop on email traf?c? Certainly, Eagle would derive double bene?t from Karni's demise—removing a competitor from the ?eld and redressing a perceived personal and professional betrayal. In addition to the bene?t of interrupting a nuclear caper. "I'd like to think it was Eagle," Bagraim told me, "because it would have been the right thing to do." He added, "It wasn't me."
The source informed the agents that Karni was attempting to purchase "between one hundred and four hundred triggered spark gaps… from PerkinElmer…of Salem, Massachusetts," with the intention of diverting those items to Pakistan. The tips kept coming, alerting the Commerce Department to Karni's every move through the fall of 2003.That same fall, Pakistan was about to capture the world's attention as the most rampantly metastasizing nuclear power. On October 4, 2003, a German freighter, the BBC China, was intercepted in the Mediterranean by U.S., Italian, and British agents. In its hold, they found uranium-enrichment facility parts destined for Libya. The deal had been arranged by A.Q. Khan, the creator of Pakistan's nuclear bomb. The discovery blew the lid off Khan's global enterprise, in which he was marketing sophisticated nuclear technology to Libya, Iran, and other nations. The trail, as it happens, also led investigators to South Africa, where they discovered that Khan had ordered a turnkey enrichment facility, to be built on the outskirts of Johannesburg, for export directly to Libya. The South African businessmen involved, Gerhard Wisser and Daniel Geiges, are now awaiting trial in Johannesburg.
The plot the Americans were uncovering through Karni's email was operating through separate channels from A.Q. Khan's nuclear arms bazaar; Karni's buyer was most likely part of Pakistan's own military-procurement effort. The customer was Humayun Khan (no relation), owner of an Islamabad-based ?rm called Pakland that has long been one of the suppliers to Pakistan's conventional and nuclear weapons programs. As a Pakistani company, Pakland could purchase some products on the U.S. control list after obtaining a proper export license from the Commerce Department. A license for 200 triggered spark gaps would almost certainly have been denied had it been requested. As Jacob Blackford, a research analyst at the Institute for Science and International Security (ISIS) in Washington, D.C., puts it: "In terms of dual-use technology, those triggers are very threatening because you can directly use them in a weapon. They're a component in a weapon, like enriched uranium, and Pakistan already has enriched uranium. At the end of the day, you need both to set off a bomb."
For an international buyer shopping for spark gaps, South Africa is well positioned as a middleman, thanks to its unique nuclear history, and thanks to its recent political ascendancy. It has progressed from a country so suspect that its military procurers were experts in avoiding export controls to one currently so clean it is not restricted from importing sensitive technologies. South Africa decommissioned its nuclear arsenal in 1989; now the United States places no special controls over exports to the country. Triggered spark gaps can be exported there for medical uses without the license that would be required for nuclear powers like Pakistan. Karni's deal would illuminate a black hole in the current nonproliferation regime: Because South Africa does not itself produce triggers, there is no law prohibiting their export from that country.
"While attention was focused on the vulnerabilities of Russian and other nuclear facilities, a nuclear black market in dual-use machinery was evolving in South Africa," says David Albright, president of ISIS. Wisser and Geiges, it turned out, had ties to South Africa's own illicit efforts to build an atomic bomb, just as Karni had experience in apartheid-era technology trading.
IN THE SUMMER of 2003, Karni, judging from his correspondence, was engaged in arranging an elaborate chain of transactions to move a large number of triggers to Pakistan.
June 11: Karni, in Cape Town, receives a fax from a company called Polytec, the French subsidiary of PerkinElmer, stating that he will need an export license from the United States to ?ll his order for spark gaps.
June 12: Karni emails Humayun Khan in Islamabad, forwarding the Polytec letter and declining to pursue the deal.
June 17: Karni receives Khan's reply: "I know it is dif?cult but that's why we came to know each other, please help to renegotiate this from any other source. We can give you an end user information as it is genuinely medical requirement."
Nine hours later: Karni sends a two-word response: "WILL DO."
Karni arranged the deal through a U.S. intermediary in Secaucus, Giza Technologies, who placed the order from within the United States and arranged to have the devices sent to South Africa in three shipments of 66 or 67 triggers each. Karni's of?ce informed Giza that the end user would be Baragwanath Hospital in Soweto, the biggest public hospital in Africa. But there was no correspondence indicating that the hospital had expressed the slightest interest in triggered spark gaps. In March, Dr. Lloyd Thompson, a urologist there, told me that the hospital has only one lithotripter in its operating theater. That one, its ?rst, was purchased in November 2004. Hospital authorities said they had no idea who Asher Karni was, and had never purchased anything from him. At any rate, hospitals don't normally order the devices by the hundreds. According to Daniel Sutherby, spokesman for PerkinElmer, the most common quantity requested is ?ve or six. (On Giza's part, Zeki Bilman, the company's president, told me through a spokesperson: "We have been cleared, we have no comment.")
August 11: Email from Karni to Humayun Khan af?rming that "all is in place" for the shipment of 200 triggered spark gaps.
October 6: First shipment of 66 triggers arrives in Cape Town by DHL.
October 21: Same triggers arrive in Islamabad via Dubai, by DHL, from Cape Town.
What neither Karni nor Humayun Khan knew was that the triggers just received by Pakland were utterly useless for any purpose, peaceful or warlike. As part of a sting operation orchestrated out of the Commerce Department, they had been rendered inoperable by PerkinElmer, which agreed to go through with the transactions Karni requested, using disabled triggers. Karni's deal had been tracked every step of the way; now the authorities were ready to close the net.
December 11: A team of investigators from the Crimes Against the State division of the South African Police Service, accompanied by U.S. investigators, descends on Karni's home of?ce at Ocean View Drive.
As Karni watched, the police went upstairs to his Top-Cape of?ce and carted away more reams of computer records and ?les. He called his attorney, Peter Kantor, and several days later paid him a visit. Kantor, who works out of his home in the leafy Cape Town suburb of Rondebosch, had no sense that his client felt he was in deep trouble, or was anxious about his upcoming trip to Colorado. He recounts that Karni never told his wife about the police raid of their home until after his arrest. "I sat across from him at this table," Kantor told me as we sat in his study, its wall lined with law books and its door opening onto a tree-shaded yard. "He didn't seem concerned, and I said, almost ?ippantly, 'Asher, you should talk to the Americans in Pretoria. Because if there's a problem, then you could just disappear and never come back.'" Karni, of course, was not a U.S. citizen, and he had not violated the laws of South Africa, where selling triggered spark gaps is no crime. Whatever his reasoning, he did not appear to be concerned that he might have done anything illegal, and he never called the U.S. Embassy in Pretoria. Kantor, a re?ective man, says now of their ?nal talk: "It is one of those things I've regretted. Because it stings, thinking of how he must remember that conversation."
A week after the meeting between Kantor and Karni, the U.S. Attorney's Of?ce in Washington, D.C., issued a warrant for Karni's arrest, for violating the Export Administration Act.
ASHER KARNI'S ARREST stunned Cape Town. "I felt shock and horror," Michael Bagraim says. "It was mind-boggling—how such a devout Jew could be supplying nuclear triggers for the nuclear weapons of a staunch Islamic country." Whether or not Karni knew the destructive potential of those triggers is a question that has split the Jewish community. "This is a highly intelligent man," Bagraim says. "He had spent his career in the business of buying very sophisticated electronic technology. In this ?eld, he was a genius. He is an ef?cient trader, and has deep insights into the armaments industry. If you were to tell me that a widget was some kind of weapon, I wouldn't know enough to say it was not. But Asher Karni would know."
Others in Israel and America share a faith in his innocence. Yosef Singer, head of the Young Israel Ezras congregation in Potomac, Maryland, offered Karni a job teaching Torah if the government would let him out on bail. He was denied. "Asher was a businessman," says Rabbi Jonathan Altman, interviewed in the synagogue where he and Karni worship in Cape Town. "Maybe he did something wrong with some forms. But the thought that he would sell to a mortal enemy of Israel is inconceivable. His family is there; his wife is an Israeli; two of his daughters live there."
Shulamit Karni also ?nds the accusations preposterous; she says her husband thought that he was selling medical equipment. Speaking by phone from her mother's home in Israel, she said that her husband began selling to Pakistan only two years ago, after the couple watched President Bush with President Musharraf of Pakistan on CNN, proclaiming to the world, as she recalled, " 'We are now friends, and we shall cooperate, especially in the medical ?eld.' We thought it was real."
Peter Kantor says, "If Asher did it, it would go against everything he believed in."
Despite repeated requests to his lawyers, Karni himself was not made available to be interviewed for this article. But he did speak for himself publicly, in U.S. District Court, in his ?rst court appearance, the day after his arrest. Presented with a list of his alleged crimes and a description of the penalties, and after being apprised of his rights, he told Judge Patricia A. Coan, "Your Honor…I would like to make life easy. I…I admit everything, there's no need to…to go for a long procedures of…."
Coan interrupted him to ask if he were just admitting to his identity.
"My identity and the charges," Karni replied. The court, noting Karni's lack of a lawyer and reminding him of his right to remain silent, admonished him to go no further.
Asher Karni has reportedly since pled guilty and is assisting with the U.S. government's investigation. [Ed note: his plea was officially announced on April 8.] On November 23 last year, after spending nearly a year in prison, Karni signed a consent decree that was sent to the Crimes Against the State division in Pretoria. In it, he agreed to grant access to the ?nancial records of Top-Cape Technologies, himself, and his wife for 2002 and 2003. In the meantime, citing ?ndings from the Karni case, the Commerce Department recently banned Pakland and Humayun Khan from purchasing any items on the export control list for six months. Contacted by the Los Angeles Times, Khan claimed the U.S. was selectively enforcing its nonproliferation laws. "It's all about politics," Khan told the Times. "If they don't want us to develop these things, they would do everything they can to stop it…. You [the American government] close one eye and open the other at particular times to these things that have been going on." Khan also claimed that somebody else had ordered the equipment in his name and had seized it en route.
THE KARNI CASE RAISES questions about the use of third-country conduits for nuclear proliferation, about loopholes in the reporting of the sales of dual-use items, and about the ability of middlemen to mask dangerous transactions in the cloak of ordinary business. Those questions pervade the industry. On a gray day in late January, a hundred or so Silicon Valley technology executives ?led into a ballroom at the Biltmore Hotel off Highway 101 in the bedroom community of Santa Clara, California. The scene was like any other gathering of specialists in a suburban hotel: airless, loaded with lexicon, scattered with porcelain cups of half-?nished coffee. The subject, however, was far from mundane. The U.S. Commerce Department's Bureau of Industry and Security was making its Northern California stop for a two-day seminar in Export Control regulations—informing the assembled salesmen and designers of some of America's most sophisticated technology how to maneuver through the bureaucracy established to control the sale of dual-use technology to "the bad guys," as one Commerce Department of?cial explained to me.
Tensions at that gathering, between the desire for commerce and the imperatives of security, were palpable. The assembly felt haunted by the specter of Asher Karni, whose strange saga called up all the ambiguities of the dual-use economy. As Rabbi Altman said of his former congregant, "If you want to ?nd a terrorist, you can ?nd a terrorist. If you want to ?nd a businessman, you can ?nd a businessman." Karni pursued his deal (on which he would have made about $80,000 pro?t) on a purely commercial basis, leaving a paper trail of invoices and bank deposits that, at least on the surface, look like any other international transactions. "Karni did not use a gun or some other weapon," reads a motion ?led by the U.S. government. "Karni was able to accomplish the export of the triggered spark gaps from the United States to Pakistan through the use of little more than a computer, a modem, and an overseas bank account."