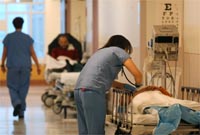 Fight disinformation:
Sign up
for the free
Mother Jones Daily
newsletter and follow the news that matters.
As I enter the parking lot of Providence Hospital in northeast Washington at 3 p.m. on a Monday afternoon, there are three ambulances in the lot. Four more crowd the ambulance entranceway to the ER, and I hear the approaching sirens of two more. I elbow my way through a narrow reception area that is now packed with four patients on ambulance stretchers waiting for triage, six or seven ambulance attendants, and assorted nurses, clerks and orderlies who've been caught in the crush. I finally reach the relative calm of the island in the middle of the large, open emergency room where doctors and nurses write reports or consult one another and clerks staff computers. Providence is the only hospital in northeast Washington. It's a private, non-profit hospital with a reputation in the city for good care and an active desire to serve the poor. Founded and for many years run by the Daughters of Charity (the CEO is still a nun), Providence has, like most urban hospitals in the country, become part of a larger conglomerate, although it remains non-profit. Twenty years ago, I had privileges there and admitted occasional patients to the hospital.
Looking around at the patients littered everywhere, Dr William Strudwick, chief of the Emergency Department, says to no one in particular, "If ten more people come, where are they going to go?" Then, perhaps remembering his role as head of the department, perhaps for my benefit, he adds, "… except for the sick ones, of course." Gesturing to the four people waiting on ambulance stretchers, he says, "None of these are sick, really." As a physician, I know what he means by "sick": patients needing immediate medical attention for truly life-threatening illnesses. And he's right, I suppose. None of the four who are waiting (and few of those being attended to in the ER cubicles) are "sick" by that definition. But a layperson might be forgiven for thinking that these people are sick enough. One man lies on a stretcher next to the reception desk, nursing a bruise on his forehead acquired during a seizure he's still recovering from. Two elderly patients, apparently unconscious, lie on ambulance stretchers with oxygen tubes in their nostrils. They are probably nursing home patients whose condition has worsened so that they need in-patient attention. They're sick enough.
Dr Strudwick calls Emergency Medical Services (EMS), the branch of the District of Columbia Fire Department that runs the ambulances, to request "diversion" for the emergency room. Under diversion, any ambulances headed for Providence will be rerouted to one of the other two hospitals in this sector of the city, Washington Hospital Center or Howard University Hospital. But both Hospital Center and Howard are already on diversion, and EMS policy prohibits closing all of the ERs in any given sector. Despite the overflow, Providence will continue to receive ambulances-including those that would have gone to the other two hospitals.
Ambulance diversion is an astonishingly common necessity. According to a 2003 report from Congress' Government Accounting Office (GAO), two-thirds of all hospitals turn away ambulances at some point during a given year, and of those hospitals, 10 percent average over 5 hours a day on diversion. In one four-month period, all 29 ERs in metropolitan Phoenix's went on diversion simultaneously on eight occasions. In a one-month period all the ERs in Cleveland's were on diversion simultaneously for an average of over two hours a day.
Not only do crowded ERs lead to poorer patient care and worse results, but by tying up ambulances (like the seven now idling outside Providence), they also slow the city's ambulance system's ability to respond. Although the District fire department would not release official figures, Kenneth Lyons, a paramedic and president of the local paramedics' union, estimated that about 40 percent of the time, all the district's ambulances are occupied.
"When patients have to wait 12 to 24 hours in the emergency room to get a hospital bed," said Mark Smith, Chairman of the Department Emergency Medicine at Washington Hospital Center, "I think that's a crisis. But we're also close to a tipping point. We haven't had a flu epidemic for two years; the next one we might find ourselves in a real crisis." As it is, Washington Hospital Center is on diversion an average of about five hours a day.
The Providence emergency department always looks crowded. Even on slow days, all of the ER's 17 beds in 12 cubicles are occupied and patients overflow into the "hallway beds," eight places carved out of open space along the walls and officially designated as beds. And today is not a slow day. Three of the cubicles meant for one person are doubled up. Two patients are in dialysis, but will return soon; one is in x-ray. In addition to the four ambulance patients on stretchers packing the reception area, one man sits in the middle of the hallway in his wheelchair, apparently unattached to any regular spot. There are 35 patients in an emergency room built for twelve.
Why are emergency rooms so crowded so often? For one thing, more and sicker patients are showing up for care. The GAO reports that nationwide, the number of emergency room visits increased 15 percent from 1997 to 2000. And contrary to conventional wisdom, it's not mostly people with minor illnesses clogging the system-one large national survey found that only 10 percent of patients coming to ERs are non-urgent, meaning that they could wait more than 24 hours to be seen.
Nursing-home patients account for some of the increase in ER visits, and also for the worsening illnesses; in addition, fewer and fewer primary care physicians now practice in the large cities where most ER crowding occurs, so patients either have no regular doctors or face months-long waits for appointments, forcing them into the ER.
At the same time that more people are coming to the emergency rooms, the number of hospitals with emergency departments has declined across the country. The District of Columbia has been especially hard hit with the closure of four hospitals over the past ten years. In 2001, District officials closed DC General Hospital, the only public hospital in the city, because they couldn't afford to keep it open. The emergency patients previously seen at DC General were shunted to the remaining hospitals. This pattern has been repeated across the country. Between 1992 and 2001, the number of hospitals with emergency rooms declined by 15%.
Jessica Richardson is waiting in Room 8 for admission to the hospital. She was at her routine dialysis appointment around 10 this morning when she felt the sudden need to defecate. What filled the toilet bowl, however, was bright red blood. She was rushed to the Providence ER where the doctors promptly made the diagnosis–bleeding diverticuli (outpouchings of the colon). She should have been admitted to the Intensive Care Unit (ICU) in order to receive blood, to be closely monitored, and to be evaluated for possible surgery to repair the ruptured diverticulum. But there are no beds available in the ICU. In fact, there are no open beds available anywhere in the hospital, so Ms Richardson has been "boarded" here in the emergency room and will wait for almost five hours before an appropriate bed opens up upstairs. Yes, she is receiving the needed transfusion and being watched closely. She will eventually be transferred to the ICU, and surgeons will successfully operate on her abdomen just after midnight to stop the bleeding. But she will demand a great deal of time and energy from the staff here in the emergency department. National standards recommend that one emergency room nurse should devote full-time to critical patients like Ms Richardson, while one nurse should have no more than four routine patients. Today, each of the nurses has at least five patients at any time.
Mistakes are far more likely to happen under these crowded conditions. I look around again. An ambulance attendant stands arguing with an inebriated man who alternately threatens to leave if he can't be seen right away and then not to leave until someone sees him. A young woman lies thrashing about in Hallway Bed 1, apparently suffering some kind of drug overdose. A doctor is tying her legs down to restrain her. A nurse says that the patient in Hallway Bed 6 needs a cardiac monitor, but all of the monitors in the ER are currently in use. Maria, the charge nurse, realizes suddenly that the ER is completely out of beds and sends the orderly to the dialysis department to retrieve the stretchers of the two patients who were taken over there. Elizabeth Lilly, the triage nurse, wheels in a patient who has come in by car and needs to be seen immediately. Even when ambulances are being diverted, federal regulations require the emergency room to see any patient who comes to the ER on his or her own.
Why don't the hospitals just build bigger emergency rooms and more intensive care units? Why don't they open more hospital beds? The answer to this question requires a brief detour into the murky world of hospital finance. Prior to 1980, hospitals offset the cost of caring for the uninsured by charging Medicare and private insurers an amount greater than the actual cost for patients who did have coverage. But over the past 20 years, both the government and private insurers have dramatically cut the amounts they reimburse hospitals. At the same time, non-profit hospitals began to face competition from an increasing number of for-profit hospitals, most of which set up shop in areas with few uninsured patients; many of these hospitals also didn't have emergency rooms, closing down the main access point for uninsured patients.
Finding themselves squeezed by ever-lower reimbursements and growing competition, hospitals responded by downsizing and closing beds. Not only did the District of Columbia, for instance, lose four hospitals over the decade, other hospitals also closed nearly a third of their beds. Nationwide, 17 percent of intensive care beds disappeared during the 1990s. This made the hospitals more efficient, but cost them the ability accommodate any surge in patients-whether from a minor flu epidemic or from a terrorist attack. As LA Times economic reporter Peter Gosselin has written, "In a market-based system, the sensible thing for a hospital is to fully utilize its resources by filling as many beds as possible. The problem is that when a hospital does that, where do you put the emergency patients?" We've forgotten that emergency rooms are the medical safety net for the country.
Ultimately, then, it all comes down to our unwillingness to adequately fund the basic health care infrastructure of our country. The increasing numbers of people unable to get timely care at clinics who flood the ER are the refugees from a health care system that does not provide enough primary care doctors. Cities close public hospitals because taxpayers cannot see far enough ahead to recognize their own need for them. Finally, the growing number of uninsured (and, just as importantly, underinsured) put unbearable strains on the finances of the system.
Emergency medical services is the point of intersection between the increasingly private system of American medical care, which is the best in the world, and the public medical care system, which is not. Affluent patients with comfortable insurance policies may believe that the problems of the uninsured will not affect them. But they, too, suffer from the prolonged response time of the ambulance, the inability to get to an emergency department physician promptly, the chaos of an overcrowded emergency room, or the inability to get into the intensive care unit. None of us schedules his heart attack or picks its place.