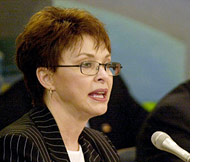 She arrived in Congress already famous in Wyoming for passing around penis-shaped cookies to her male colleagues in the state legislature, which she later explained by saying, "People sometimes do things that they wouldn't do in front of their mother." Then, during the Florida recount battle, she screamed in a meeting, "We are bending over and taking it from the Democrats!" When some of her colleagues were alarmed by the rather un-family-values-esque image, she snapped, "Quiet down or you'll get a spanking."
The Man Behind The Curtain Award
Dick Gephardt (D-Mo.) was summoned by Barbra Streisand to the coast to huddle with famous Hollywood political strategist Warren Beatty about the Democrats' postelection malaise. The House minority leader had to endure a "dramatic reading" of Babs' three-page memo, entitled "Nice Guys Finish Last," which the media struggled valiantly to quote witheringly, except that it's really, really boring.
Senator Jim Bunning (R-Ky.) sent out a fundraiser letter allegedly written by Thomas Towles. Towles is Bunning's 11-year-old grandson. "If you can, please include a special gift of $500, $250, $100, $50, or even $25, along with your signed card to help his campaign," wrote the child. "I know it would mean a lot to Grandpa."
Dennis Hastert held a press conference in front of a throng of hard-hat-wearing "working Americans" — who were actually lobbyists in disguise.