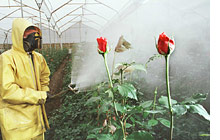 Fight disinformation:
Sign up
for the free
Mother Jones Daily
newsletter and follow the news that matters.
The equatorial sun beats down on the clear plastic roof of a greenhouse in the Cayambe Valley of Ecuador. Despite the suffocating heat, the workers inside move at a frantic pace. In two weeks it will be Valentine's Day, and every rose in sight will be for sale in the United States. Women stand at tables, hands flying as they sort roses by the length and size of the head, arranging them in bunches of 25. Teenagers, mostly boys, run from table to table, carrying the roses to the next room. The flowers have already been treated with chemicals to kill insects and mildew; now they are dunked in preservatives to keep them from rotting during their journey through U.S. Customs. After being wrapped in cellophane and boxed, the flowers are chilled and flown overnight to Miami. By the time they reach florists and supermarkets across the country, a rose that cost less than 17 cents to produce in Ecuador will sell for as much as $8.
Erwin Pazmiño, the chief executive of Rosas del Ecuador, surveys the scene with satisfaction. Thanks to volcanic soils, ample snowmelt from the Andes, and 12 hours a day of sunshine year-round, rose stems in the Cayambe Valley grow to a gargantuan three feet, topped by brilliantly colored flowers the size of tennis balls. Since the ideal growing conditions were discovered by international investors in the 1980s, rose exports from Ecuador have skyrocketed, transforming the country's rose industry into the world's fourth largest. Today, two-thirds of Ecuador's roses — some 500 million blooms a year — end up in the United States.
Pazmiño, a former bank executive dressed in pin-striped shirt and loafers, glad-hands the workers as he moves among the rows of flowers. Jobs in the rose industry pay roughly $140 a month — significantly above the country's minimum wage — and Pazmiño boasts of his company's safety record. "We provide masks and gloves to all the workers," he says. "Since I've been here, we've never had a single problem with chemicals."
But international agencies and workers in the valley paint a markedly different picture of the industry: Insecticides, herbicides, fungicides, and soil fumigants used in the greenhouses are causing serious health problems for Ecuador's 60,000 rose workers — especially the women and children who sort and package the flowers prior to shipping. In recent years, studies by the International Labor Organization and Ecuador's Catholic University have found that as many as 60 percent of postharvest workers complain of pesticide-poisoning symptoms, including headaches, blurred vision, and muscular twitching. Women in the industry, who represent 70 percent of all rose workers, experience significantly elevated rates of miscarriages. Children under 18, who make up more than a fifth of the workforce, display signs of neurological damage at 22 percent above average.
Dr. Toribio Valladares, head of the Red Cross in Cayambe, says the town's air and water have been contaminated by chemicals from the industry. A rotund man who once served as mayor, Valladares has seen a wide range of chronic respiratory ailments in the rose workers who line up to see him at his cramped office near the town's square. Even worse, he says, he has seen numerous cases of female workers whose children have been born with severe birth defects — an incidence that has also been documented by the World Health Organization. "It complicates women's pregnancies," Valladares says. Children are born mentally retarded, or with their fingers stuck together. "One sees children born underweight, children who have definite problems with damage to their central nervous systems."
Some of the rose workers in Cayambe live in cinder-block shacks along a foamy, butterscotch-colored river that reeks of sulfur and dead animals. Voicing concerns about working conditions on the plantations, as the rose facilities are known here, can cost them their livelihood: Employers maintain blacklists of anyone who speaks out. "If you get on a blacklist," a manager told one international agency, "you can't get a job on the plantations — or anywhere else." But almost everyone in town, it seems, has a tale of miscarriages, skin rashes, and babies born with birth defects. Dozens of workers, speaking on the condition of anonymity, report chronic ailments from chemical exposure.
One man in his early 20s had worked only six weeks as a fumigator in a greenhouse before he came down with what he called "the flu." He was given a protective suit and respirator, but was unable to rinse the chemicals off after work because of water shortages at the plantation. The pills the doctor gave him did not help, and his throat kept getting sorer until he began coughing up blood. The owner was a Russian who "walked around with a translator," the worker says. "If you complained, they fired you."
A 24-year-old woman who packaged roses at another greenhouse became overwhelmed by headaches, nausea, and loss of appetite. Like other women who work in the post-
harvest, she sometimes handled thousands of chemical-soaked roses in a single day. When she went to see the doctor, she recalls, he told her that "many people come in with these types of cases."
Many doctors in Cayambe are médicos de planta, meaning they are paid a consultancy fee by rose companies in exchange for making weekly visits to the greenhouses. The companies say the arrangement provides better health care for workers — but others say the system is part of the wider influence wielded by the rose industry, effectively silencing local officials with hush money. "Corruption is everywhere," says Valladares, the Red Cross official. He faults the government for not enforcing laws about how far greenhouses must be built from town and how they treat their industrial runoff. "The chemicals they use should be properly controlled," he says.
Workers receive scant training in the use of chemicals that permeate the greenhouses. The soil is heavily fumigated, and the roses themselves are sprayed frequently with pesticides — often with the workers still inside. At one greenhouse I visited, an engineer mentioned in passing that the flowers had been sprayed twice that week with a powerful fungicide to control a mildew outbreak, and the soil had been treated with methyl bromide — a highly toxic chemical that is severely restricted in the United States and due to be phased out entirely by 2005. As he spoke, a group of 30 women sorted the freshly sprayed roses into bunches. Only six wore masks.
Nancy Feijoo Marin, who heads the public health clinic in Cayambe, insists that there are no pesticide-related illnesses among workers. But numerous studies indicate that such ailments are widespread. "Workers worry constantly about falling ill," reports the International Labor Organization. According to a study by the agency,
70 percent of rose workers suffer from headaches at harvest time. More than half suffer from blurred vision, a third experience abdominal pain, and a quarter are wracked by tremors.
The abysmal conditions in Ecuador and other rose-producing countries have sparked a consumer backlash in Europe. Shoppers in England, Germany, Holland, and Switzerland can now buy roses with a "green label" that guarantees that the growers meet basic environmental and labor standards. But rose importers in the United States have balked at such certification. "When programs like this start up, it's in reaction to a problem," says Jennifer Sparks, a spokeswoman for the Society of American Florists in Arlington, Virginia, the industry's largest trade association. "At this point, there is not a problem."
The evidence is all too easy to find, however, in the rows of ramshackle houses that line the river in Cayambe. "All my life I have worked in flowers," one rose worker tells me as she stands in her doorway, an infant slung against her chest in a rainbow-colored shawl. She is in her mid-30s, but she looks at least 20 years older. "I got sick in my kidneys, I got sick with asthma from the fumigations," she continues. "What I was earning, it wasn't enough to pay for the treatment. I spent two months in bed." The company, she says, refused to pay for her medical bills or her sick leave.
Before she was forced to quit, she worked in the greenhouses throughout the past decade, handling thousands of chemical-soaked roses with only gloves for protection. When the fumigating was going on, she says, the company told employees to keep working. Since studies show that female rose workers experience elevated rates of miscarriage and birth defects, I ask if she ever had any trouble bearing children. She pauses, and when she speaks again, her voice is shaking.
"I gave birth to a mongoloid baby," she says. In the yard, the clucking of hens competes with the honky-tonk beat of a Quechuan love ballad coming from a radio inside. Maybe it was because of the chemicals, she says, before stepping back into her house and shutting the front gate. "But I didn't have the money to find out."