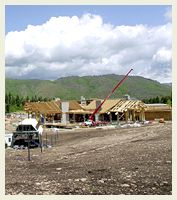 World-class athletes will not be the only ones going for gold at the 2002 Winter Olympics in Salt Lake City this February. All along the scenic Wasatch Mountain front near this booming Western city, business owners expect to profit from the Games' lucrative contracts and worldwide media exposure. Few stand to benefit more than Earl Holding, owner of Sinclair Oil and one of the richest men in Utah. Holding's Snowbasin ski resort will be the site of several high-profile events, including the men's and women's downhill, super-G, and alpine combined competitions.
The $14-million contract for hosting the races — along with a new federally financed road connecting Snowbasin to the Salt Lake City airport — is only part of the Olympic windfall for the reclusive 74-year-old businessman. The true prize is a congressionally sanctioned land swap that has added more than 1,300 acres of prime national forest land to the resort.
Ever since its passage in 1996, the swap has been characterized as a necessary element of Salt Lake's Olympic preparations. But Holding's long-term plan for the property has little to do with the Games: Over the next few years, he aims to build luxury homes and condos, hotels, and golf courses, turning Snowbasin into a year-round destination on a par with his celebrated resort at Sun Valley, Idaho.
"You might oppose the swap because it means development is going to take place on this pristine land," says Stephen Pace, chairman of the local public-interest group Utahns for Responsible Public Spending. "But for us there is also the whole way that the land trade took place."
Holding first declared his intention to lobby for a land swap after purchasing Snowbasin in 1984. But Forest Service officials were not impressed with his offer to trade 10,000 acres of undeveloped property in northern Utah for 2,500 acres near the resort. "I sat down with Mr. Holding and told him he had to be more realistic," recalls Stan Tixier, then the regional forester for the area.
In 1990, following the selection of Salt Lake as an Olympic host, Tixier says Holding agreed to a trade involving no more than 700 acres. But by the time the deal came to a vote in Congress as part of the 1996 Omnibus Public Lands Bill, that number had nearly doubled. The bill's sponsors, Utah Republicans Rep. James V. Hansen and Senator Orrin Hatch, argued that the increase was needed to help Snowbasin get ready for the Olympics. To speed development, their measure exempted much of the land from reviews ordinarily required under the National Environmental Policy Act.
Former Forest Service Deputy Chief Gray Reynolds says the deal was always intended, in part, as a financial boost for the resort. "It's part of the job of the Forest Service to provide support and development opportunities for local economies," he explains. Without the prospect of future revenues, he adds, Holding couldn't have afforded to invest in getting the mountain ready for the Olympics.
Reynolds brings a unique perspective to the issue: In 1996, he testified in support of the land swap before Congress. In 1997, he retired from the Forest Service and went to work for Holding as general manager of Snowbasin.
Reynolds wasn't the only key government official to benefit from Holding's generosity. Both Rep. Hansen and Senator Hatch have received significant campaign contributions from Holding, his family members, and his employees, totaling at least $24,000 over the past decade. And in 1993, Holding and his family gave $30,000 to a legal defense fund set up by Hatch in connection with the Bank of Credit and Commerce International scandal.
In Salt Lake, Holding has donated money to a group of business and political leaders that led Salt Lake's efforts to host the Games. And he served on the city's Olympic organizing committee until 1999, when Governor Mike Leavitt requested that members with apparent conflicts of interest resign. Holding's former colleagues on the committee have since designated his Little America hotel as the official International Olympic Committee headquarters during the Games.
Back at Snowbasin, crews are now racing to complete $73 million worth of improvements to everything from snowmaking equipment to slopes and visitor facilities. With the exception of an expanded lodge and parking lot, none of the construction involves the property Holding acquired in the land swap; in fact, says Reynolds, work on the condos and hotels is not slated to begin for several years.
Tixier, the former regional forester, says he understands Holding's desire to turn the picturesque, but money-losing, resort into a profitable business. What leaves him "bewildered," he says, is why so many public resources were used to support the venture. "It was subterfuge to say that the amount of acreage was necessary for the Olympics," he concludes. "I think it has a bad odor about it."