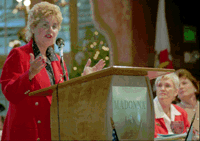 Fight disinformation:
Sign up
for the free
Mother Jones Daily
newsletter and follow the news that matters.
As Gloria Matta Tuchman launched her campaign to win election to California's top education post, she ducked questions about her financial supporters by invoking the terminology of a national security hearing. "I am not at liberty to say who's encouraging me," she told the San Francisco Chronicle in February. A smart answer, since the five men providing the vast majority of money to her campaign are all backers of an issue — school vouchers — that a majority of California voters have already said they don't want.
On vouchers, which would provide public money for tuition at public or private schools, Matta Tuchman has performed the classic flip-flop. When she first ran for schools superintendent in 1994, she was, in fact, against the idea. Early in this campaign, she came out in support of Gov. Pete Wilson's "opportunity scholarships" — vouchers aimed at students at the worst schools in the state — and added that she didn't have a lot of information on the subject. Now, with the primary behind her and a tough battle ahead with heavily favored incumbent Delaine Eastin, Matta Tuchman told Mother Jones that she favors vouchers in targeted districts and plans to "move mountains" if elected. A genuine conversion, or something else?
The story of Matta Tuchman's campaign suggests that she may be motivated more by money than policy. The vast majority of her funding has come from a tiny group of wealthy donors who have supported vouchers in California for years, long before Matta Tuchman changed her mind. A read through her campaign finance report is a lesson in what can happen if rich, like-minded people get behind a candidate in a state with no limit on individual contributions. It also represents a new chapter in the tale of the voucher movement.
Bombed at the ballot box
It was back in 1993 that the two sides in the voucher debate turned their attention to California. Proposition 174, which would have given parents a $2,600 voucher for each student, was seen as a barometer for the nation. If it passed, vouchers would become a national phenomenon. But like similar ballot measures in Colorado and Oregon, Prop. 174 was soundly defeated, leaving the movement paralyzed. "It was a watershed moment," says Jennifer Grossman of the pro-voucher Cato Institute. Adds Nina Shokraii Rees, of the pro-voucher Heritage Foundation, "I did not see any other initiatives get off the ground after California."
For the leaders of the voucher movement, a loose collection of religious conservatives and libertarians, Prop. 174 serves as a cautionary tale. By launching an initiative of such a grand scope, their central message — that competition would force public schools to improve or perish — was lost amid the roar of an opposition that had four times the money and a tightly honed message: Vouchers will be the end of public education. "To take money that supports already failing public schools can be devastating," says Dorothy Ehrlich of the American Civil Liberties Union, which fights any attempt at instituting public voucher programs. "We don't have any evidence that providing money for vouchers is a worthwhile trade-off." Democrats, teachers unions, and civil libertarians labeled Prop. 174 the work of the Christian right — when it wasn't being called a way for witches to get funding for pagan schools, or for science teachers to include a lesson on how to make a Molotov cocktail. "Because it was so broad, opponents had a nice entree to use fear-mongering techniques to scare people away," says Shokraii Rees.
New tactics
After Prop. 174 went down, its backers, including John Walton, heir to the Wal-Mart fortune , formed the American Education Reform Foundation to continue advocating vouchers. The group announced it would push for another initiative in 1996 and then in 1998, but pulled back, citing poll data that showed Californians still against the idea. Another setback, but not the end of the movement. The wealthy backers have not abandoned their crusade; they have merely changed tactics.
In the wake of Prop. 174, voucher proponents narrowed their focus, concentrating on more pliable state and local legislatures instead of the general public, and on inner cities, not suburbs, as the places most in need of school choice. By targeting urban schools, they have found unlikely allies in the black community, muting much of the criticism that vouchers are subsidies for the rich and religious. Cleveland and Milwaukee passed modest voucher initiatives, as philanthropists such as Walton gave millions to create private voucher programs in cities such as San Antonio, Texas, Los Angeles, New York, and Washington, D.C.
Recent polls suggest that the new tactics are working — more than 50 percent of Americans now favor the idea of vouchers, according to a Gallup survey released in August. "There's a real momentum for opening up the system and it's going to continue," says Paul Hill, a senior fellow at the Brookings Institution, which does not take a position on the issue. No longer moribund, the movement appears poised to make another attempt at the big time, with its staunchest advocates again focusing on the Golden State. Enter Matta Tuchman.
Five fat cats
A first-grade teacher from Orange County, Matta Tuchman made a previous run for schools superintendent in 1994, but finished poorly in the primary with less than 10 percent of the vote. This year, though, she was the co-author of Proposition 227, the successful initiative that ended 30-years of bilingual education in California's public schools. Bilingual education has made Matta Tuchman a star in conservative circles, and helped fill her campaign chest with money from some very wealthy and influential people heavily involved in the voucher movement.
Of the $263,360 in cash contributions Matta Tuchman reported in her most recent filing with the state, $226,000 came from five pro-voucher givers. Together, these five were a major factor in the Prop. 174 campaign, providing $757,000 of the $4.3 million raised. Now, they are Matta Tuchman's campaign — more than 85 percent of her money comes from the group. They are:
Howard Ahmanson, a wealthy banking heir who reportedly funnels millions to Christian-right groups including the fundamentalist Focus on the Family, has been by far the biggest Matta Tuchman backer, giving her campaign $175,000 through his private foundation in Orange County. In 1993, Ahmanson spent $402,353 on Prop. 174. (A devout Calvinist, Ahmanson spent a decade on the board of — and gave $700,000 to — the Chalcedon Foundation, a Christian Reconstructionist group. Reconstructionists take the Bible so literally that they believe the death penalty should be instituted for adultery and homosexuality. Ahmanson's long-time associate, Reconstructionist founder Rev. Rousas John Rushdoony, advocates a return to Biblical law; Ahmanson has said he does not embrace all of Rushdoony's views.) He has also given $100,000 to Prop. 227 and $50,000 to California Attorney General Dan Lungren's run for governor this year. A spokeswoman for his company said that Ahmanson is abroad and unable to comment.
John Walton of Bentonville, Ark., gave $25,000. The Wal-Mart heir also provided $250,250 to Prop. 174. Walton sits on the board of CEO AMERICA, a foundation that advocates for voucher programs nationwide. This summer, Walton and a partner pledged $100 million to fund private voucher programs around the country. He declined to be interviewed.
William J. Hume of San Francisco chipped in $20,000. Heir to the Basic American, Inc. food fortune and a former member of the state Board of Education, Hume gave $5,000 to a pro-voucher candidate in Wisconsin in 1993 and provided $100,000 to voucher initiatives in Oregon and Colorado. When he was confirmed by the state Senate three years ago for the Board of Education, Hume pledged not to promote or support any voucher proposals as a member of the board; he quit last January. Hume declined to be interviewed.
Thomas L. Rhodes of New York City, president of the conservative National Review magazine, kicked in $1,000. Rhodes is a backer of CHANGE-NY, a conservative pro-voucher New York lobbying group, and gave $10,000 to Prop. 174. Rhodes did not return a phone call requesting an interview.
Another $5,000 came from Jacobs Engineering Group, a Pasadena-based company that specializes in handling nuclear waste. Jacobs is run by Joseph Jacobs, who gave $94,500 in support of Prop. 174. Jacobs did not return a phone call requesting an interview.

Incumbent superintendent Delaine Eastin (whose $745,983 in contributions includes $75,000 from the California Teachers Association, which spent $12.6 million to defeat Prop. 174) charges that Matta Tuchman's is a "stealth candidacy," run quietly by Ahmanson to further his conservative agenda. "When 70 percent of your money comes from one source, you have to be accountable to that person," says Cliff Staton, Eastin's campaign manager.

Eric Schmeltzer of Public Campaign, a non-partisan group that advocates campaign finance reform, says that he has never seen such a small group of people providing so much money to a candidate in a state or federal election. "Certainly, by looking at those numbers you can draw your own conclusion of what her change of heart really was," he says. "I would think that in the end, they're going to expect something back."

But Matta Tuchman insists that this is not the case. In fact, she says that she has never had so much as a phone conversation with Ahmanson and only knows the others slightly — and that no one has told her where to stand on any issue. "I have had no pressure whatsoever from anyone," she says. "As for Ahmanson, I have no idea what his particular philosophies are, religious or otherwise, other than public education."

Even though Matta Tuchman wouldn't be able to propose voucher legislation if elected, Staton insists that the post can be very powerful. It was Eastin's constant pushing, he says, that convinced Gov. Pete Wilson to insist that class sizes be reduced statewide. Now, educators throughout the country see smaller class sizes as a proven remedy to poor student performance. If Matta Tuchman is elected, her opponents fear that the same will happen with vouchers. "If you turn California," Staton says, "you turn a huge chunk of the country. You turn the country."

Matta Tuchman ignores such talk. Throughout her two campaigns for the office, she has insisted that she is really a mother and schoolteacher more concerned with education than politics. Still, she has become well-versed in what it takes to run for statewide office in the nation's most populous state. "I am not shy to say that whoever's giving me money, I welcome it."