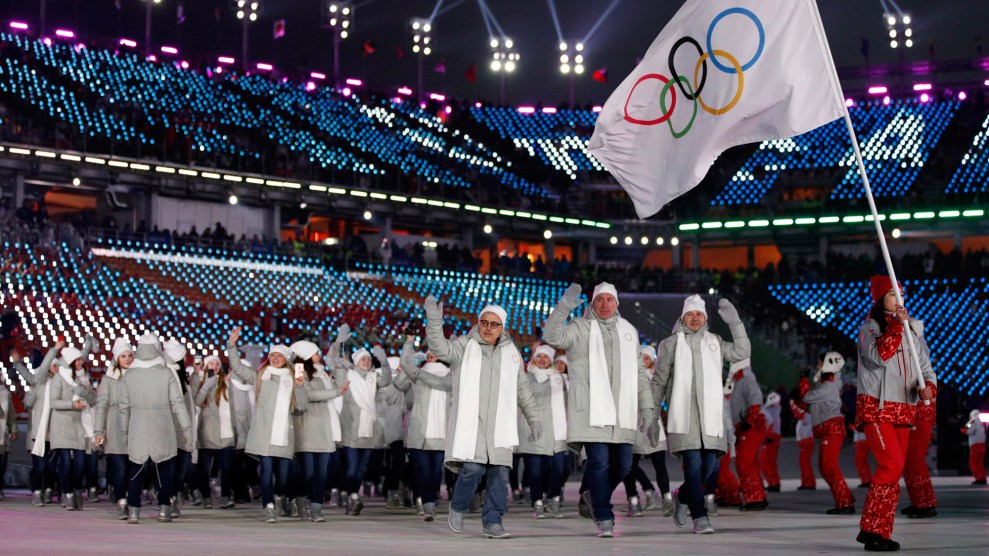 Just two months ago, the International Olympic Committee barred Russia from competing in this year's Winter Olympics. The move came a year after the IOC punished Russia for "systemic manipulation of the anti-doping rules and system" dating back to the 2012 London Olympics. And yet, on Thursday, the games' first day of competition, the US curling team defeated a pair of Russian athletes in a mixed doubles match.
Since the ban, 169 Russian athletes have been cleared by the IOC to compete in all 15 of this year's events under the Olympic flag—more than Team Germany (157) and host South Korea (145). Instead of Russian white, blue, and red, these athletes will wear "neutral" red and gray uniforms bearing the words "Olympic athletes from Russia." During the Opening Ceremony, the representatives marched behind the Olympic flag, and whenever they win gold, they'll be serenaded by the Olympic Hymn.
On Friday, the Court of Arbitration for Sport rejected the appeals of 47 athletes and coaches who hoped to compete in the PyeongChang Olympics. CAS secretary general Matthieu Reeb said in a statement that arbitrators considered the IOC's invitation process not as a "sanction but rather as an eligibility decision." "Although the Russian Olympic Committee was suspended, the IOC nevertheless chose to offer individual athletes the opportunity to participate in the Winter Games under prescribed conditions—a process that was designed to balance the IOC's interest in the global fight against doping and the interests of individual athletes from Russia," CAS said in a statement announcing the decision.
The IOC had felt the mounting doping evidence against Russia was compelling enough to warrant sanctions. A report commissioned by the World Anti-Doping Agency (WADA) concluded in December 2016 that, since 2011, Russia had engaged in a far-reaching, state-sponsored doping program that involved or benefited more than 1,000 athletes across more than 30 winter and summer sports. Perhaps most notably, the report found that Russia orchestrated a complex scheme of urine swapping involving Russian security agents during the Sochi Olympics in 2014.
Last week, CAS overturned the lifetime bans of 28 Russian athletes, concluding that there was insufficient evidence that the athletes broke doping rules during the Sochi Games. In response, the IOC pulled Olympic invitations from 15 of those athletes, including two former gold medalists. "The result of the CAS decision does not mean that athletes from the group of 28 will be invited to the Games," the IOC noted in a statement, adding that the ruling "may have a serious impact on the future fight against doping."
Meanwhile, the United States will field 242 athletes in South Korea, the largest of any nation in Winter Olympics history. Ninety-two nations in all will compete in this year's Games, also a record. In the end, all but the United States and Canada will have fewer competitors than Russia.