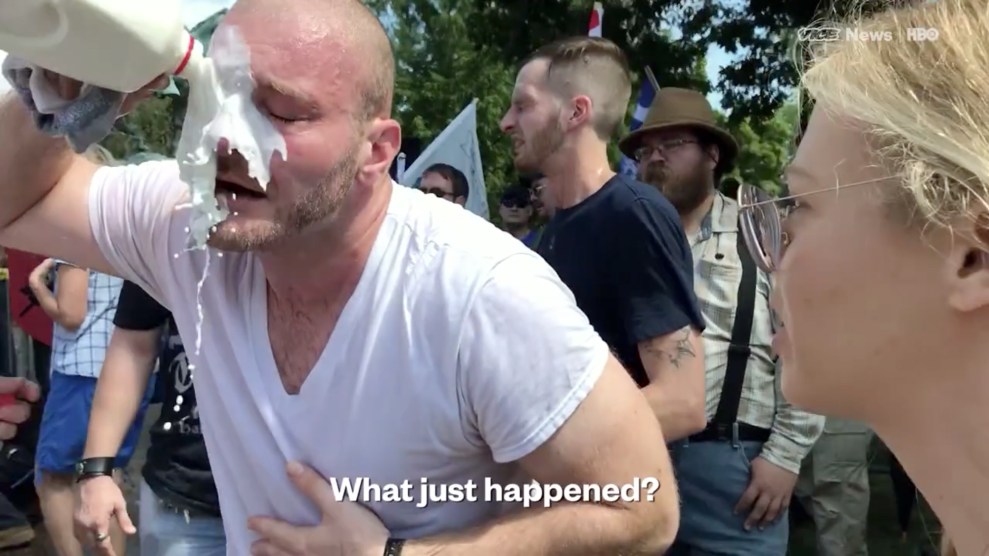 Fight disinformation:
Sign up
for the free
Mother Jones Daily
newsletter and follow the news that matters.
A 22-minute documentary released Monday on HBO's Vice News Tonight offers a chilling look behind the battle lines in Charlottesville, Virginia, last weekend, with a reporter who embedded with some of the white supremacists who engaged in the violence that ended in the death of one counter-protester and two state troopers. The video has already received nearly 7 million views in the last 17 hours on Facebook.
"Charlottesville: Race and Terror," follows Christopher Cantwell, an unabashed white supremacist who spews racist invective while traveling around with a band of neo-Nazis. Cantwell is a prominent "alt-right" shock jock who came to Charlottesville to speak at the "United the Right" rally. In the documentary, Cantwell and a posse of assorted white supremacists speak forcefully about the warped theories underpinning what they consider to be an impending and inevitable race war.
"We're not non-violent, we'll fucking kill these people if we have to," he tells Vice News Tonight correspondent, Elle Reeve, after we've seen him rinsing mace off his face with milk.
Following the car attack that took the life of one of the protesters, 31-year-old Heather Heyer, and injured 19 others, Cantwell showed no regret, much less remorse. "I'd say it was worth it," Cantwell says. "The fact that nobody on our side died, I'd go ahead and call that points for us."
"I think a lot more people are going to die here," he says, smirking, and predicted even more violent encounters in the future.
Watch the full video below: