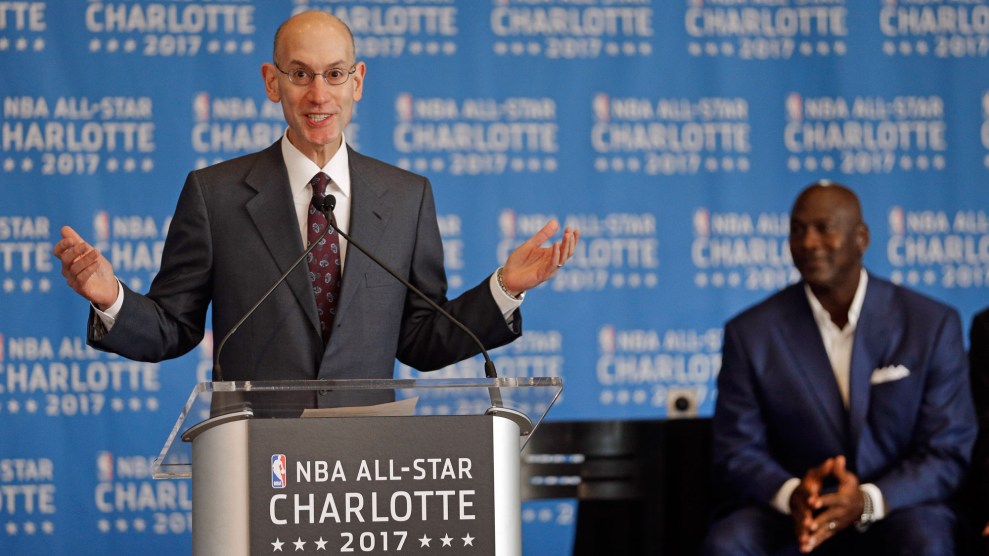 The National Basketball Association is officially pulling the plug on North Carolina as the site of its annual All-Star game. The move, an economic blow for the city of Charlotte, comes nearly four months after Gov. Pat McCrory signed into law a sweeping bill (HB2) that struck down workplace discrimination protections for LGBT employees and forced transgender people to use public restrooms that match their biological sex.
Back in April, NBA commissioner Adam Silver warned that the league might take the All-Star weekend away from Charlotte if the state kept its discriminatory legislation intact. "While we recognize that the NBA cannot choose the law in every city, state, and country in which we do business, we do not believe we can successfully host our All-Star festivities in Charlotte in the climate created by HB2," the NBA said in a statement Thursday. The league plans to reconsider Charlotte as a site in 2019 "provided there is an appropriate resolution to this matter."
"American families should be on notice that the selective corporate elite are imposing their political will on communities." —Gov. Pat McCrory
Gov. McCrory promptly shot back, noting that the "sports and entertainment elite, Attorney General Roy Cooper and the liberal media" have misrepresented the law's intention. "American families should be on notice that the selective corporate elite are imposing their political will on communities in which they do business, thus bypassing the democratic and legal process," he said in a statement.
The league's decision adds to the mounting pressure on state leaders from businesses, athletes and entertainers, advocacy groups, and politicians to make amends. In response, North Carolina lawmakers drafted legislation in late June that would roll back the portions of HB2 that required "certificates of sex reassignment" before a trans person could use the desired bathroom. The amendments also added language about federal protections, restored the ability of LGBT people to sue for employment discrimination, and increased penalties for people convicted of certain crimes against others in bathrooms. But the ACLU and others spurned the attempts, calling instead for a full repeal.
As Deadspin points out, this isn't the first time criticism from professional sports leagues have prompted changes to anti-LGBT laws. Two years ago, after Arizona lawmakers passed a law that let businesses turn away gay, lesbian, and transgender customers as an expression of the business owner's religious beliefs, NFL officials considered relocating the Super Bowl from Arizona to Tampa. (Arizona Gov. Jan Brewer vetoed the measure.)
The NFL also suggested that Atlanta's bid to host the Super Bowl in 2019 was at risk over Georgia's similar "religious freedom" law—Gov. Nathan Deal eventually vetoed the bill. Last April, amid condemnation from NASCAR , the NCAA, and the NBA Indiana governor and VP hopeful Mike Pence modified a similar "religious freedom" law—and took a lot of heat from fellow conservatives as a result.
Read the NBA's full announcement here: