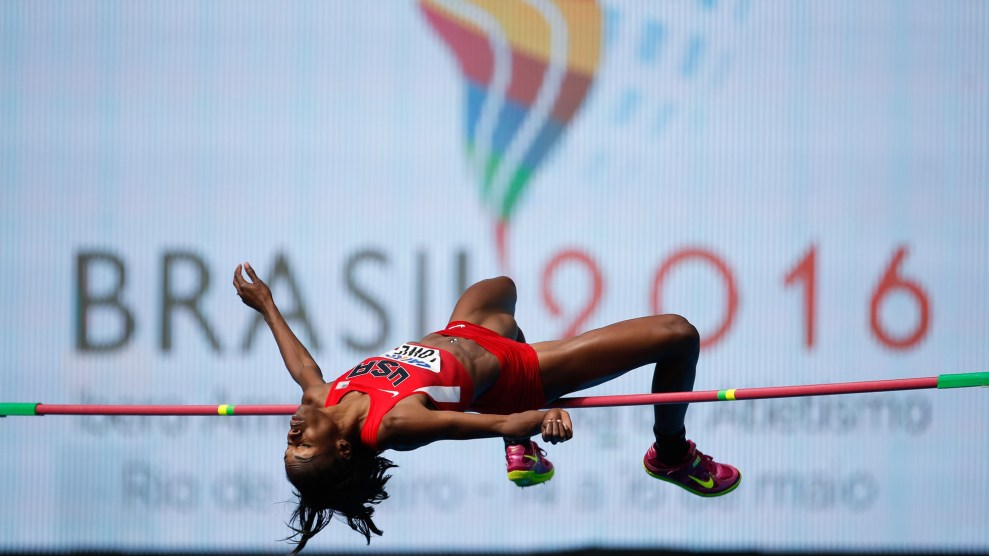 Last week, as Brazil was grappling with the ouster of President Dilma Rousseff, University of Ottawa professor Amir Attaran called on the International Olympic Committee to postpone this summer's Olympic Games in Rio de Janeiro—or move them elsewhere—due to the continued threat of the Zika virus. He argued in the Harvard Public Health Review that exposure to the mosquito-borne virus in the heart of Rio, where he said the number of suspected cases has reached 26,000, could result in a "full-blown global health disaster" and should prompt Olympic officials to take action as a "precautionary concession."
"Simply put," wrote Attaran, a legal and medical scholar, "Zika infection is more dangerous, and Brazil's outbreak more extensive, than scientists reckoned a short time ago."
For months, would-be Olympians have expressed their concerns about the virus. Some even have refused to participate in this year's Games. On May 12, the World Health Organization and the Pan American Health Organization reiterated a series of precautions for athletes and tourists planning on attending the Games, like avoiding impoverished and overcrowded parts of Rio and urging pregnant women to not visit Zika-stricken areas. And on Tuesday, after Attaran's article had prompted a new level of scrutiny, WHO chief Dr. Margaret Chan told reporters the Olympics should go ahead as scheduled: "You don't want to bring a standstill to the world's movement of people."
"Just forget it. The International Olympic Committee won't cancel unless Rio goes completely bankrupt."
But at this point, is it even possible to move the multibillion-dollar spectacle? I got in touch with two Olympic insiders—A.D. Frazier, who served as chief operating officer of the Atlanta Olympic Committee, and Olympic historian David Wallechinsky—to see what they thought about a last-minute change. They were…less than optimistic. "Just forget it," Frazier said. "The International Olympic Committee won't cancel unless Rio goes completely bankrupt." Wallechinsky was even more blunt: "I understand that this is no joke, but in terms of moving them at the last minute, unless there was suddenly an epidemic of people falling over dead in Rio, it's not going to happen."
Here are the three main reasons why:
It would be unprecedented. Wallechinsky, president of the International Society of Olympic Historians, noted that the only times the Olympics have been canceled were during World War I and World War II. They've endured violence before and during the Games: Ten days before the 1968 Summer Games in Mexico City, for example, police and military officers opened fire into a crowd of student demonstrators, killing and wounding hundreds; at the 1972 Summer Games in Munich, 11 members of the Israeli team were killed by terrorists; and in 1996, a bombing during the Atlanta Games killed one and injured more than 100. (Atlanta COO Frazier recalled being briefed about dozens of bomb threats each day during the 17-day event.)
Still, Wallechinsky admitted that Rio 2016's Zika problem is a unique one. The closest parallel that he could think of came two years ago, when Africa's Ebola crisis spurred concerns at the summer Youth Olympic Games in Nanjing, China. Officials from China and the International Olympic Committee announced that athletes from affected areas would not be allowed to compete in combat sports or swimming out of fear that athletes could transmit the virus. The event took place as scheduled, but three athletes were unable to compete.
There's too much cash riding on Rio 2016. "Sponsors and the TV networks have put so much money into these Olympics being in Rio that it's impossible to imagine moving them at this late date," Wallechinsky said. The organizing committee, Frazier noted, would have locked in place sponsorship deals and contracts for buses, hotels, and other infrastructure long before the event. Moving the Olympics to a new host city would require advanced notice not just for top international sponsors that typically support the Games, but also for local sponsors like the ones in Brazil helping fund Rio 2016, Wallechinsky said. Local and international sponsor deals account for 52 percent of the Rio Organizing Committee's revenue, or $962 million, making it the dominant source of funding. (The bulk of those sponsorship agreements were made in 2014, right around the time of World Cup, which was also held in Brazil.)
Earlier this year, organizers trimmed expenses by $500 million to balance its $1.85 billion operating budget, eliminating thousands of seats from venues and taking away televisions from rooms in the Olympic Village. Still, economists project that the overall costs for this year's events could reach more than $10 billion. "You can't just pick up and move carte blanche," Wallechinsky said.
"Do you think somebody would organize a totally secure Olympic village in three months? No, not a chance."
Possible sites would need a "pickup squad" of organizers, fast. Two years ago, rumors surfaced that organizers were considering moving the Rio Games to London—host of the 2012 Olympics—out of concern for Brazil's preparation. But finding a replacement site at this late stage with available venues is just one piece of the puzzle, Frazier said. Preparing the surrounding roads and infrastructure for a massive influx of athletes, business personnel, and spectators, as well as coordinating a flawless 17-day spectacle in three months with thousands of contractors and vendors, would pose a virtually impossible challenge for the "pickup squad" of organizers who would have come together at the last moment.
And that's putting aside the travel schedules for the spectators and athletes themselves, as well as the need for safe, comfortable accommodations for athletes at an Olympic village. "The village itself is too complex to start in three months," Frazier said. "If you're talking about 15,000 athletes and officials and their safety, do you think somebody would organize a totally secure Olympic village in three months? No, not a chance." He added that since the Munich Games, the security of the venues and athletes' housing has been a pressing issue for organizers. Moving an event is one thing, but Frazier noted that moving an entire Games—opening ceremony and all—is "folly."
"You can't do it. Two years ago, I would've felt differently," Frazier said. "Today they've got three months to go, man. Only a fool would take on the responsibility of taking the Games away from Rio."