The hype machine singled out some clear, if tragic, winners from the lineup of this year's Sundance Film Festival. For instance, there was Other People, SNL writer Chris Kelly's heartfelt, semi-autobiographical film starring Molly Shannon as a mother with a terminal cancer diagnosis. Not to mention Birth of a Nation, a film about the Nat Turner Rebellion that won Sundance's domestic drama category—and then sold to Fox Searchlight for an unprecedented $17.5 million.
But some of the most difficult films to watch from this year's crop are among the most important. Reflecting the intensity of the national conversation, the festival included an impressive four entries on the topic of gun violence in the United States. With Republican legislators—and plenty of Democrats—quavering before the NRA, afraid to broach even the most modest changes to save American lives in the middle of a true national emergency, these four films are exactly what we need.
Under the Gun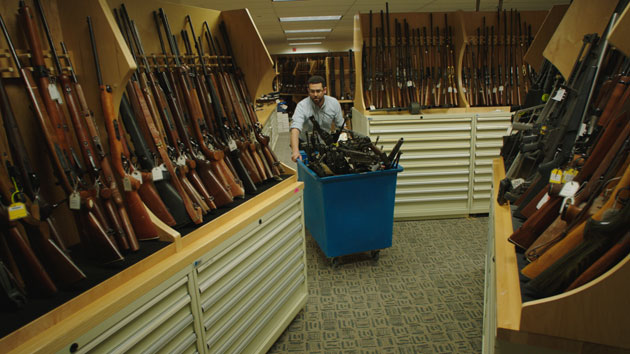 Under the Gun, the latest from Fed Up director Stephanie Soechtig, delivers a masterfully crafted, well-researched look at the Second Amendment debate from a (mostly) measured gun control perspective. Narrated by Katie Couric, the film's viewpoint is supported by interviews with leading researchers and experts (including Mother Jones' National Affairs editor Mark Follman) who make the case for reasonable checks on gun freedoms. We also hear from gun owners and guns rights activists. But if it's not obvious enough where the producers are coming from, the film ends with a call to action, urging legislators to enact universal background checks and other "common-sense" measures.
Which is not to say Under the Gun lacks emotional impact. Soechtig spends time in Newtown, Connecticut—she was raised in neighboring Brookfield—with families who lost children at Sandy Hook, and she chronicles the painstaking recovery of Gabby Giffords, the former Arizona congresswoman shot in the head in 2011 by a deranged gunman. All of this makes for some very heartrending scenes.
But Soechtig takes her case beyond Newtown and Aurora and Isla Vista to tackle the epidemic of street killings in Chicago, a problem she argues is just as important, and as preventable, as the mass shootings, given proper legislation.
The film is nothing if not comprehensive. Under the Gun also delves into the innocuous roots and notorious progression of the National Rifle Association. We learn how gun control laws passed in the 1960s were repealed in 1986 and how Congress neglected to pass universal background checks after Newtown—or since. We also learn how, to this day, the Bureau of Alcohol, Tobacco, and Firearms is prohibited from computerizing its records; thus hobbled by Congress, the ATF has literal shipping containers full of paper files—the 1,400 gun-trace requests it receives daily must be processed by hand. And then there's the Centers for Disease Control and Prevention, which had the temerity to declare gun violence a public health issue and is now prohibited by Congress from using federal money for research on gun violence.
Informed viewers will already be familiar with a lot of this stuff, but the details are mind-boggling. As the mother of an Aurora victim puts it to the politicians, "I don't want your 'I'm sorrys' and I don't want your prayers. I want your action."
Newtown
To sum up the documentary Newtown in two words: heartbreaking and effective. The film doesn't address the politics of gun control directly but focuses instead on three families who lost children at Sandy Hook, the second-deadliest mass shooting in American history. These grieving parents have been unyielding in their fight for common-sense gun legislation, speaking to Congress, traveling with President Barack Obama, and pleading with legislators to close legal loopholes and pass even the most basic limits—all to little avail.
But beyond this, director Kim Snyder sidesteps the political to focus on the personal, documenting the trials of a community still in mourning years after the national media has lost interest. "I still dread that every day I live, I'm one day farther away from my life with Daniel," says the father of a dead first grader. Will their bucolic small town ever regain a sense of normalcy? Seventeen composers, moved by Snyder's concept, signed on to deliver a beautiful score. As a native of Fairfield County, where Newtown is located, this moving film rendered me speechless and tearful.
Dark Night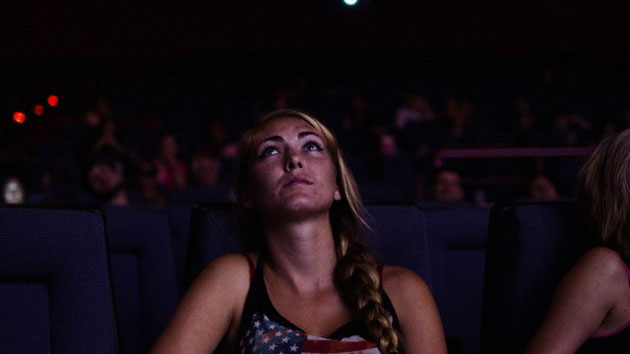 Directed by Tim Sutton (Pavilion, Memphis), Dark Night is fictional film that draws on the 2012 Aurora shooting for inspiration. There's an art house feel to the cinematography that, combined with minimal dialogue—and the unearthly vocals of Maica Amata—contribute to a series of eerie, parallel narratives about strangers who will ultimately attend a late-night screening that ends in tragedy. We meet myriad characters, all played by nonactors, going about their monotonous days in suburban Florida, where inactivity seems to breed violence. At first, it's not clear who the shooter will be. The socially outcast homebody? The skater with hair dyed orange (like the Aurora shooter)? The college student eager for revenge on the girl who rejected him?
The beautiful composition of the film, paired with the jarring looks into the lives of its characters, creates a feeling of unease that pervades the film—and the real Aurora and Lafayette theater shootings make an appearance as TV news and radio broadcasts.
There's no call to action here, no appeal to viewer pathos, just a story of what happens when a disturbed youth in a state notorious for its lax gun laws decides to act on his delusions. As with Fruitvale Station, Ryan Coogler's film about the fatal police shooting on a Bay Area light-rail platform, Dark Night opens with the climactic event and then flashes back to the beginning of the day. You don't see the shooting itself, but that in no way diminishes the horror.
Speaking Is Difficult
"You must act. Be bold. Be courageous. Americans are counting on you."
Director AJ Schnack has created a bone-chilling short (14 minutes) that is neither fiction nor documentary, exactly. Speaking Is Difficult chronicles mass shootings in 25 American cities, starting with the recent ones in San Bernardino, California, and Colorado Springs and moving backward in time to the 2011 shooting in the parking lot of a Safeway in Tucson, Arizona, that left six people dead and Rep. Gabby Giffords critically wounded. Schnack superimposes spine-tingling 911 tracks over footage shot at each scene.
The title comes from Giffords' moving appeal to Congress in January 2013, two years into her recovery. "Speaking is difficult," Giffords told her former colleagues. "But I need to say something important. Violence is a big problem. Too many children are dying. Too many children. We must do something. It will be hard, but the time is now. You must act. Be bold. Be courageous. Americans are counting on you." Indeed.