Men's rights activists, who have often targeted women using harsh verbal attacks, maintain that their movement's goal is "to create equality." Judging by the ongoing assault against feminist commentator Anita Sarkeesian, that goal remains an uphill battle.
Sarkeesian says she's been harassed online every day since she started her "Tropes vs Women in Video Games" YouTube series two and a half years ago. "It can sometimes be difficult to effectively communicate just how bad this sustained intimidation campaign really is," she wrote on her Tumblr this week. "So I've taken the liberty of collecting a week's worth of hateful messages sent to me on Twitter." She published all 157 of them. Their contents may be predictable enough, but they're chilling nonetheless: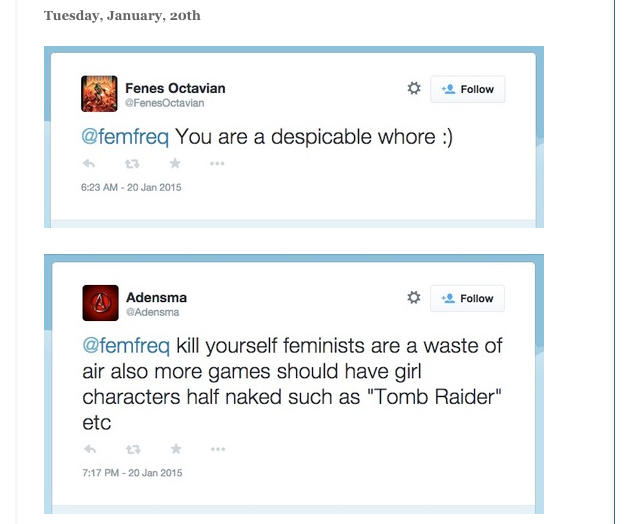 A Voice for Men, an online hub of the men's rights movement, does not appear to be sympathetic to Sarkeesian's plight. As Mother Jones reported this week, the group has accused Sarkeesian of profiting from death threats that forced her to cancel a speech at Utah State University last October. "The fact that Anita Sarkeesian manages to remain miraculously unscathed… amidst her numerous, unsupported claims of threats to her person is only a minor reason for my cynicism," a contributor using the name "Andy Bob" wrote on A Voice For Men's website. "So is her uncanny ability to time these damseling episodes for maximum effect, publicity, and fiscal reward."
The FBI opened an investigation into the threats against Sarkeesian after they turned frighteningly personal and drove her to flee her home last fall.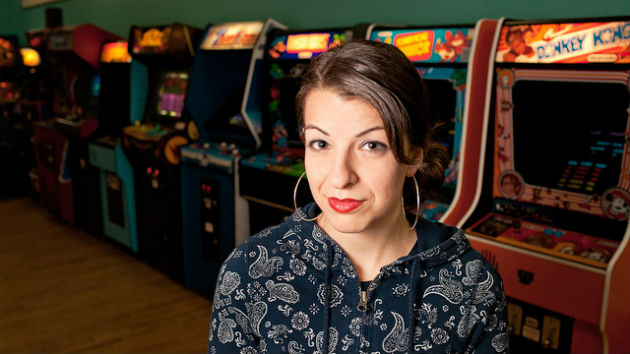 But the barrage of misogyny hasn't stopped Sarkeesian from speaking out about sexism in video games and online culture—far from it. In 2015 she's planning to launch a YouTube series about how men are represented in games and a miniseries about positive representations of women, according to the newly published annual report for her nonprofit. She'll also discuss her work and the backlash against it at Brandeis University on Feb. 9. The school's security arrangements for the event include metal detectors and ID checks at the door.