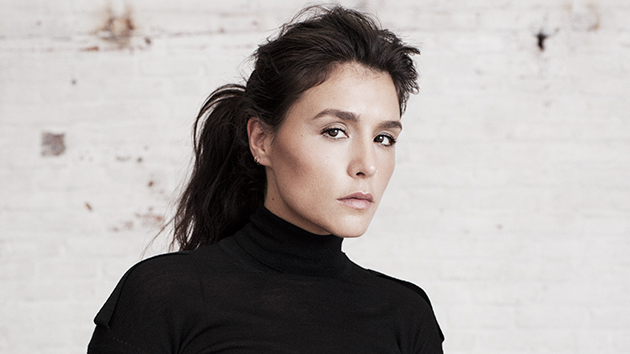 Fight disinformation:
Sign up
for the free
Mother Jones Daily
newsletter and follow the news that matters.
Jessie Ware's music manages to walk a fine line between the despair of heartbreak and the soothing of emotional wounds, all paired with a sheen of pop ethos that compels you to dance through the pain. The 30-year-old British singer started off following in her father's footsteps as a journalist, but ditched writing when a successful stint doing guest vocals for the UK dubstep band SBTRKT pushed her down the music path. In 2012, she released her debut album, Devotion, a mixture of soul, R&B, and pop that climbed the British charts and earned her glowing reviews.
Her new album, Tough Love, follows up where she left off, with uplifting tunes about life's sorrows. The album dropped in the UK last week and hits the streets in the States on October 21. I spoke with Ware earlier this year as she was putting the final tweaks on her album—and her wedding plans.
Jessie Ware: Sorry if you hear outside noises. The reception in my flat isn't very good, so I'm in my garden.
Mother Jones: You're a gardener?
JW: We just bought a flat at Christmas. We've got this beautiful garden, but I've never done gardening in my life. Every season there's a different flower that pops up, but we didn't plant any of them. It's been a really nice surprise. I'm living in South London, still very near my mother.
MJ: Is that a good thing?
JW: For her. It's sometimes a good thing for me.
MJ: Tell me about Tough Love.
JW: It was much easier to write than the Devotion. That was really reassuring to me as somebody who was scared of songwriting. My first album is quite intimate, and this time it's definitely been opened up. The first album took me around the world. I'd never had my own solo performance, so I didn't have any idea of how to think about that. I think what I learned was this idea of thinking of a song in relation to performing it.
MJ: You must be looking forward to having a larger body of work. I don't think you even did an encore when I saw you.
JW: I didn't do them. It's a bit embarrassing, because I have one album, so really you've heard all the songs, maybe a cover or two. And then I did start doing an encore, which I said I would never do, just because I wanted to separate this one song away from the others. I still feel a bit funny about encores.
MJ: What do you actually do backstage while the crowd is cheering maniacally?
JW: It's soooo awkward. You wait on the side, and you go, "Oh, oh, oh, is it dying down?" You have a little swig of a drink or a cup of tea. You kind of twiddle your thumbs and you go, "Umm, should we go back on, because it's getting a bit quiet and they're obviously getting a bit bored."
MJ: Do you peek out to see how much people are cheering?
JW: No, you can definitely hear. And you don't want to go out when it's gone quiet. That's why encores are just a pain in the ass, and why I try to avoid them.
MJ: Do you listen to much other music when you're writing a new album?
"I've said I want people to kiss and have sex to my music, so how can I turn down a condom ad?"
JW: Definitely. I was listening to lots of Joni Mitchell and lots of Blue Nile, this band from Glasgow, and lots of Prince. And I was trying to read and just stimulate the mind again, because when you're on tour it's very repetitive and you can get stuck. I was knee-deep watching Breaking Bad in my bunk after shows, because I don't drink that much and you want to get a good night's sleep. But you've also got that adrenaline. I still quite like to do that: Sit in my pajamas and watch Orange is the New Black now. My song got played over the credits at the end of the Valentine episode! It was a song I did with Sampha. It was a really nice surprise.
MJ: What, you didn't know?
JW: Sampha's publisher in Mexico had mentioned it, and then I forgot about it, because it was New Year's Eve and I have never met this women and she was very lovely, but I was busy having fun.
MJ: Have you had other weird moments of watching TV or being out and about and having your songs come on?
JW: I was with Sam Smith, going to see Katy Perry at the O2, which is a big arena here in London. We were celebrating Sam's album coming out that week, so we went for a steak in one of these places in the arena. We're chatting and my song is in the background. And Sam is so cute, he's like "Oh my God! That's you!" Oh, yeah. You nod your head and get a bit awkward. It was quite funny. It also seemed quite funny seeing my song in a condom commercial—for Durex.
MJ: Was that a surprise, too?
JW: No, I encouraged it. I've said I want people to kiss and have sex to my music, so how can I turn down a condom ad?
MJ: Will you dance in public to your own songs?
JW: I heard that Prince used to dance to his own songs. Of course he should, because he's fucking great. He's the king. I've danced to them before, but in a really stupid way. I make a fool out of myself with my mates.
MJ: The British pop charts strike me as more interesting than the American ones, with acts like you and Sam Smith and Disclosure.
I feel like I've got far more gay fans in America… Maybe they caught wind that I have a cute Jewish brother who's gay.
JW: That's very sweet of you. I mean, we still play a lot of American pop. But in the UK there's a very quick turnover. A song will be No. 1 one for a week or two—or maybe five, but usually it's quicker. In America, a song like Disclosure's "Latch" is still going, even though that song was out in the UK maybe a year and a half or two years ago.
MJ: I guess we're behind the times.
JW: It's more that you invest in playing an artist more than the Brits do. Maybe we're more fickle.
MJ: Has your music been received differently here than in Britain?
JW: I feel like I've got far more gay fans in America. And I've got some really dedicated fans—I've played Chicago three times and I've seen the same fans there. That's reassuring for somebody who is traveling a long way. In the UK, I've been really lucky with the radio and other artists supporting me. I'm still not very-very well known anywhere. But I'm very happy where I'm at.
MJ: Why do you suppose your American audience is gayer?
JW: I don't know. I'm definitely not complaining. Maybe they caught wind that I have a cute Jewish brother who's gay and training to be a medical student? He should come on tour with me, and then I can pimp him out to cute American guys.
MJ: Your sister is an actress, right?
JW: Yeah, she lives in Los Angeles. Both my sister and I started quite late—or what's perceived as late. We just lived another life before we started to do this as a career. My sister is 31 and she's a new actress, really—she's been on this TV series [Betrayal] in the States. My brother is going into his final year at medical school. My mother is a social worker, and my father is a journalist. We've all chosen very different things.
MJ: Was there anything in your upbringing to predict a showbiz career?
JW: I don't think so. I was always impersonating people and stuff, but I was so ready to be in a proper job. I went to university. I went to try to be on a newspaper. My sister studied art and wanted to be an architect. It wasn't like we were a showbiz family.
MJ: What possessed you to try your hand as a journalist?
JW: I found my father's life quite glamorous. He was always away doing these quite intense investigations, and it all felt very high pressure and kind of exciting and passionate. I liked this idea of the deadline, and working with a team, and getting that news out.
MJ: And you did work for this paper for a while?
JW: A very short while, for the Jewish Chronicle. It was very much to do with which synagogue had something going on after shul that Saturday. I didn't get any scoops.
MJ: Was your dad heartbroken when you ditched the business?
JW: Are you joking? He told me not to go into it. He was like, "Don't be a bloody journalist."
I've turned down songs that would be much easier to play on the radio that I don't think should be on the album. Maybe I've shot myself in the foot.
MJ: You sure picked a couple of easy careers to break into.
JW: It's funny, isn't it? I like a challenge. It kind of picked me.
MJ: So, a lot of pop music is consumed as singles these days. But you seem very oriented toward making cohesive albums.
JW: I wanted it to feel like a body of work. I wanted it to exist in people's living rooms, people's cars and stereos—to feel like they could listen till the end. I wasn't thinking about the business side of it. Definitely I didn't make, on the first record, the most radio-friendly music. I made quite down-tempo songs, which radio doesn't particularly like.
MJ: But they played you.
JW: Radio One was amazing. And I've definitely not made a more up-tempo second album. I've definitely had in my mind—which is annoying—"Okay, that could be a single," but I've turned down songs that would be much easier to play on the radio that I don't think should be on the album. Maybe I've shot myself in the foot.
MJ: Do you listen to albums?
JW: Yes, and I would still buy an album. I feel quite weird if I buy a single. I recently bought Lana Del Ray's album, and Jesse Boykins III.
MJ: By the time this record comes out, you'll be married. Are you worried you'll lose your inspiration for songs about heartbreak?
JW: I've been with my boyfriend since I was 18, and I've been pretty happy for 10 years of my life. But I'm sure I can always hark back to an ex-boyfriend or a kiss that went wrong. I don't just want to talk about being a married woman, but just living and relationships. "Wildest Moments," which is probably my most well-known song, is about my best mate. I'll just have a few more fights with my best mate.
MJ: I understand your husband is a school teacher.
JW: He just actually changed professions. He's working as a personal trainer.
MJ: I imagine it's nice, as you've grown in fame, to have someone who can kind of keep you grounded.
"I have moments, like a guy saying to me on the tube, "You know, you look a lot like Jessie Ware."
JW: He definitely keeps me grounded. He loves watching me perform, but he also doesn't give a shit about all the VIP. We're going to the Glastonbury Festival this weekend, and I was like, "Someone's given us a hotel if we want it," and he's like, "Why the fuck would we have a hotel? It's Glastonbury! We've camped since we were 20." And there's the Jewish princess in me being like, "Please say yes to the hotel. Please say yes to the hotel."
MJ: I'm always curious about these VIP situations. Have you had your own moments of being star-struck?
JW: I just turn into a right idiot—this kind of geek—when I meet people. I feel very uncomfortable. You try and play it cool, but you also don't want to look like you're rude. So, yeah, I'm really crap in those situations. I was really star struck when I met Frank Ocean. He just has this aura. Who else? Taylor Swift was so charming. She's so tall! Like a swan. She moves very gracefully. Of course, her being this beautiful person towering above me saying she really loved "Wildest Moments" and there's me looking up, being like, [dweeby voice] "Oh, right. Cheers." Hands in my pocket, tummy out, turning into an old man. You've just got to laugh about the situation.
I did some of the album in LA, and you'd go to the Chateau Marmont and all these paparazzi are outside. It's Hollywood, and it's so funny. I'm just a tourist in it all. They were there for Lady Gaga and Lana Del Ray and stuff. It's quite fun being a fly on the wall.
MJ: Do obsessed fans wait for you outside after your UK shows?
JW: American fans want to meet you, and they wait for that autograph by the stage door. In the UK, it doesn't really happen that much. I have moments, like a guy saying to me on the tube, "You know, you look a lot like Jessie Ware." That's about as fucking show biz as I get.