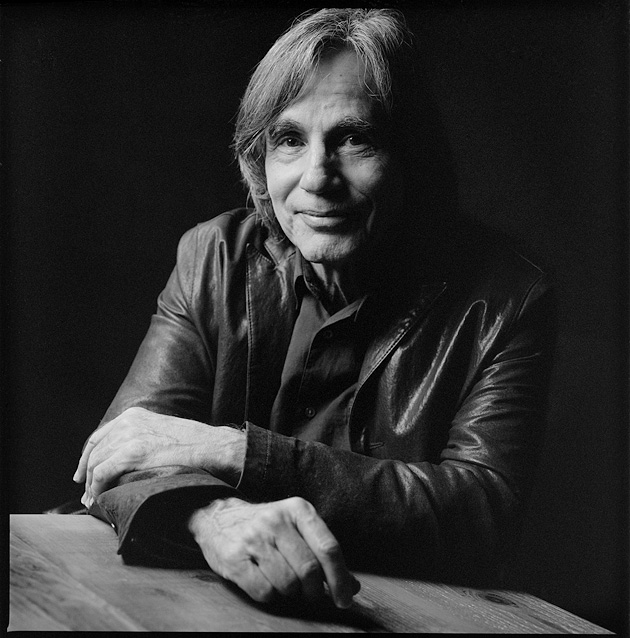 Jackson Browne released his 14th studio album, Standing in the Breach, earlier this month. In a career that spans more than four decades, the 66-year-old Browne has never deviated too far from the honest and self-aware songwriting he's known for. The archetypal "sensitive guy" songwriter has proven himself, through his consistency and guilelessness, to be a deep and committed artist.
The weight of his work revolves around his inner life and relationships, as well as social, environmental, and political issues. And he's surprisingly noncommercial for an artist who has sold millions of albums. The new album leads with "The Birds of St. Marks," written when he was 18 and living in New York, where he was creatively and romantically involved with Nico of Velvet Underground/Andy Warhol crowd fame.
One of the album's many fine new songs, "If I Could Be Anywhere," begins with a description of the enjoyment of surfing, before opening up into a discussion of environmental and political ills. But instead of just lamenting, Browne seems to accepts his place in history, and its responsibilities.
If I could be anywhere in time,
If could be anywhere and change the outcome,
It would have to be now.
I interviewed and photographed Browne in Nashville during the Americana Awards and Festival, where he received Spirit of Americana Free Speech Award. The following is in is his words:
I suppose New York had an effect on me. It was my first time in a place like that. I hadn't even lived in Los Angeles very long at that point. New York was exciting; people were very different there. I saw bands play; I saw an incredible soul review from Toronto at Steve Paul's The Scene. I met Leonard Cohen. I played on Nico's Chelsea Girl and met Lou Reed, and I also saw one of the Murray The K package shows that had Cream and Wilson Pickett, and Jan & Dean and Blues Project. It was a seminal time for me.
"I was about 25 before I ever heard the idea that rock and roll was meant to be disposable. To me, the great songs have lasted."
"The Birds of St. Marks," was written in New York—well, actually the last verse was written in California when I got back. That song was maybe one of the oldest songs I had that I hadn't cut the way I imagined it when I wrote it. I thought of it as a Byrds song. Part of it was to Nico, because she really liked the Byrds and watching Roger McGuinn play. It was that way of writing a song to somebody that is part portrait of them and part note to them. You have to put it at the beginning of the album to get it out of the way; there's really only one place to put it.
The "wooden lady" in the third verse is not referring to Nico, even though it works with her remoteness and arctic persona, but really the wooden lady was outside my window at the Chateau Marmont as I woke up the day after I flew back. The statue was of a Sands Hotel showgirl with one leg raised and holding a hat. The paint was peeling and it was made out of wood—it was from the '50s.
I was about 25 before I ever heard the term "disposable art" and the idea that rock and roll was meant to be disposable. To me, the great songs have lasted. I'm inclined to make it into something that will stand up for a while, and not something that is dashed off. Having said that, some of the best songs are the ones that you do quickly.
I've always felt happy about the way my lyrics read. I think they hold up on their own. I've only come to think that when I have to write them out for a lyric sheet or a songbook. But the truth is, these lyrics come from being able to sing them. They are not poems, they are lyrics, and not only because of the support of rhyming and of music—which is half of what you are supposed to be hearing.
For the last month, I thought I was coming here to get a Lifetime Achievement in Music award and it was only a couple days ago I found out I was getting this Free Speech Award about speaking truth and being undaunted by the reluctance people have to hear songs on political themes. It was an honor, and I'm happy because that means that people understand there are times that you are compelled to say what you believe. Expression is not about the music industry; it's a human trait. The industry doesn't like it because it's going to limit the amount you sell. If the whole point is to sell as many records as you can, then don't put your political beliefs out there. But if the whole point is to express yourself, then I appreciate when they give an award like that.
The outlook is bleak. You can't blame anybody from turning away…We're going to have to each find the solutions in the way we live our lives."
In one of my songs I say, "We will all assemble, and we will lift our eyes to the tasks we know lie before us." There really is nothing else to be done. But things are getting worse. The oceans are about to collapse. For all of us, every second breath we take, literally, was created by life forms that live in the ocean. And now there are dead spots in the ocean, and there are huge parts of it that don't produce any life, so we're in trouble. It's a global problem.
The outlook is bleak. You can't blame anybody from turning away, but that's precisely the way that Naomi Klein's new book, This Changes Everything, begins: discussing the ways in which we all turn away. Even someone as committed as Naomi Klein is discussing the ways in that she has turned away. We're going to have to each find the solutions in the way we live our lives to make this work.
To carry around a metal bottle and decline a plastic bottle the eight or ten times you're offered one in a day is an act of consciously making a choice. "No thanks, I can't drink out of that—that's got Bisphenol A in it; I've got to have a glass from the tap." It eventually becomes something familiar. On planes now the stewardess will say, "You probably don't want this if it came on the plane in a larger plastic bottle." So I'll ask, "What do you have that came on the plane in glass?" And she'll say, "Wine and whiskey." And I'll say, "Excellent!" and there's a glimmer of recognition between us, and I'll have earned that drink.