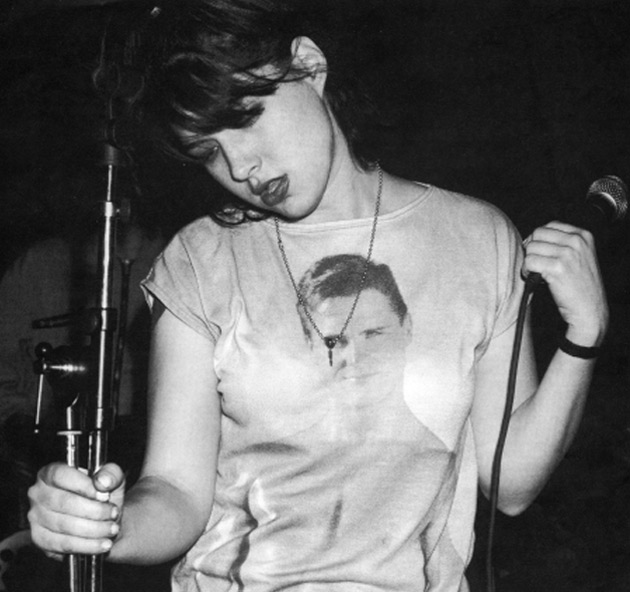 Fight disinformation:
Sign up
for the free
Mother Jones Daily
newsletter and follow the news that matters.
Two decades ago, Bikini Kill's Kathleen Hanna, who now fronts a quintet called The Julie Ruin, was at the forefront of the punk-rock feminist movement. I asked the riot grrrl icon what she's listening to nowadays, and here's what she had to say. To read the rest of our interview, click here.
1. I'd say Santigold is probably my favorite younger artist. "Creator" is the song that I listen to when I'm really like, "I can't do it anymore!" It's such a bold statement about being someone who makes stuff, whatever that stuff is. It gives me so much confidence.
2. I really like Grimes a lot. I love that she produces her music and she's unapologetic about being a feminist. It sounds like a contradiction to mix fashion with feminism and I really love that she just walks through that like, "What do you mean? There's no contradiction."
3. I've been really into Vic Chesnutt lately. His music is so moving and so beautiful, and his voice is just so different than anybody else's. I've lost a lot of people to suicide and I can't listen to the music of friends who died of suicide, but I can listen to his, because he wasn't my friend. There is sadness in his pain and also just joy. I love the idea that he survives through his music. That's a really hopeful, sweet thing.
4. I really love LCD Soundsystem—like everybody else on the planet—just the way that James [Murphy] took so many references of Joy Division, or whatever he was referencing, and really was able to make it his own. He has a great record collection and knows a lot of music and it really comes out in such an interesting, beautiful way. He mixed a song on our record, so I got to meet him, and it was really fun.
5. I love old country music: Hank Williams Senior, Patsy Cline, Tammy Wynette, and all that kind of stuff. George Jones is a favorite. I just really love the style of writing where every chorus is colored by the verse and the verses change what the chorus means. It tells stories of peoples' lives. I listened to country music as a kid. I'm kind of leaning toward that way of writing as I get older.