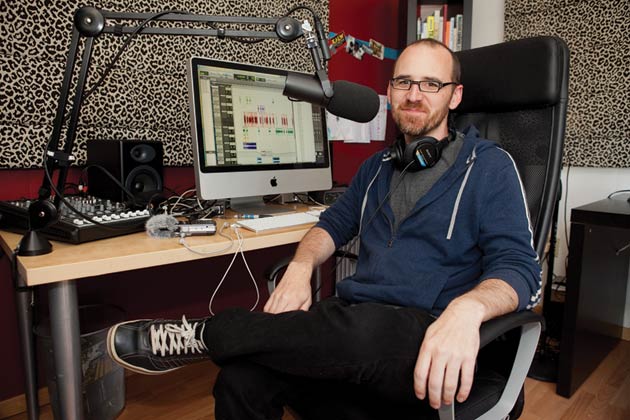 Fight disinformation:
Sign up
for the free
Mother Jones Daily
newsletter and follow the news that matters.
Radio host Roman Mars, creator of the architecture-and-design podcast 99% Invisible, wasn't always interested in the structures around him—"I found architecture kind of distancing, quite honestly," he says—until the day he embarked on a boat tour of Chicago. The guide pointed out how one of the Montgomery Ward buildings was explicitly designed without corner offices to prevent squabbling among company vice-presidents over who should get one. It "made me realize I wasn't invested in the aesthetics of buildings, but I loved the stories of buildings a whole lot."
In 2010, when an architecture trade group partnered with San Francisco radio station KALW to launch a bite-size design segment, Mars, who'd gotten his start at the station nine years earlier, jumped in to produce. Soon he was doing longer stories about things most of us take for granted: a decrepit bridge in Golden Gate Park, highway stripes, the modern toothbrush, the dark logic of solitary-confinement cells.
Today, 99% Invisible boasts more than 10 million downloads, and Mars' "tiny radio show" has turned heads in more ways than one. His painstakingly designed third-season fundraiser broke Kickstarter's record for a journalistic venture and got people buzzing about new funding models for radio.
Mars, who has deep-set eyes, a reddish beard, and a mesmerizing voice, works out of a jacked-up shed in his backyard, where he produces one podcast roughly every 12 days with the help of an associate producer, Sam Greenspan. To handle the deluge of mentorship requests he receives, Mars hosts monthly "office hours" at a local café, where devotees get to pick his brain. At one such gathering I attended, a young journalist launching a show about people's jobs was struggling to find the story in an interview he'd just conducted. "Go with why you were interested in the first place," Mars advised. "What would you tell people at a party?"
"I went to KALW and I said, 'I'm going to stay here till you kick me out.' It was like my job, but it wasn't a job."
Mars apparently follows his own advice, since his revelations are just the sort of thing listeners might be tempted to bring up over cocktails. Rare, after all, is the innovator who thrives on the old and the arcane. "I like iPhones," Mars points out. "But that's not my thing."
Mother Jones: Your kids have cool names.
Roman Mars: I have twin boys: Mazlo Rocket Mars and Carver Atomic Mars. I like middle names and I wanted them to be like superhero names because you could sort of choose them or not. I almost called him Carver Science, and it turns out he loves science! I just wanted them to have their own thing. I like being a Roman. I couldn't imagine naming them something sort of typical.
MJ: What were you doing before radio?
RM: I went to graduate school to get a PhD in genetics. I spent two and half years doing that, and after my classes and teaching ended, the research side of it wasn't for me. I moved out here kind of thinking I wanted to get into public radio, but it was late-'90s, the first dot-com boom, so I got a job doing that.
MJ: Working in tech?
RM: I got a job as a quality assurance tester even though I had never owned a computer in my life. Back then, anyone could get a job in tech. So I spent a few years doing that, saving up, and was part of a buyout of a company. It wasn't a lot of money, but for me as a completely minimum-wage kid, it lasted me about three years. I went to KALW and I said, "I'm going to stay here till you kick me out." So, I started my own show, I cut tape for the pledge drives, did all that sort of stuff. I went in every single day. It was like my job, but it wasn't a job. I did it as long as I could, and then WBEZ got in touch and hired me. They were the first people to give me a job in radio.
I'm just wired to think of stories without the visuals, and the visuals sometimes kind of kill it.
MJ: Design and architecture are so visual. Why explore them through audio?
RM: Well, the radio thing is the only thing I know how to do. There's two ways to cope with it. One is you be very precise in your language. The other is to write the story such that picturing it exactly right is not a requirement to understanding the story.
MJ: Or the point, even.
RM: Yeah, exactly. The Alvord Lake Bridge is not described exactly. You just know the feeling of it: that it's ugly and dumpy and cracked and it's neglected—and it's probably even more dramatically so if you went and saw the pictures of it. So it just never struck me as this gigantic impediment until after I started the podcast and people said, "I thought you were fucking insane for doing this."
MJ: Good thing they told you that after you started!
RM: I would have thought I could do it anyway. I get why it's a little weird, but I'm just wired to think of stories without the visuals, and the visuals sometimes kind of kill it. Your bias kicks in and you go, "Well I don't really like that building. That building's ugly." The everyday-ness of an object gets kind of stripped away when I can talk about its story and people's guards are down.
MJ: All of civilization is a design story, really. Everything is engineered. So how do you choose your topics?
RM: I really wanted to focus on the everyday, even the mundane, and not the things that were shiny and new and exciting. And not things that people think of as designer things: gadgets, clothes. I wanted to keep it as just the thought and the genius behind things. And that was my take on design. I was at a conference once right after Steve Jobs died and somebody asked me "What are you going to do about Steve Jobs dying?" And I was like, "I'm going to do nothing about Steve Jobs dying. I have nothing to add." And that's not my beat. Sidewalk stamps and manhole covers, that's my beat.
MJ: The story you did on the design of solitary confinement units was a lot newsier.
RM: The part that made it newsy was once you sort of get into that as an idea, you have to be rigorous about, you know, what the California Department of Corrections says, and it's not our normal thing to do that. But the one after that, the rebar one: That's more kind of our thing. What's great about a single-subject series is that you're plotting this regression plot, and then the regression line is kind of the thesis of the series forming over time. And so every once in a while it's like, "Oh, I've done a lot of buildings. Let's do a toothbrush!" And it sort of corrects the ship.
MJ: With all of our mobile gadgets, do you think people are interacting less—or differently—with the buildings and spaces around them?
With mobile gadgets, "you lose that sensory aspect of interacting with the world, but these screens have made us engage with the world intellectually in a new way."
RM: Definitely differently. I always listen to things [on headphones] and so the sound of the world is not something that gets into my head very much. You lose that sensory aspect of interacting with the world, but these screens have made us engage with the world intellectually in a new way. Design awareness is at an all-time high. People notice everything, like the fonts of movie posters or the intuitiveness of an email program or the sort of genius of an iPhone. There's a really heightened awareness to minutiae. And maybe it's just nerds finding each other to talk about nerdy things; I mean that in a non-pejorative sense—just people who are obsessive about small things can find communities.
MJ: Have you thought very much about how the tech industry is transforming space in the Bay Area?
RM: There's definitely negative effects of having San Francisco be a bedroom community for Silicon Valley, but I think that there's this receptivity among these people about system design and system-wide solutions to cities. Our systems are breaking down, and so the rational response is, "I'm going to go it alone and I'm going to have my car and I'm going to have my house so I don't have to rely on anything." But I think you could find people buying into the system of a city. I think they already are; that's why there's an urban migration. There's a weird part about design: When you study it a lot or research it and read about it a lot, it can make you kind of pathologically optimistic.