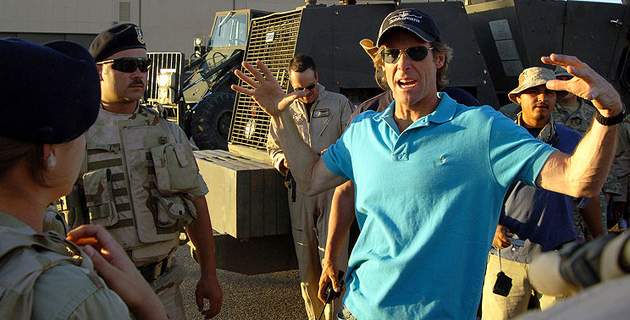 Fight disinformation:
Sign up
for the free
Mother Jones Daily
newsletter and follow the news that matters.
Michael Bay is one of the most intensely reviled filmmakers of the past 30 years.
"The crassest hack in the business," Rolling Stone's Peter Travers—perhaps Bay's least generous critic—said of the director after watching 2003's Bad Boys II. "Is Michael Bay the Devil?" an Entertainment Weekly headline read in 1998. South Park co-creator Trey Parker wrote an entire love song for Team America: World Police about how much he thinks Michael Bay is terrible.
Bay has been nominated for four different "Worst Director" Golden Raspberry Awards—a near-record. "Michael Bay is quite the perennial!" says John Wilson, founder of the Golden Raspberry Awards. "I don't think he's an adult filmmaker. He has this tendency to revert to the model of, 'It's Been 7 Minutes, Something Has to Blow Up Now.'"
It's a near-constant stream of criticism and condemnation of which the director is fully aware.
And he insists he couldn't possibly care less about it.
"I really, really don't care," Bay tells me, calling from Los Angeles. "For instance, you look at the box office returns: Break it down, and you see that 120 million people went to see Transformers 3. So, you know, 500 critics are not going to take the fun out of it for me. I make movies for people. I make movies for audiences to enjoy. A few sour apples are not going to spoil my fun."
Bay is definitely having fun. He's worth $400 million. His nine films have grossed over $4.5 billion total worldwide. He's Leonard Nimoy's cousin-in-law. He owns a gorgeous Miami Beach house that once belonged to Hulk Hogan (a place Bay calls "a nice house to read in").
And he has staked out a reputation for making a certain type of summer movie: expensive cars, blaring noises, audacious stunts, thin plots, toothsome women, shameless laughs, and (when an R-rating permits) hard drugs. It's a crowd-pleasing formula that has given him carte blanche to do virtually whatever he wants, for practically whatever size budget he desires. But beyond the cash, fame, and mindless cinematic kicks, there is plenty more that's worth a closer look. In the same way that Harry Truman's presidential legacy was rehabilitated after he left office, pop-culture history could one day call for something comparably unlikely: an artistic reappraisal of Michael Bay's oeuvre.
The action and the stylized violence that define Bay's universe—whether it involves detonating a Boeing 727, or destroying an entire Cuban shantytown with a bright yellow Hummer—are crafted with the care of a composer: the tricky stunts, the close-quarters camera work, the elaborate staging. And the man knows how to talk about his work like an auteur. "Editorially, it's very much like music," Bay comments. "Action in movies has rhythms, it has cadence—it should build towards a crescendo. There's a kind of staccato, there's aggression."
When he was 13 years old, he blew up a toy train set with firecrackers and captured the pyrotechnics with his mother's 8 mm camera. "I got grounded. Two weeks," Bay said.
"It's the inspiration—it's the inspiration to start to dream," Bay continues. "I create a world within my movies for audiences to enjoy…What makes me giddy is the idea to eventually have that complete project to show."
Bay's road to orchestrating this sort of sanguinary music began at an impressionable adolescence. When he was 13 years old, he blew up a toy train set with firecrackers and captured the pyrotechnics with his mother's 8 mm camera. He set part of his adoptive family's Los Angeles house on fire, which led to the fire department rushing to their home. "I got grounded. Two weeks," Bay told USA Today. When he was 15, he interned at Lucasfilm in the summer of 1980, filing Raiders of the Lost Ark storyboards (nine year later, when he met Steven Spielberg, the first thing Bay said to him was that those storyboards convinced teenage-him that Raiders "was going to suck"). In high school, Bay was already an award-winning photographer. He was what he describes as "a quiet jock" who also acted in musical theater, including a school production of the comic opera The Pirates of Penzance. "He was the lead, singing Frederic; I never laughed so hard in my life," his mom, Harriet Bay, told GQ.
The future Hollywood bad-boy later enrolled in Wesleyan University, where he was known as the charismatic, film-obsessed brother in the school's Xi Chapter of Psi Upsilon, the same frat that pledged President William Howard Taft. He was also the star student of Jeanine Basinger, a Midwestern film professor legendary for mentoring a substantial number of big names and film royalty (Joss Whedon was a classmate of Bay's, and Basinger has taught one of Martin Scorsese's children, for instance). "If you want to be a filmmaker, take drum lessons," Basinger, commenting on rhythm and editing, would tell her class. At 77, she still teaches at Wesleyan and lives with her husband of 45 years—and regularly keeps in touch with Bay. Through the years, he's remained supportive of many of Basinger's projects, and put her in two Transformers movies. "People say I'm the one who taught Michael Bay, but I'm not—he was born with it," Basinger says. "He was an excellent student. I remember he was particularly fond of gangster and detective movies. He loved film noir and good, old musicals." (He has a particular fondness for West Side Story.)
As a senior film and English major, Bay made what was widely considered Wesleyan's best student film that year: It was called My Brother Benjamin, in which a senior frat boy gets a new yellow Porsche. (Benjamin is Bay's middle name.) "Already, as a senior in college, he was making a Michael Bay film," Basinger says, smiling.
One of the things caught Basinger's attention was Bay's eye for composition, color, and fast edits. That instinct carried over into his professional life: A dirty little secret about the critically maligned director is that his unique style of framing and sharp editing are intensely studied in prominent American film schools. (Even James Cameron says he has studied Bay's films and tried to "reverse engineer" them.) "He is a genius at that," Basinger says. "I know a lot of people don't want to hear that, but if you want to learn, Michael has a gift for that!"
"Dude, that's zero audience enjoyment, dude—why would we spend any money on that?" Bay has been known to emphasize.
After graduating, it didn't take too long for Bay to cut a deal to make his first $19 million movie. Post Wesleyan, he headed to the Art Center College of Design in Pasadena, California, where he was classmates with, among notable others, 300 and Man of Steel director Zack Snyder. Next, he enjoyed an award-winning streak at Propaganda Films, where he directed music videos, TV commercials, and shorts, including the "Aaron Burr!" Got Milk? ad and a Playboy "video centerfold" for Miss September 1990 playmate Kerri Kendall. In the early '90s, megaproducer Jerry Bruckheimer and the notoriously hard-partying Don Simpson were so impressed with his work that they signed him on to direct Bad Boys, a 1995 cop flick that was the breakout role for Will Smith, who would soon become the most bankable actor of his generation. Bad Boys features large explosions, chases, and macho action sequences—a recipe for purely visceral entertainment that has served Bay well ever since. "Dude, that's zero audience enjoyment, dude—why would we spend any money on that?" Bay has been known to emphasize to production staff when he feels like things are dragging.
"I don't remember him struggling that much [at the start of his career]," recalls producer Brad Fuller, who along with Bay and fellow producer Andrew Form cofounded Platinum Dunes, a production house that grew out of Bay's idea to give first-time feature directors the chance to remake classic horror films. Bay and Fuller became good friends shortly after meeting in Hebrew school when they were 15 and 16, respectively. After Bay headed to Wesleyan, Fuller followed him there a year later, where they both pursued film studies. And here they are, two boyhood friends, a decade and a half later, preparing to remake Teenage Mutant Ninja Turtles together. "It's absolutely like a childhood dream come true," Fuller says.
And here they are, two boyhood friends, a decade and a half later, preparing to remake Teenage Mutant Ninja Turtles together.
The kind of box office returns Bay has consistently posted, particularly with his three hypersuccessful Transformers movies, have bought him the once evasive respect of big studios—or at least their collective calm. "He is the most hands-on director I have worked with," says Industrial Light & Magic animation supervisor Scott Benza, who has worked with George Lucas, Ang Lee, and Joss Whedon. Benza has a 14-year professional history with Bay; as an animation supervisor and lead animator, Benza was the guy in charge of making the dogfights in Pearl Harbor look good, and the robots in Transformers move, fight, transform, and explode however Bay wanted. "Often times, we will have to answer to more than one person on a movie; with Michael, there is only one person to answer to. He has enough respect from the studio to have their trust."
Bay hasn't always enjoyed this degree of flexibility. While he was shooting The Rock, his critically acclaimed second feature film, uneasy Walt Disney Studios execs made attempts to micromanage the production. Tensions abated only after star Sean Connery, dressed in golf attire, confronted the studio guys to tell them to leave Bay to his own directorial devices.
The Rock, incidentally, is one of two Bay films that's been inducted into the Criterion Collection—the prestigious series established in 1984 known for celebrating "important" foreign film (François Truffaut's Bed and Board) and arthouse fare (Robert Altman's Tanner '88). The other—sandwiched alphabetically between Pasolini's Arabian Nights and Melville's anti-fascist Army of Shadows—is Armageddon, Bay's critically lambasted 1998 disaster epic about Bruce Willis blowing up an asteroid. (It also spawned one of Aerosmith's most despised power ballads.)
Peter Becker, the president of the Criterion Collection, seems to be on board with the idea of a reappraisal of Bay's filmography. "Jerry Bruckheimer is the ultimate modern blockbuster producer, and his [five] films with Michael Bay are definitely exemplary films of that kind, so it really wasn't that hard a decision [to include Armageddon]," Becker writes in an email, rejecting the notion that Bay's film doesn't belong. "We don't often get a chance to work on contemporary blockbusters with massive special effects, and we wanted a chance to take a look at how those films are made."
Bay wanted to make the movie so badly that he issued an ultimatum to Paramount Pictures.
Compared to this history of flashy blockbusters and big effects, Bay's basically slumming it now. Well, at least for one movie: After roughly 15 years of doing whatever he wanted to do with homicidal robots, war, fancy cars, rocket launchers, and asteroid panic, Bay took on a decidedly smaller project: Pain & Gain (released April 26), a darkly comic Miami crime drama based on three Miami New Times articles by Pete Collins, which stars Mark Wahlberg and Dwayne "The Rock" Johnson. "It was a cool script that I had in my shelf for 10 years: an interesting character study of delusional criminals," Bay says. The plot involves three bodybuilders who torture a wealthy man with sex toys and other objects in order to steal his property and his sandwich shop. Their plan takes the three men down a path of sex, murder, and cocaine. The film is what you could get if you melded Scorsese's Casino with the Coen Brothers' Fargo, and transposed the result to the sleek veneer and sun-bathed colors of VH1. It's a violent tragicomedy that moves at the rhythm of a wild, hallucinatory music video.
Bay wanted to make the movie so badly that he issued an ultimatum to Paramount Pictures, saying he wouldn't direct a fourth Transformers film until he got to make Pain & Gain.
"He legitimately has been talking about wanting to do Pain & Gain for 10 years," Fuller says. "In his time talking about wanting to make a 'smaller' film, it was always and only Pain & Gain…Now, he's solely focused on directing the next Transformers." Basinger, Bay's professor, had been urging him for a long time to do such a "small" film. He began keeping the potential project in the back of his mind around the time he was prepping the $130 million Bad Boys sequel. Pain & Gain's production budget came out to $26 million, and the movie only has one explosion and sparse gunplay. "I wanted to do a quirky movie; I wanted to do something small, just actors acting," Bay told the New York Times.
Bay's brief foray into character study isn't likely to convert hostile critics, who generally enjoy painting him as an "asshole" as much as they like slamming the merits of his blockbusters.
Bay has over the years gained a reputation befitting his rowdy college days. Critics routinely knock his films for misogyny, homophobia, racial insensitivity, and acute pointlessness. His public persona is that of a megarich, shallow playboy who frequents Hugh Hefner's house and has a taste for beach blondes. And his tyranny and temper on set has been fodder for tabloid gossip. (Transformers star Megan Fox—who first worked with Bay when she was 15 as a water-drenched, stars-and-stripes-bikini-clad club dancer in Bad Boys II—famously compared Bay to both Napoleon and Hitler.)
Naturally, friends and loyal crew insist that a softer side is obscured by the pervasiveness of dirt-dishing. "Michael is perceptive and sensitive in a way that is exactly the opposite of his tabloid persona," Wayne Billheimer, an ILM visual effects producer and "money guy" who started working with Bay in 2008 on Transformers: Revenge of the Fallen, says. "He's very in-tune about people's opinions…He's a mix of intense and funny on set."
In late 2010, Michael Bay offered a $50,000 reward for information leading to the arrest and successful prosecution of a woman who threw puppies into a river.
For all the stories about a decadent lifestyle, Bay has a habit surrounding himself with devoted family men, including Fuller, whose wife and children are close with Bay. "That playboy thing people say about him is really no different than any other single guy in LA," Fuller tells me. "And I'm spending time with the guy every day, and I know he isn't homophobic. As for the misogyny charge…he makes women look more beautiful than anyone else. I don't think that's misogynistic."
The counter-argument to this stems from the widely held notion that Bay's idea of on-screen feminine beauty is rooted in a horny and drooling adolescence. When it comes to his leading ladies, Bay's films are far more likely than not to accentuate tight bodies and full lips in ways that just scream objectification. "Mike films women in a way that appeals to a 16-year-old sexuality," Transformers franchise star Shia LaBeouf told the Los Angeles Times in 2011. "It's summer. It's Michael's style."
But whatever controversy Bay runs into in his public life, he makes sure to keep at least one thing out of it: politics. "Yes, I am a political person, and I have my views about America," Bay says. "I'm very proud of my country; obviously it's going through a lot of turmoil, and we have a very ineffectual government." He however declines to indicate whether he leans right or left: "It doesn't matter at all—it's not a part of what I do. I don't feel the need to go out and tell people what to believe politically." If Michael Bay is going to make a public stand, he is far more likely to do so out of a love for animals than a political conviction. For instance, in late 2010, Bay offered a $50,000 reward for information leading to the arrest and successful prosecution of a woman who threw puppies into a river. (He lives with two gigantic English mastiffs named Grace, named after actress Liv Tyler's Armageddon character, and Bonecrusher, named after a Decepticon Transformer.)
Nowadays, Michael Bay's hands are full with "tweaking" the script for the next Transformers, executive producing two new cable TV shows, injecting new life into Teenage Mutant Ninja Turtles, and—of course—continuing to be loathed far and wide.
Regarding that last one, it's safe to assume he continues to "really, really" not give a damn.
"I have lived to see everyone dump on Otto Preminger, Howard Hawks, and even Hitchcock," Basinger remarks. "Critics hate him, but there's no question he's a historical figure. You can't talk about the last decade of cinema without talking about Michael."