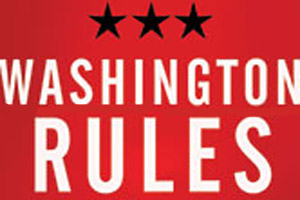 Fight disinformation:
Sign up
for the free
Mother Jones Daily
newsletter and follow the news that matters.
Ready to go back to school? Below, a short, eclectic reading list for the self-taught.
By Andrew J. Bacevich
METROPOLITAN BOOKS
Suppose China spent more on its military than every other nation combined, built hundreds of overseas garrisons, played aggressive war games, and partitioned the planet into "command sectors," all while claiming its goal was world peace and stability. Hey, wait, that's us. In this follow-up to his 2008 bestseller, The Limits of Power, soldier-scholar Bacevich chronicles America's shift toward a perpetual state of what he calls "semiwar." It stems from the post-World War II notion that America's interests are best served not by leading by example but by projecting our military superiority overseas.
Bacevich introduces us to the early architects of these "Washington rules"—Cold War power players like CIA chief Allen Dulles and Strategic Air Command boss General Curtis LeMay—and details how presidents from Truman to Obama have played along. He also goes after General David Petraeus, arguing that his revival of counterinsurgency has all but guaranteed costly, open-ended commitments in Iraq and Afghanistan.
The triumph of the Washington rules has made us both weaker and poorer, Bacevich argues. Yet to question them is to risk political marginalization—just ask Reps. Ron Paul and Dennis Kucinich. Will Washington ever curb its endless military adventure? Never, Bacevich concludes, unless we speak up. —Michael Mechanic
By Paul Reyes
HENRY HOLT AND COMPANY
The Great Recession was a curse and a blessing to Paul Reyes. Deprived of steady work as a writer, he returned to Florida and joined his Cuban immigrant father's "trash out" business—cleaning out foreclosed homes. Reyes took his pen along, and the result is an engrossing memoir of American dreaming and financial devastation. "I've cursed how Florida, despite the ease it advertises, possesses so little stability," he writes. Reyes deftly charts that fragility with a rhumb line connecting his family's vicissitudes, half-finished McMansions, and mortgage mania. —Adam Weinstein
By Eliza Griswold
FARRAR, STRAUS AND GIROUX
Journalist Eliza Griswold draws upon seven years spent traveling the band between the equator and the 10th parallel to investigate Christianity and Islam's dynamic, conflicted coexistence in an eye-opening collection of dispatches. Born of a trip in which she followed Billy Graham's son to Sudan to meet his Muslim nemesis, Griswold's curiosity leads her to witness both religions' "reawakenings" across Africa and Asia. Whether writing about spiritual leaders in Nigeria who "reprogram" young people to tolerate each other's differences rather than kill each other or illustrating the family rift caused by an interfaith wedding in Malaysia, Griswold provides incredible insight into the future of the two religions. —Evan James
By Laurence C. Smith
DUTTON
Laurence Smith's cleverly executed thought experiment predicts that four "megatrends"—more people, fewer resources, globalization, and climate change—will utterly transform the world in the next 40 years. Mixing tales of his expeditions with a hefty dose of environmental and sociological number crunching, Smith, a geography professor, concludes that while much of the world sweats and struggles, the northernmost reaches of the planet—Canada, Scandinavia, Russia, and parts of the United States—will thrive due to their warming climates, longer growing seasons, and fossil-fuel stores. Smith wonders: "If Florida coasts become uninsurable and California enters a megadrought, might people consider moving to Minnesota or Alberta?" —Eric Sullivan

By Laura Kipnis
METROPOLITAN BOOKS
Cultural critic Laura Kipnis dissects America's fascination with public disgrace in this droll, hypercharged treatise on the "psychodynamics of scandal." The subjects scrutinized—among them the jilted astronaut who drove cross-country in diapers and a New York judge who assumed various elaborate disguises to blackmail his lover—provide case studies of self-destructive impulses. But Kipnis also takes her scalpel to our craving for shame, calling out the twin "bullshit artists" in the Oprah-James Frey saga and noting that we're prone to conflate the ugliness of an act with the ugliness of the person behind it (think Linda Tripp). "The trouble with scandal," writes Kipnis, is that "it reveals too much—everything we don't want to see and would prefer not to know, about them and us." —Zoë Slutzky