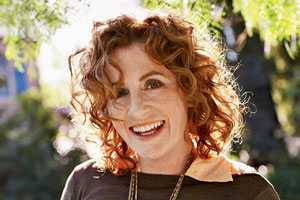 Fight disinformation:
Sign up
for the free
Mother Jones Daily
newsletter and follow the news that matters.
To listen to a podcast interview with Ayelet Waldman, click here.
THE FILM version of Ayelet Waldman's Love and Other Impossible Pursuits, starring Natalie Portman and Lisa Kudrow, is coming soon to theaters. But the Bad Mother author says she doesn't expect the Hollywood treatment for her forthcoming novel, Red Hook Road. "Nobody is going to put up the money for a movie that has two female leads over 50. We have no problem with a 20-year-old female and a 48-year-old male as a legitimate, noncreepy sexual relationship. I'm sorry, that's gross. We have all these magnificent actresses going to waste."
Mother Jones: What was your level of involvement in bringing the book Love and Other Impossible Pursuits to the screen?
Ayelet Waldman: I was just a cheerleader. Although I did spend a couple of days wandering around the set saying over and over again, "Oh my God, this is me. This is all me." I'm sure that was wonderfully pleasant for Natalie Portman and Don Roos. But I tried not to let them hear me.
I had a great producer, Marc Platt, who optioned the script very early on. He did Wicked on Broadway, he did Empire Falls on HBO, and one of the things he's noted for is keeping the author's thematic vision true. The thing about Love and Other Impossible Pursuits is that in the wrong hands it could've ended up like Stepmom. The character of Emilia Greenleaf is very dark, and I was afraid that someone would soften her up and make her sort of happy and sweet. But that's not what happened at all. [Platt] made the perfect choice for a screenwriter and director: Don Roos, who directed The Opposite of Sex and Happy Endings. And [Roos] is known for a kind of dark sweetness in his work, and the movie of Love and Other Impossible Pursuits definitely has that. So what did I do? I stood on the sidelines and clapped my hands joyfully.
MJ: You're sometimes taken to task for writing unsympathetic characters. Does Emilia Greenleaf fall under that category for you?
AW: I loved her. I think she's amazing. The story of Emilia is one about a selfish child growing up and realizing that she has obligations that extend beyond her own belly button, and learning not to be so narcissistic and self-indulgent. So she has a transformation. I think the book wouldn't work if she was just lovable all the way through.
MJ: No.
AW: The same is true of Daughter's Keeper, and the same is true absolutely about Red Hook Road. And the same is probably true of my nonfiction, because when you reveal all your warts there are going to be people who don't like you. It's certainly true that there are a lot of people who don't like me—look at Gawker. They ranked [Michael Chabon and me] I believe #3 in most loathed literary couples. At the same time, for every person who says, "Oh my God, shut up, I hate your guts," there are others who email me and say "thank you for saying what I was too afraid to say."
MJ: Is it fair to say that all of your work contains some exploration of social, legal, or ethical issues?
AW: Yeah, I think that's definitely fair. Even the sort of light and fluffy mysteries had at their core a kind of social criticism, or discussion of what it means to be a mother and feminist in a postfeminist world. And Bad Mother was overtly political. I think that's because my entire life is political, and social criticism comes as naturally as self-loathing, in fact—two things I'm very good at.
MJ: In Love and Other Impossible Pursuits, it's almost as if you crafted archetypes of the various characters you wrote about in Bad Mother. Emilia is the bad mother, Carolyne is the good mother, and William is the exceptional child. Then you wound them up and let them interact. What's the relationship between your fiction and your essays?
AW: I am consumed, or I have been consumed, with these issues of motherhood and the way we act out societal expectations and roles. So both my nonfiction and my fiction have been pretty much exclusively about that. You know the way Philip Roth has one topic that he writes about over and over again? I—nowhere near as good a writer as Philip Roth, God knows—also have this one topic that I write about over and over again. It is endlessly interesting to me. We'll see, maybe someday I will write a novel about a man who has never been a father and never plans to be a father, and never met a woman, and never plans to be a husband. But so far, no.
MJ: The thing about Emilia is that she does start out almost unbearable. And by the end of the book, not only does she become much more self-aware, but the other characters become less one-dimensional because she's not so blinkered. Carolyne becomes a full character because Emilia can see her completely.
AW: And Lisa Kudrow's performance as Carolyne is so beautiful—she manages to grow and add depth through the course of the story in a way that's really remarkable. There's a little hand gesture at the end, that speaks…She puts so much meaning and beauty in this little hand gesture.
MJ: Is there a particular audience you wish would get out to see this movie?
AW: Every single person in the United States, in fact. It's a great movie and I want as many people to see it as possible. It's definitely a grown-up movie. That's kind of the interesting thing. When you make a movie that's meant for adults, it isn't going to have a lot of appeal to the under-18 set. And you try to see if you can succeed despite that.
MJ: Our coeditor Clara Jeffery blogged about the paucity of film roles for actors over the age of 35, but you wrote a great lead for an over-35 with Carolyne…
AW: We have all these magnificent actresses going to waste. Who else beyond Meryl Streep is getting any work these days? Every once in a while you see like Holly Hunter or Glenn Close, but great actresses over 40 are a dime a dozen, and where the hell are the parts for them? Red Hook Road is a great example. Two of the main characters are women in their 50s, and I'm not even bothering to send that around in Hollywood, because nobody is going to put up the money for a movie that has two female leads over 50.
MJ: Any favorite stories from the making of the film? Casting, filming, cast parties, deleted scenes…?
AW: There are some deleted scenes. It's so funny because we saw a version of the final cut, and there are a couple scenes that were deleted that I begged Don to put back. When it's your own work, you'd happily watch four and a half hours of it. But not so much when it's someone else's. We'll see if my falling to the ground and weeping hysterically made any impression on him. I hope not, because I'm sure his judgment is far better than mine.
MJ: Was there anything in the film that you would've gone to the mat for if it looked like it was going to get cut out? Like whole characters, or…?
AW: You know, I feel like my job is to write a book. Then filmmakers come and they make a movie. And they're two really different art forms. Just like I wouldn't allow the guy who optioned the book for the film to make any comments about how the book should come out, I similarly don't feel like I have a place in that. When my opinion is asked, I state it, but I always make it really clear that I don't expect anyone to take it any more seriously than you would anybody else's opinion. I'm writing a screenplay now, and it's amazing to me every day when I sit down at my computer how different these two mediums are. It's astonishing.
MJ: I'm one of those people that's always like, "Oh I read the book, the movie was not as good, they didn't have this, blah blah blah." And one of the very few films where I read the book, enjoyed the book, saw the movie, and enjoyed the movie was Wonder Boys [by Michael Chabon].
AW: Wonder Boys is a great example of that. I mean, Curtis Hanson made his own movie. They are very different and they're great, each of them. The other example for me is The English Patient [by Michael Ondaatje]. I love the novel of The English Patient; I think it's a profoundly beautiful novel. I love the movie of The English Patient; I think it's a profoundly beautiful movie. And they're totally different. You accept each on its own terms, and that's kind of the ideal. Unfortunately there's this commercial imperative [in Hollywood]—I don't know why everyone feels like they have to make money on a movie. So often the choices that are made are more commercial than artistic. But that's part of it too. The biggest challenge for any craft person or artist is to accept the constraints of their medium and make something beautiful despite them. That's kind of fun, actually.