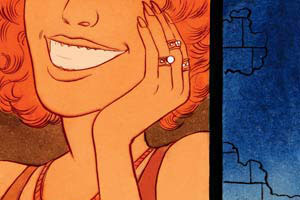 Fight disinformation:
Sign up
for the free
Mother Jones Daily
newsletter and follow the news that matters.
WHEN THE 1981-82 recession put a dent in steak sales, things could have gotten dicey for A1 Steak Sauce. Yet the 100-year-old brand turned adversity into great advertising. You might remember the TV spot: As a family sits around the dinner table, an incredulous kid catches sight of his uncle drowning a burger in A1. "Mom," the kid blurts out, "he's putting A1 Steak Sauce on his hamburger!" The boy's uncle responds, "My dear nephew, what is hamburger, chopped ham? No. It is chopped steak. And what tastes better on steak than A1?" And then the killer tagline: "A1 makes hamburgers taste like steakburgers."
It was brilliant repositioning. In one bold stroke, A1 shed its filet mignon pedigree in favor of a recession-proof staple. (And it's been there ever since; Burger King's $3.79 Steakhouse Burger is slathered in the sauce.) This episode illustrates the cardinal rule of recession marketing: When life gives you hamburger, make chopped steak.
If only it were still so easy. After years of being sold useless stuff, we media-savvy consumers can spot a con job when we see one. We know advertising is a game; our idea of entertainment is watching the cigarette smoke-and-mirrors heyday of Madison Avenue on Mad Men or Trust Me's Sarah Krajicek-Hunter as she comes to terms with shilling for Dove shampoo (which is, in itself, a genius bit of shilling). So when we see Dodge dealerships offering two-for-one deals or Ed McMahon joking about his home foreclosure while flacking for Cash 4 Gold, we're less likely to be swayed than wonder if that's truly the best our sharpest marketing minds can come up with. Still, one feels a twinge of empathy while imagining the flop sweat of the modern-day Don Drapers as they try to figure out how to help their belt-tightening clients keep their belt-tightening customers. And all this at a time when print media seems to be on its deathbed and Internet marketing looks like the Wild West.
In a striking admission of the chaotic new reality, in March the advertising goliath Ogilvy & Mather—which counts Coca-Cola, Ford, Kraft, and IBM among its blue-chip clients—launched a dedicated Recession Marketing Practice. Brochures announcing the new venture ooze confidence, but also give off a slightly ominous vibe; they open with a quote from Charles Darwin ("It is not the strong, nor the intelligent who survive, but those who are quickest to adapt") and prominently feature Ogilvy's fatalistic motto: "We sell—or else." Forget dog eat dog. This is Wild Kingdom meets Glengarry Glen Ross. The timid are about to be culled from the herd.
The key to brand survival, Ogilvy asserts, is for companies to do anything but "go dark"—i.e., fire their ad agency. Conveniently for ad firms, students of recession and depression economics (from Wharton professors to basement-dwelling business bloggers) advise spending as much on ads as possible—to "steer into the skid," rather than slam on the brakes and wind up in the ditch. According to Ogilvy's own stats, companies with enough cojones "to increase marketing spend" will dramatically enlarge their market share during the recession and—just as enticingly—recover an average of three times faster once happy days return. Counterintuitively, product visibility, more than price cuts or gimmicks like BOGOF (buy one get one free), drives consumers' purchases in tough times. Better, in short, to blow your budget on aggressive advertising than to lose money offering discounts.
But the real challenge—the art, even—of recession marketing is perfecting a pitch that doesn't emphasize your hunger for your cash-conscious buyers' cash. Ogilvy recommends using "reassurance messages"—acknowledgments of the current situation, couched in a spirit of we're-in-this-together-ness. A good example is a recent Allstate commercial, in which Dennis Haysbert (known as 24's crisis-plagued first black president) intones over a Ken Burns-style slideshow of Depression-era photographs, "1931 was not exactly a great year to start a business, but that's when Allstate opened its doors." He goes on, "After the fears subside, a funny thing happens: People start enjoying the small things in life—a home-cooked meal, time with loved ones, appreciating the things we do have, the things we can count on. It's back to basics, and the basics are good." What exactly home cooking has to do with car insurance is unclear, but that's the point. Allstate is feeling our pain.
Not that any of this has to be true or even reflect consumers' best interests: Reassurance messages, Ogilvy notes, "don't need to be purely rational, of course. Indeed, there is growing evidence that emotionally based messages are more persuasive than rational ones." Hard to believe companies pay big bucks for news flashes like this.
Ogilvy's already tried to work its magic for Kool-Aid, a Kraft brand that competes with soft drinks—one of the first things it claims recession-spooked consumers stop buying. "For the price of one bottle of soda, you can mix up five big pitchers of Kool-Aid," the ad announces, closing with this feel-good tag: "For pennies a glass, keep the whole family refreshed and smiling!" Seriously? Is that all it takes to keep consumers drinking the Kool-Aid?
Maybe so. Like Ogilvy emphasizes, it's not about intelligence; it's about speed. In March, after a year of heavy losses, Starbucks announced a new line of instant-coffee packets that sold for less than a dollar apiece. Right idea, but way too late: The coffee juggernaut's competitors had been attacking its upscale image for months. Dunkin' Donuts had orchestrated an online "Friends Don't Let Friends Drink Starbucks" viral campaign. McDonald's was even blunter, rolling out a line of specialty coffees with the in-your-face slogan "Four bucks is dumb. Now serving espresso." And just like that, fancy-schmancy coffee had been reclaimed for the masses.
So if a $4 mocha latte is now a ridiculous extravagance, how do aspirational brands advertise their way out of this? The current downturn hit just as Hyundai was completing its transformation from economy to luxury brand, unveiling the $37,000 Genesis 4.6 sedan. It could hardly pitch its new line of Lexus wannabes as a frugal investment, nor could it slash prices. In January, it revealed the ultimate reassurance ploy, the Hyundai Assurance Plan. The premise was simple and eye-catching: Buy one of our cars, and if you lose your job, we'll buy it back.
Once you get into the fine print, of course, the deal isn't as great as it sounds. The offer is only good for the first year of ownership, if you have made several payments already (or made a steep down payment), and if you can prove that you lost your job involuntarily or went bankrupt. Even then, the Assurance Plan only covers up to $7,500 worth of depreciation.
But what's remarkable about the promotion is that Hyundai is betting that most buyers will keep their jobs and any returned cars will retain a significant percentage of their value—two assumptions that echo the gamble that landed us in so much trouble in the housing market. The genius of subprime lending was supposed to be the invincible collateral of a big-ticket item. But when too many buyers default on their payments, that same collateral floods the market and swamps new sales—be that for a house or a car. Still, the pitch worked, at least for a month: Hyundai's January sales jumped 14 percent compared with January 2008, even as the rest of the auto industry's dropped 37 percent. With numbers like those, other companies are bound to mimic the strategy. (JetBlue already has.) Whatever it takes to make the unnecessary seem less unnecessary.
Of course, it's not a bad thing if the recession encourges consumers—and by extension, corporate America—to live more within their means. Just in the past few months, GM has announced that it will eliminate its Hummer brand as part of its restructuring; communities across the country, saddled with the closures of chains like Circuit City and Linens 'n Things, have passed bans on superstores; and sagging sales for the four largest bottled water labels have led their parent companies to cut back on production. Maybe this truly is the dawning of a new market Darwinism. Who will mourn if gas-guzzling SUVs, big-box stores, and mountains of plastic waste go the way of the dodo?
Madison Avenue will, but it will still find a way to repackage our newfound distrust of the big, the slick, and the entitled. Consider a recent Cheetos campaign that never explicitly mentions the economy but plays out like textbook class warfare. In a spot first aired during what some pessimists dubbed the "Dust Bowl Super Bowl," a woman munches Cheetos while she listens to a snooty soccer mom go on about her son's "trilingual immersion program." In the end, the beleaguered woman smears her orange-cheese-tipped fingers all over the back of the snob's white jacket.
Another spot features a guy named Alejandro eating Flaming Hot Cheetos until his eyes water and his nose runs; when his Gordon Gekko-type boss mistakes him for sick and orders him home, Alejandro responds in an ironic monotone, "Okay, I'll do it for the sake of this great American corporation." The message: Your mass-produced corporate junk food hates rich people as much as you do.