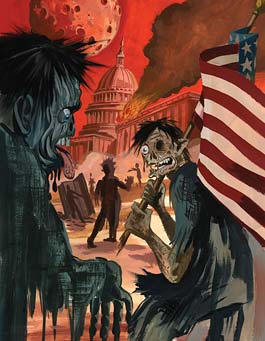 Fight disinformation:
Sign up
for the free
Mother Jones Daily
newsletter and follow the news that matters.
Stephen King wrote in his treatise Danse Macabre that "horror movies are the nightmares of the mass culture." We all know how efficiently a nasty, queasy dream can make whatever's eating you bob to the surface. Our era and the way we live in it fit the classic horror formula: lurking, dreadful things stalking oblivious prey. In short, we are a ripe and ready audience for horror films that grab us by the scruff of the neck, give us a hard shake, and show us just how much trouble we're in. Recently, we've had 28 Days Later, in which an incurable zombie-making virus gets loose, and George Romero's latest, Land of the Dead, a mordant commentary on keeping the rabble (zombies, of course) out of your gated community. Both films are many cuts above the "slasher" genre and prove that a smart horror flick can provide a grim coming attraction of where our present follies, unchecked, might take us.
Add to this list Homecoming, a sharply satirical made-for-TV horror flick that will be released on DVD this summer. It originally aired last year as part of Showtime's "Masters of Horror" series, but with the midterm elections looming near, the resurrection of this black-humored zombie fantasy couldn't be better timed.
The celluloid undead are never in a good mood when they get up and walk around, and the zombies of Homecoming are no exception. Though director Joe Dante gives a big tip of the hat to Romero's immortal 1968 Night of the Living Dead, his zombies have a far more exalted purpose than just getting a bite to eat. These zombies—soldiers who burst from their flag-draped coffins in a place that looks a lot like Dover Air Force Base after dying in a foreign war a lot like Iraq—single-mindedly stumble and lurch to the polls to influence a presidential election by ousting an unnamed incumbent who happens to sound a lot like Dubya. As zombies go, these are pretty nice ones—they have a sense of civic duty, and they'll kill you only if you're a sleazy neocon operative.
The true monsters in this scenario are the living, the mutant progeny of corporate greed, faux-Christianity, and take-no-prisoners politics who sent the soldiers to die for a lie. There are some delicious caricatures: a fork-tongued televangelist, a zombie-torturing Karl Rove stand-in, and "Jane Cleaver," a splendid blond beast who's authored a book called Subversion: How the Radical Left Took Over Cable News. At first, these spinmeisters hail the risen vets as "the formerly deceased." But when it turns out that the undead are not big supporters of the president, they're declared a national health threat, thrown into orange jumpsuits, and rounded up into camps. When the zombies finally close in on Cleaver on election night, she pulls out a shotgun and taunts them as "crippled, stinking, maggot-infested zombie dissidents!"
Political messages in horror movies are nothing new. It's doubtful that I Was a Teenage Werewolf was designed to be a cautionary tale about the dangers of rebellion and rock and roll, but consider that it came out in 1957, a year after Elvis frightened everybody to death on The Ed Sullivan Show. The '50s also brought us The Thing and War of the Worlds, both of which not accidentally rubbed our noses in the dangers of appeasement. Then there's the art of the veiled subversive tale: The Twilight Zone was invented by Rod Serling in 1959 to evade conservative censors. "I found," Serling said, "that it was all right to have Martians saying things Democrats and Republicans could never say."
More recent films, such as the brilliant, slitheringly terrifying Jacob's Ladder, about a Vietnam vet's horrific unraveling, have premeditated political messages as subtle as a coffin lid popping open. Or slamming shut. Even "message" flicks of the type that were meant to be seen through a windshield have their own power—most notably Romero's Night of the Living Dead, which leapt the cultural fence, starting out at the drive-in and ending up in the National Film Registry. Its freight of commentary ranged from the deathly trap of self-interest to racism, when a black man, the lone survivor of the famous zombie siege (and the only sensible person in the movie), is shot dead by lawmen.
The best horror-with-a-message always lets the audience identify with the plight of the little guy. Take the incomparable Alien, wherein a faceless corporation deems its workers expendable, issuing a secret directive that spells doom for the crew trapped on their spaceship with the monster. The conservative Catholic writer E. Michael Jones ignores this aspect entirely in his book Monsters From the Id (Spence, 2000), going on about how the alien resembles a giant fetus and is the incarnation of our abhorrence of abortion. Jones articulates a socially conservative view of horror as the manifestation of our guilt over post-Enlightenment sexual liberation. Balderdash. Monsters have always been with us, in one form or another, no matter what the century or the culture, shaped by the ancient terrors of our species: death, the unknown, and hostile authority.
Jones' failure to acknowledge the role of hostile authority in Alien—the invisible but all-powerful "Company"—is telling, and has been echoed in conservatives' responses to Homecoming. What they don't get is that its real horror lies not with the poor dead soldiers. One conservative blogger complained about it "exploiting our war dead to make a cheap political point." Dante himself goes along with the cheap part, but not the idea that he'd gone too far politically. In a recent interview, he said of his film: "This pitiful zombie movie, this fucking B movie, is the only thing that anybody's done about this issue? That killed 2,000 Americans and untold amounts of Iraqis? It's sick, it's fucking sick."
Homecoming is no Jacob's Ladder, but it wasn't meant to be. Nor was it designed for the windshield. It has The Twilight Zone's hipness and has scenes destined to be small-screen classics. When that first dead soldier forces open the lid of his steel coffin inside the hangar and sits up stiffly, and we see a human shape shrouded by an American flag in the half-light, it's an ominous, eloquent moment. And it is eerily prescient: In the months since it was first released, nine Iraq war vets have announced they are running for Congress as Democrats opposed to the war. What hath Bush spawned in his laboratory of lies that now causes legions of the stalwart to turn on their commander in chief?
Though the general public may finally be catching on to the real monsters, Dante is right about the failure of his fellow filmmakers. If Hollywood is the hotbed of liberalism it's ballyhooed to be, then where are the unambivalently anti-Iraq-war films that'll sear themselves onto our fright receptors and fry us in our seats? Are we chicken? Can't look the monster in the face? Calling all filmmaking geniuses: Bring 'em on.