According to Centcom, here are the number of bombs released in Afghanistan since the Obama surge of 2010: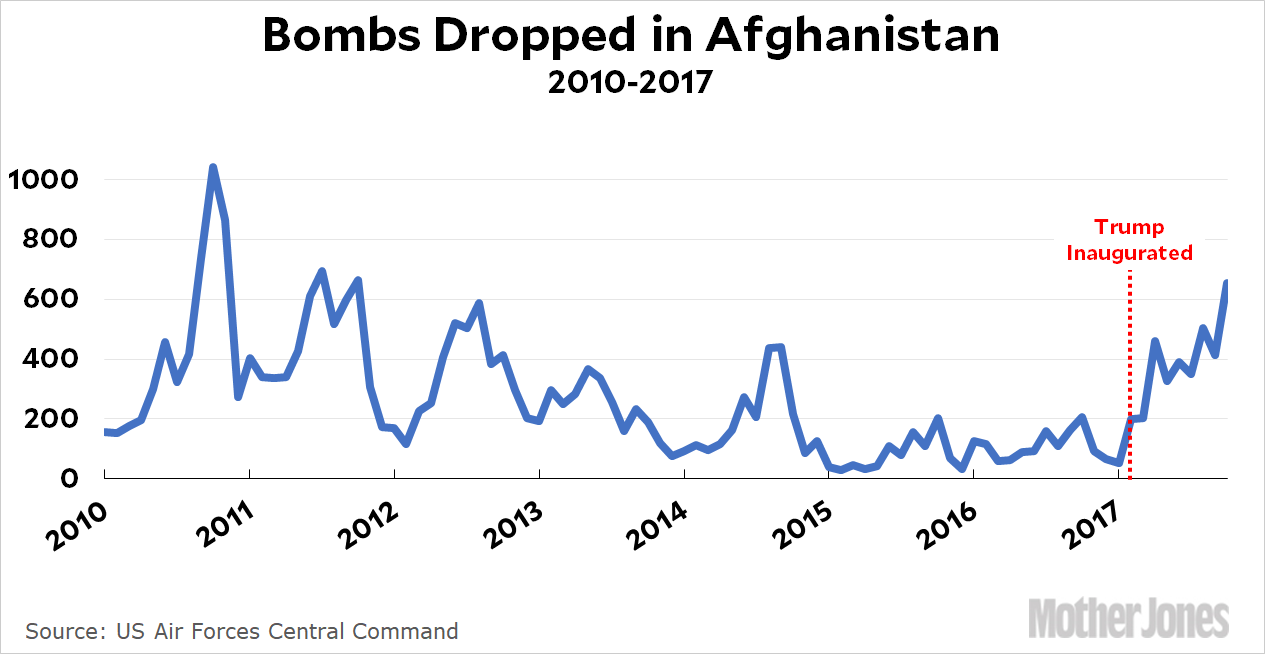 After Obama approved a big increase in troops at the end of 2009—up from 30,000 to 100,000—the air component of the war surged too, with over a thousand bombs dropped in some months of 2010. Later, as the surge was drawn down, the air component was drawn down too. When Donald Trump took office he didn't approve any significant troop increases, but he did ask for more bombing. And he got it: the average number of bombs dropped per month has increased from about 100 in 2016 to over 400 in 2017.
But there's a little more to it. The Air Force is flying more sorties, but the real increase has come in the number of bombs each sortie drops:
For seven years, regardless of troop levels or number of air strikes, one thing has remained constant: among sorties that drop at least one bomb, the average number of bombs dropped has been rock steady at around two. Then, in 2017, that nearly doubled to 3.5. Here's the result:
The United Nations mission in Afghanistan documented 205 civilian deaths and 261 injuries from airstrikes in the first nine months this year, a 52% increase in casualties compared with the same period in 2016.

….When there were 100,000 American troops in the country, then-President Hamid Karzai frequently accused them of excessive force and wielded reports of dead innocents as a cudgel against the United States. Karzai's bombast had an effect: Far fewer civilians died in airstrikes in 2012 and 2013, according to U.N. reports….Experts said North Atlantic Treaty Organization coalition commanders took serious measures to reduce the risk of harm to civilians.

….As the foreign troop presence shrank and NATO shifted its focus to training Afghan forces, coalition officials released less information about operations. They also face less resistance from Afghan President Ashraf Ghani, a stronger proponent of U.S. military action. "The U.S. military is becoming less transparent, and it's a pity because they had worked really hard — and succeeded — in reducing civilian casualties," said Kate Clark, co-director of the Afghanistan Analysts Network, a Kabul-based research organization.

….In October, Defense Secretary James N. Mattis testified to Congress that Trump had authorized him to eliminate the requirement that U.S. forces could fire only when in "proximity" to hostile fighters. "In other words, wherever we find the enemy, we can put the pressure from the air support on them," Mattis said.
The evidence all points in the same direction: US air forces are no longer very concerned about being precise. If they see something, they unload lots of bombs and the result is a big increase in civilian deaths.
As bad as this is on its own, it's even worse in context. After all, how likely is it that a bigger air campaign will work in the absence of more troops? We've been down this road before, and the answer is: not very. Hell, a bigger air campaign didn't even work that well with more troops. The Taliban is roughly as strong now as it was ten years ago.
We've been fighting the Taliban to a tenuous stalemate for more than a decade. If we stay, the stalemate will continue indefinitely. If we leave, the Taliban is likely to eventually regain control of the entire country. These are not great choices, but if we're going to stay the very least we could do is drop the notion that loosening the rules of engagement and killing more civilians somehow shows that "the gloves have been taken off." It's not true, and it doesn't make victory any more likely. It just means we have more dead civilians.