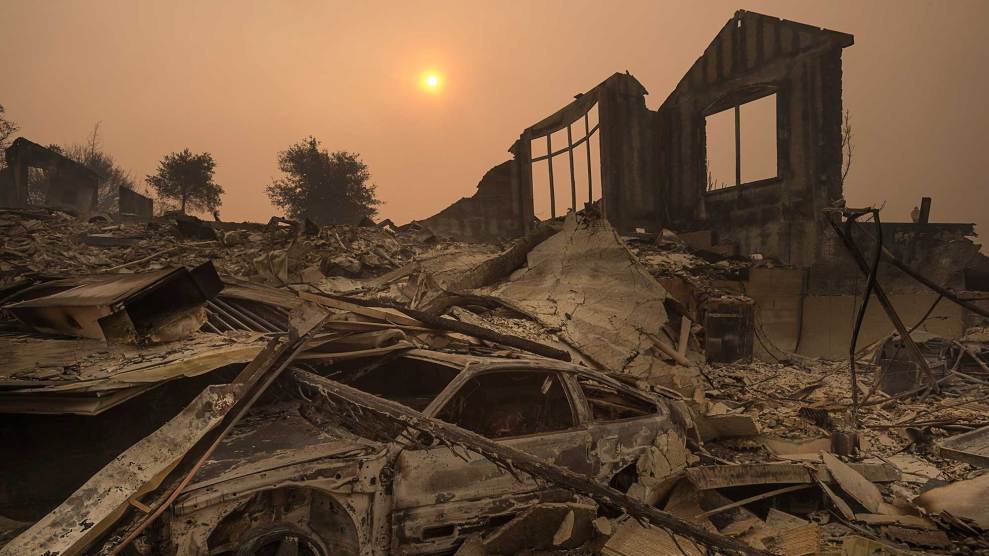 Fight disinformation:
Sign up
for the free
Mother Jones Daily
newsletter and follow the news that matters.
While Kevin's on vacation, we've invited other Mother Jones writers to contribute posts.
I'm waiting about 10 miles from the nearest fire front with bags packed, my cat carrier ready, and my cat locked inside with me.
My property is strewn with ash and chunks of stuff that's been snowing down, off and on, for the last two days. The sky is a sickly orange color and the air is thick with noxious smoke a lot nastier than wood fire. I've packed up trash bags full of extra blankets and pillows to take to the nearest evacuation center, where I've heard that people are sleeping on the floors by night and are bored stiff by day. I wish I could play a musical instrument well enough to entertain them for a spell.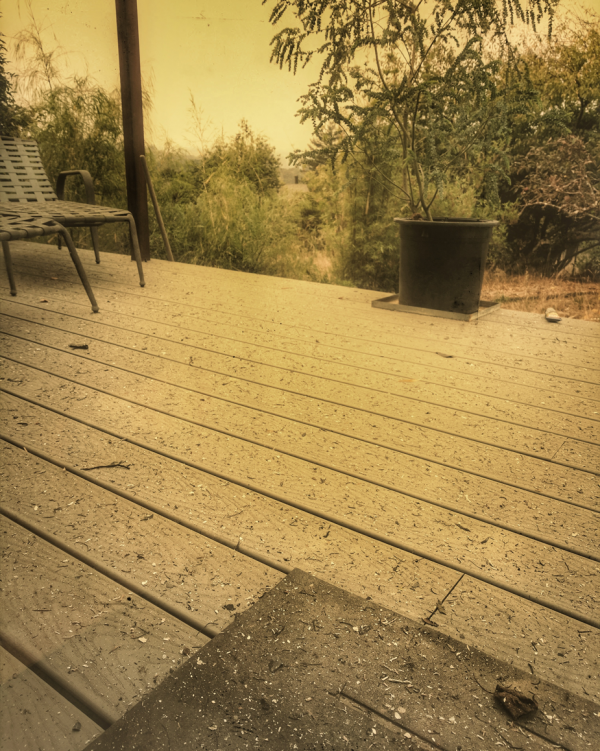 Right now it's afternoon in Sonoma County. That means the winds are picking up and the wildfires with them. I'm listening in on the Northern California Major Incident (Disaster Event) scanner traffic, which is getting increasingly chaotic.
Old fires are kicking up. New fires are sprouting. Requests for air support—drops of water or fire retardant from fixed wing or helicopter—are multiplying. More wind means more energy for the fires and with that comes more smoke. Air crews are beginning to report visibility to poor to navigate. Some airstrips are closing. There are increasingly plaintive requests from crews on the ground asking for air support as fires crest ridges and threaten to erase their backbreaking work of the past 24-plus hours—or worse.
Cal Fire is chasing seven major fires in Sonoma, Napa, Lake, and Mendocino Counties, totaling 83,000 acres—and growing. A report of a brand new fire is coming in from Lake County and another from Napa County just south of Calistoga. There are reports of new vegetation fires in Kenwood and Santa Rosa threatening structures. The Santa Rosa Police Department has announced that the Nunns Fire is rapidly approaching Oakmont—a retirement community for seniors—in Santa Rosa. It remains under mandatory evacuation. The 25,000-acre Atlas Fire in Napa has jumped Atlas Peak Road—an important line firefighters were hoping to hold.  As of this morning, there was still no containment on any of the fires. Crews are simply scrambling to save lives and structures.
Tomorrow's weather bodes ill. Northerly winds are forecast to reach 30 mph or more over the North Bay ridges from 5pm Wednesday through 5pm Thursday. This is the kind of weather that drove the Tubbs Fire twelve miles across the rugged terrain between Calistoga, in Napa Valley, and Santa Rosa, in Sonoma County, at lightning speed in the early hours of Monday morning. Nobody wants to know how these fires are going to act in the next few days.