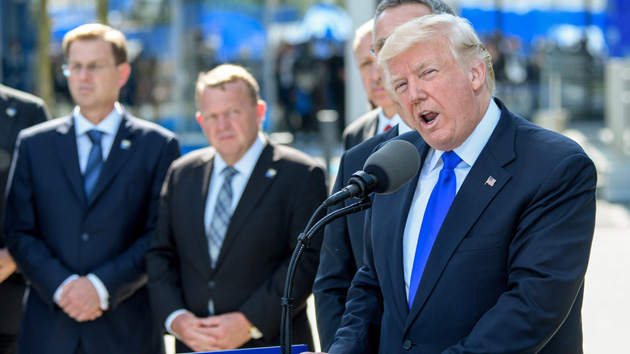 Fight disinformation:
Sign up
for the free
Mother Jones Daily
newsletter and follow the news that matters.
In his NATO speech a week ago, Donald Trump declined to explicitly endorse Article 5, the provision that says an attack on one is an attack on all. I'm on record as suggesting that reaction to this was sort of overblown, but Susan Glasser provides some behind-the-scenes context to suggest it was quite a bit worse than I thought. It turns out that Trump's entire national security team wanted him to offer a public endorsement:
National security adviser H.R. McMaster, Defense Secretary James Mattis and Secretary of State Rex Tillerson all supported Trump doing so and had worked in the weeks leading up to the trip to make sure it was included in the speech, according to five sources familiar with the episode. They thought it was, and a White House aide even told The New York Times the day before the line was definitely included.

….The frantic, last-minute maneuvering over the speech, I'm told, included "MM&T," as some now refer to the trio of Mattis, McMaster and Tillerson, lobbying in the days leading up to it to get a copy of the president's planned remarks and then pushing hard once they obtained the draft to get the Article 5 language in it, only to see it removed again. All of which further confirms a level of White House dysfunction that veterans of both parties I've talked with in recent months say is beyond anything they can recall.
This is…astonishing. MM&T had to lobby just to get a copy of Trump's remarks? And then, after getting the wording in, it was removed behind their backs? WTF?
"They had the right speech and it was cleared through McMaster," said a source briefed by National Security Council officials in the immediate aftermath of the NATO meeting…."They didn't know it had been removed," said a third source of the Trump national security officials on hand for the ceremony. "It was only upon delivery."

….The episode suggests that what has been portrayed—correctly—as a major rift within the 70-year-old Atlantic alliance is also a significant moment of rupture inside the Trump administration, with the president withholding crucial information from his top national security officials—and then embarrassing them by forcing them to go out in public with awkward, unconvincing, after-the-fact claims that the speech really did amount to a commitment they knew it did not make.
Holy shit. It's one thing to lose a battle about what goes into a presidential speech—that happens all the time—but it's quite another to agree to include something and then remove it without telling your top national security advisors. And then send them out to face the press.
This isn't a case of Trump listening to the last guy in the room. It sounds more like Trump being unwilling to tell his national security team to their faces that he disagrees with them—and then screwing them behind their backs. How long can you keep working for a guy like that?
The bizarre thing is that what Trump did wasn't entirely indefensible. It's obviously not what I (or McMaster or Mattis or Tillerson) would have done, but Trump could have made the case that asking NATO partners nicely for increased defense spending hadn't worked in the past, and he wanted to tighten the screws. The way to do it is to make everyone just a little nervous by saying nothing about Article 5 one way or the other.
MM&T would have disagreed, but Trump is president and he could have overruled them. Trump took office promising to disrupt the status quo, so they could hardly have been surprised if he had told them he wanted to play a little hardball and that they should be prepared for some blowback. At least then they would have known what to say afterward.