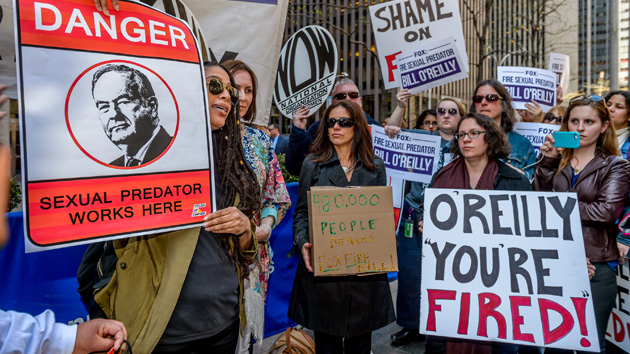 Fight disinformation:
Sign up
for the free
Mother Jones Daily
newsletter and follow the news that matters.
Gabriel Sherman, who has made a career out of reporting about Fox News, says serial lech Bill O'Reilly is out:
The Murdochs have decided Bill O'Reilly's 21-year run at Fox News will come to an end. According to sources briefed on the discussions, network executives are preparing to announce O'Reilly's departure before he returns from an Italian vacation on April 24. Now the big questions are how the exit will look and who will replace him.

…Sources briefed on the discussions say O'Reilly's exit negotiations are moving quickly. Right now, a key issue on the table is whether he would be allowed to say good-bye to his audience, perhaps the most loyal in all of cable (O'Reilly's ratings have ticked up during the sexual-harassment allegations). Fox executives are leaning against allowing him to have a sign-off, sources say. The other main issue on the table is money. O'Reilly recently signed a new multi-year contract worth more than $20 million per year. When Roger Ailes left Fox News last summer, the Murdochs paid out $40 million, the remainder of his contract.
O'Reilly's audience apparently likes the fact that he hits on women constantly in crude and demeaning ways. I guess this doesn't surprise me. Or does it? I'm not sure. But one thing is for sure: O'Reilly's audience really, really hates the idea of caving into the liberal social justice warriors.
So: no Roger Ailes, no Megyn Kelly, no Greta van Susteren, no Gretchen Carlson, no Bill O'Reilly. It's just not the same at Fox anymore. At least they still have Sean Hannity.