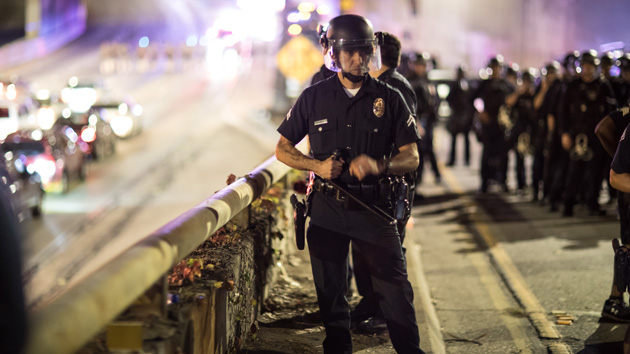 Fight disinformation:
Sign up
for the free
Mother Jones Daily
newsletter and follow the news that matters.
This is from the LA Times yesterday:
The Los Angeles Police Commission voted Tuesday to require officers to try, whenever possible, to defuse tense encounters before firing their guns — a policy shift that marks a significant milestone in the board's attempts to curb shootings by police.
Wait. This is new? This hasn't always been LAPD policy? Apparently not, and apparently not much of anywhere else, either:
As criticism of policing flared across the country, particularly after deadly shootings by officers, law enforcement agencies looked to de-escalation as a way to help restore public trust. Like the LAPD, other departments have emphasized the approach in training and policies.

The Seattle Police Department requires officers to attempt de-escalation strategies, such as trying to calm someone down verbally or calling a mental health unit to the scene. Santa Monica police have similar rules in place, telling officers to try to "slow down, reduce the intensity or stabilize the situation" to minimize the need to use force.

….The focus on de-escalation represents a broader shift in law enforcement, said Samuel Walker, a retired criminal justice professor and expert in police accountability. Now, he said, there's an understanding that officers can shape how an encounter plays out. "This is absolutely the right thing to do," he added.
This is especially important in Los Angeles:
African Americans continue to represent a disproportionate number of the people shot at by officers. Nearly a third of the people shot at last year were black — a 7% increase from 2015. Black people make up about 9% of the city's population but 40% of homicide victims and 43% of violent crime suspects, the report noted.

The LAPD also topped a list of big-city agencies with the highest number of deadly shootings by officers. Police in Los Angeles fatally shot more people than officers in Chicago, New York, Houston and Philadelphia did, the report said. The L.A. County Sheriff's Department came in second, with 15 deadly shootings.
Go ahead and call me naive, but I would have figured that de-escalation was standard protocol everywhere. Not always followed in practice, of course, but at least theoretically what cops are supposed to do. But apparently not. It sounds like it started to catch on after Ferguson, and is only now being adopted as official policy in a few places.
Better late than never, I suppose, but I wonder what's stopping this from being universally adopted? What's the downside?