Fight disinformation:
Sign up
for the free
Mother Jones Daily
newsletter and follow the news that matters.
At 4:32 pm, President Trump put up this tweet: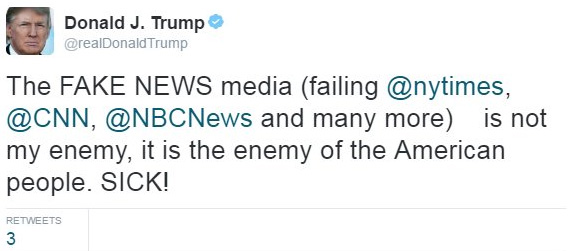 It was quickly deleted and 16 minutes later it was replaced with this: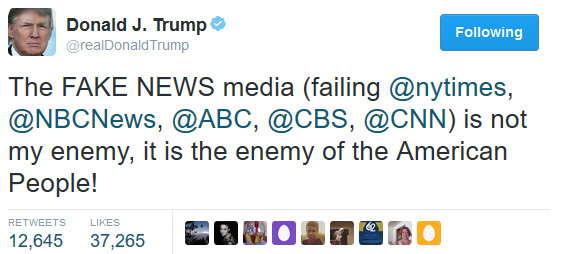 Fascinating! Here are the edits Trump made:
Changed "and many more" to the more specific @ABC and @CBS.
Eliminated the ugly extra spaces after the parentheses.
Capitalized the P in "people."
Removed "SICK!"
What can this mean? Did someone tell Trump that his tweet sounded like something Hitler might have written and he should probably revise it? No one has ever told him this before, so it seems unlikely this time too. Presumably he made these changes all on his own. Let's do a little Kremlinology here:
It's obvious that Trump's real enemies are CNN, NBC, and the Times. Then, later, he tossed in CBS and ABC. Was this to cover his tracks? Nah. He doesn't care what us overeducated elitists think. More likely it's because he decided his fans1 wouldn't automatically fill in ABC and CBS, so he needed to be more explicit about it. After all, he wants his fans to distrust all the media they consume except for Fox, so it makes sense to be very clear about this.
Eliminating the spaces is either because Trump has a love of neatness we've never seen before, or because they pushed his tweet over 140 characters. However, the tweet is only 123 characters long, so I guess it must have been a purely esthetic bit of editing.
Hmmm. American people vs. American People. That's a tough one. The latter is more Germanic, which might have appealed to him. In English, though, it's also less literate. That might have appealed to him too. Or, maybe Trump just capitalizes stuff randomly and there's nothing to this.
This is the real chin scratcher. Did he think that SICK! was going too far? I can't imagine why. And the one-word adjective at the end is standard Trump Twitter grammar. We do know that Trump is a germaphobe, so maybe he doesn't even like typing the word. However, a quick search shows that he's called several people sick in the past year (Karl Rove, Megyn Kelly, failing New York Times). So what is it? WHY DID DONALD TRUMP REMOVE THE WORD "SICK" FROM THIS TWEET???
Oh, and by the way, calling the press an enemy of the people really is pretty Hitleresque. Unfortunately, I have a feeling that an awful lot of Trump's supporters might not consider that such a bad thing.
1As always, remember that his supporters are the audience for his tweets, not you or me.