Jon Hilsenrath writes today that the Fed's reputation is in the gutter these days:
For anyone seeking to explain one of the most unpredictable political seasons in modern history, with the rise of Donald Trump and Bernie Sanders, a prime suspect is public dismay in institutions guiding the economy and government. The Fed in particular is a case study in how the conventional wisdom of the late 1990s on a wide range of economic issues, including trade, technology and central banking, has since slowly unraveled.

Once admired globally for their command of the economic system, central bankers now are blamed by the left and right for bailouts during the financial crisis and for failing to foresee and manage forces suffocating the global economy in its aftermath.
To the extent that this is about the ways the global economy has changed, and the challenges of figuring out how to respond to these changes, this is all fair. But to the extent that it's a criticism of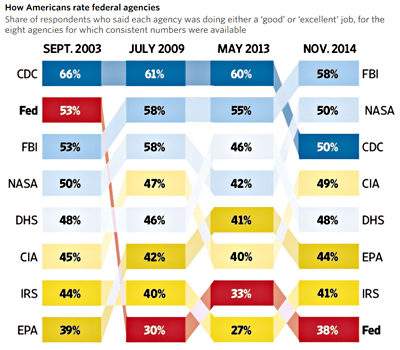 the way the Fed has managed policy since 2008, I sure wish there had been more than one sentence about other policymakers who fell down on the job:
"I certainly myself couldn't have imagined six, seven years ago that we would be employing the policies we are now," Fed Chairwoman Janet Yellen said to a packed ballroom in New York earlier this year. She lamented the government has leaned so heavily on the Fed to stimulate the economy while tax and spending policies were stymied by disagreements between Congress and the White House.
Ben Bernanke felt the same way as Yellen, so this isn't a partisan lament. But "disagreements" sells this short. President Obama may deserve some grief over some of his policies, as well as his premature pivot to austerity politics, but the biggest problem has been clear all along: congressional Republicans who were hellbent on opposing any and all fiscal responses to the biggest economic downturn since the Great Depression. I don't think the Fed did too badly, all things considered, but a jet flying on only one engine can only do so much.
As for public disapproval of the Fed, sure, some of that is from lefties who opposed the bailouts. But the vast bulk of it is from tea party conservatives who are endlessly in a panic about hyperinflation and "easy money"—precisely the hysterical fears the Fed had to fight to do even as well as it did. If the Ron Paul contingent had had their way, we'd probably be staring at 20 percent unemployment right now. But they're still convinced otherwise, and they remain mad at the Fed for not bringing on the golden age they're so sure was just around the corner.
Who knows? Maybe Hilsenrath has an entire article teed up about the role of Congress in all this. Done well, it would be a very good read.