Fight disinformation:
Sign up
for the free
Mother Jones Daily
newsletter and follow the news that matters.
Via Steve Benen, I see that the Republican Party has released yet another autopsy of the past few elections. This one is written by Gingrich Productions,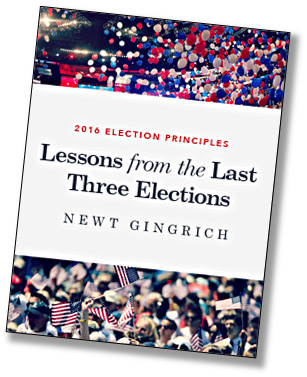 and Newt explains his thinking toward the end of the report:
At Gingrich Productions we felt that some very profound changes were underway and we knew we did not understand them. We had been as wrong as anyone else about the probable outcome of the 2012 election.
That's some welcome humility, which isn't really in character for Newt. Maybe someone else wrote that bit. In any case, what does Newt recommend? There are nods to minority outreach buried in the middle of the report, and lots of attention to the new technology of campaigning (micro-targeting, social media, etc.). But what's at the very top? What does Newt really want to make sure people see? Here you go:
1. The wrong words cripple or kill. At least 5 Republican Senate candidates (Delaware, Missouri, Nevada, Indiana, Colorado) were defeated in 2010 and 2012 because they used language in a way that isolated them and alienated voters….

2. The right big idea or ideas, expressed in clear and simple language with the right tone, can win campaigns. Larry Hogan's intense focus on cutting taxes while refusing to comment on controversial issues propelled him to a shockingly large and unexpected victory as Governor of Maryland….

3. Big Ideas can attract donations and the lack of ideas can make money irrelevant….
Yeesh. Big Ideas™ and Big Language™ have been Newt's stock in trade for decades. He could have written this in his sleep. And all the stuff about new technology and social media has been obvious for years. Everyone is gaga over this stuff and has been since 2008. I sure hope the RNC didn't pay very much for this report.