Fight disinformation:
Sign up
for the free
Mother Jones Daily
newsletter and follow the news that matters.
A few days ago Ta-Nehisi Coates wrote that he was disappointed in Bernie Sanders' opposition to reparations, which I thought was unfair given Coates' own equivocal position in his epic 2014 Atlantic cover story. However, I didn't bother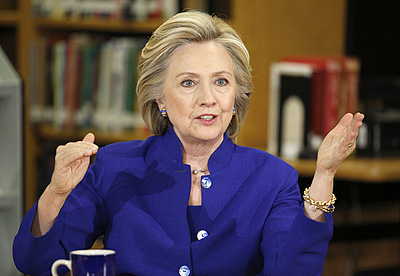 suggesting that it was unfair to pick on Sanders and not Hillary Clinton. Coates made it clear that he was disappointed in Sanders because Sanders is a radical and still doesn't support reparations. Fair or not, that made sense, so I skipped it.
I was largely alone in this. By far the biggest criticism leveled at Coates has been precisely the fact that he didn't mention Clinton even though she plainly doesn't support reparations either. In a campaign season, I suppose that's inevitable, and Coates defends himself here. But this goes too far:
Voters, and black voters particularly, should never forget that Bill Clinton passed arguably the most immoral "anti-crime" bill in American history, and that Hillary Clinton aided its passage through her invocation of the super-predator myth.
There are two big problems here. First, the 1994 crime bill was supported by most black leaders at the time.1 It was addressing a real problem, and no one at the time knew that violent crime was already starting a historic two-decade drop. Despite that, both Bill and Hillary Clinton now acknowledge that the crime bill was flawed, especially the carceral aspects. I don't imagine this is an argument that's ever going to be resolved, but for all the bill's faults, I think it's (a) unfair to use hindsight and hyperbole ("most immoral in American history") to vilify the actions of people 20 years ago who had legitimate reasons to think they were in the middle of a huge social problem, and (b) even more unfair to suggest the bill was central to the problem of mass incarceration. The vast majority of the carceral state had been put in place long before.
Second, suggesting that Hillary Clinton aided the passage of the 1994 crime bill via a speech she gave in 1996 speaks for itself. Hate Clinton all you want, but she hasn't invented time travel.
1And, as several people have reminded me, by congressman Bernie Sanders.