Ben Carson said Thursday that Adolf Hitler's mass murder of Jews "would have been greatly diminished" if German citizens had not been disarmed by the Nazi regime…"But just clarify, if there had been no gun control laws in Europe at that time, would 6 million Jews have been slaughtered?" Blitzer asked.

"I think the likelihood of Hitler being able to accomplish his goals would have been greatly diminished if the people had been armed," Carson said…"I'm telling you that there is a reason that these dictatorial people take the guns first."
This got me curious: Did Hitler take away everyone's guns? As you can imagine, I know zilch about the history of gun control in Germany, so I surfed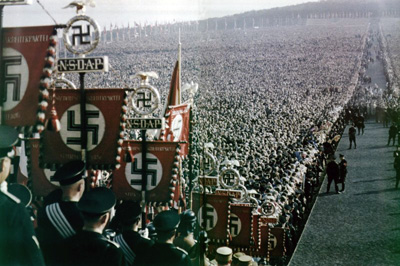 over to Wikipedia, the source of all knowledge, for a quick refresher course. Here's what they say:
In 1919, the Treaty of Versaille disarmed Germany. "Fearing inability to hold the state together during the depression, the German government adopted a sweeping series of gun confiscation legislation." This was long before Hitler came to power.
In 1928 this legislation was relaxed. "Germans could possess firearms, but they were required to have [] permits…Furthermore, the law restricted ownership of firearms to '…persons whose trustworthiness is not in question and who can show a need for a permit.'" Again, this was before Hitler came to power.
In 1938, Hitler relaxed the law further. Rifles and shotguns were completely deregulated, permits were extended to three years, and the age at which guns could be purchased was lowered to 18.
Now, Hitler did effectively ban Jews from owning guns in 1938. However, this is highly unlikely to have affected the fate of the Jews even slightly. The Nazis were considerably better armed and organized, and if Jews had taken to shooting them it would have accomplished nothing except giving Joseph Goebbels some terrific propaganda opportunities. The 1943 Warsaw Ghetto Uprising is a good example of this: Jews fought back, and the result was a few dead Germans and 13,000 dead Jews.
The bottom line is familiar to anyone with even a passing knowledge of history: Hitler was popular. He didn't need to take away anyone's guns. Whatever you think about gun control, using Hitler to defend your position is a bad idea.