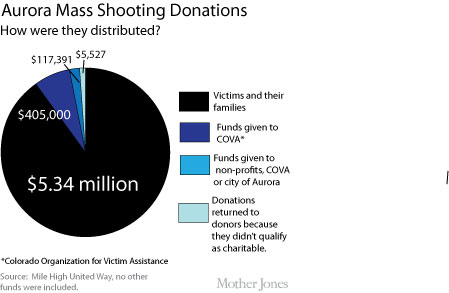 "We focus on the proceedings. We focus on the death penalty. We focus on the perpetrator. But we don't focus on the people affected."
That was how Sandy Phillips, whose daughter Jessica Ghawi was among the 12 people murdered in a movie theater in July 2012, described the American public's perception as the trial of mass shooter James Holmes got underway on Monday in Aurora, Colorado. It's a fair point given the inordinate attention that such killers crave, and tend to get, from the media. Yet as Phillips also noted, "that ripple effect of how many people are affected by one act by one person, one animal, is incredibly large."
She's right—not just in terms of the trauma and suffering borne by the victims (an additional 58 wounded and 12 others injured in the chaos), their families, and their communities, but also in terms of the literal cost. The price tag for what was one of the worst mass murders in US history is in fact stunningly high: well over $100 million, according to our groundbreaking investigation into the costs of gun violence published earlier this month.
For a quick explanation of the data behind the large sums our country pays for this problem, watch the following 90-second video, with more details on the Aurora tally continuing just below:
The economic impact of Aurora: For starters, long before the attorneys gave opening statements this week, legal proceedings for Holmes had already topped $5.5 million back in February, including expenses related to the unusually large pool of 9,000 prospective jurors called for the case. Add to that the total costs for each of the 12 victims killed: At an average of about $6 million each, that's another $72 million. For the 58 who survived gunshots and were hospitalized, with an average total cost for each working out to about $583,000, add another $33 million. (Costs for some of the gunshot survivors may have varied widely, of course.) And these figures don't even begin to account for what the city of Aurora, the state of Colorado, and the federal government have since spent on security and prevention related to the attack.
Indeed, a mass shooting like the one in Aurora doesn't just have an outsize psychological impact but also a financial one. And these days, fiscal conservatives may want to note, we're paying that price more often.