Fight disinformation:
Sign up
for the free
Mother Jones Daily
newsletter and follow the news that matters.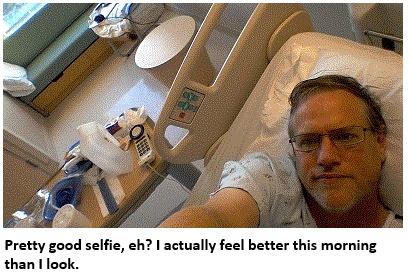 According to my surgeon, yesterday's kyphoplasty went swimmingly well. I needed to be prepared for normal post-op recovery pain, but once I was through that my back would be in good shape.
Unfortunately, "normal post-op recovery pain" turned out to be hours of excruciating, mind-numbing agony. At one point I was on four separate pain killers and they still weren't doing the job. I finally got a second dose of the most powerful one, and that made things barely tolerable—though at the medium-term expense of my stomach, I suspect.
But that was yesterday. Today I feel OK, and this morning I got out of bed and hobbled around the room without any significant pain So, success!
This is the last post that can fairly be called "housekeeping," but not the end of the story. I'll have more news later.