The latest Kaiser Health Tracking Poll is out, and Greg Sargent summarizes the highlights: "Views of the ACA remain unfavorable, but the gap is narrowing…..Support for repeal continues to shrink….Crucially, a majority, 53 percent, say they are tired about hearing about the law and want to move on to other issues….Most of the ACA's individual provisions are wildly popular."
There's one other interesting note from the latest poll, along with one frustrating note. First the interesting note. On Monday I mentioned that views of Obamacare had become dramatically less favorable among the uninsured. Apparently that was short-lived. Here's the latest:
This suggests that the main reason for the blip was Obamacare's well-publicized rollout problems. Once those got addressed, and people were able to sign up without too much hassle, opinions turned back around.
And now for the frustrating note. I've mentioned several times before that a simple approval/disapproval question about Obamacare is misleading. The problem is that there's a fair chunk of the population that disapproves of Obamacare not because it's a government takeover of health care, but because it doesn't go far enough. These are people who are perfectly happy with the idea of national healthcare, but want Obamacare to do more. This is obviously not part of the standard conservative critique that we automatically think of whenever we hear about "disapproval" of Obamacare.
This month, Kaiser asked about this in more detail than before. Among those who disapprove, they asked why they disapproved. Here's what they got: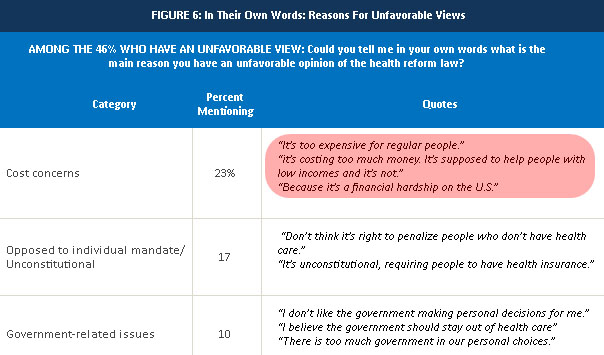 So close! The bottom two answers are clearly right-wing concerns. But the first one is mixed. "Cost concerns" is split between people who think the subsidies are too low (left-wing criticism) and those who think it's a budget buster (right-wing criticism). Those are very different things. This was a great opportunity to really get a read on how much right-wing opposition there really is to Obamacare, but this poll doesn't quite do it. Maybe next time.