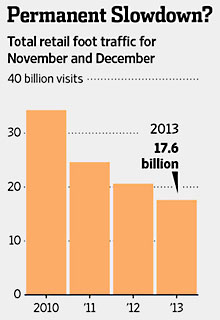 The Wall Street Journal reports that foot traffic in retail outlets plummeted this holiday season:
A long-term change in shopper habits has reduced store traffic—perhaps permanently—and shifted pricing power away from malls and big-box retailers.

….Traffic to U.S. retailers was hurt during the financial crisis and recession, when job losses soared and shoppers kept a tight grip on their dollars. But nearly five years into the recovery, it appears many of those shoppers may never be coming back….Shoppers don't seem to be using physical stores to browse as much, either. Instead, they seem to be figuring out what they want online then making targeted trips to pick it up from retailers that offer the best price.
This is actually not quite the tale of woe that it sounds like. It's more interesting than that. In the past, brick-and-mortar outlets complained about shoppers coming to stores to check out the merchandise but then buying online. Now the tables have turned: shoppers are going online to check out prices and products, and then making a quick trip to pick up their goods instead of driving around town to a bunch of stores to do comparison shopping.
The result is that foot traffic is down, but sales are up: holiday spending increased 2.7 percent in 2013 compared to 2012. That's not a great number, and obviously profits have taken a big hit as stores try to compete with low internet prices. Still, if sales are up 2.7 percent and foot traffic is down 14 percent, that means your staffing cost per dollar of sales is down. This is not unalloyed bad news for physical stores.
I'm not trying to be Pollyanna-ish here. Obviously brick-and-mortar stores have big challenges. Still, they might be able to thrive if they can learn to adapt to an environment in which there's less casual browsing and more serious, targeted shopping. Anybody who's worked in retail knows that you treat these kinds of shoppers differently, and perhaps the brick-and-mortar world needs to transition to a model in which they treat their customers by default as targeted shoppers. After all, there are still plenty of us who don't believe everything we read online and still want to see things with our own eyes before we buy them.