Fight disinformation:
Sign up
for the free
Mother Jones Daily
newsletter and follow the news that matters.
Mike Tomasky writes today about something that a lot of us have spent the past couple of years deploring: the increasingly naked Republican campaign to suppress the nonwhite vote.
Up to now its measures were local and somewhat haphazard—scare-tactic fliers circulated in black neighborhoods, GOP elections officials "forgetting" to ship the right number of voting machines to minority areas, that sort of thing….Now, though, in these past couple of years, the GOP strategy has been institutionalized. It's come above ground, and the thugs in black outfits distributing handbills in the dead of night before Election Day have been replaced or at least supplemented by thugs in suits and ties trying to put a respectable sheen on this obviously anti-democratic business.
This is why NAACP president Benjamin Jealous calls the current Republican tactics "James Crow Esquire": the tactics may not be as as brutal as they were 50 years ago, but the goal is the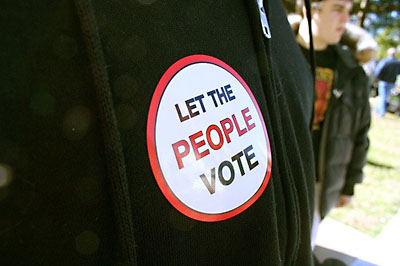 same. Ed Kilgore, a son of Georgia, comments:
That's probably fitting. This election does, after all, follow a four-year period in which conservatives have gotten into the habit of publicly proclaiming things they used to keep to themselves: anyone receiving any sort of government assistance is a "looter" or a "taker;" poor and minority people "vote themselves welfare;" voting is a "privilege, not a right;" people who don't pay federal income taxes shouldn't be allowed to vote, etc., etc. The desire to suppress votes to one extent or another has gotten deeply into the DNA of a party that considers itself under siege by demographic change.

And quite predictably, two of the more brazen GOP pols, Florida Gov. Rick Scott and Ohio Secretary of State Jon Husted, are making a spectacle of themselves in their zeal to restrict voting opportunities. If one of them showed up outside an early polling place with a bullwhip and police dogs, it wouldn't seem out of place, and many of their "base" supporters would lustily cheer. After all, when Husted defies a judge to require voters to fill out forms establishing their right to vote, or when Scott turns away voters standing in line for hours, that's some more "looters" who won't have the opportunity to take away the good virtuous folks' tax dollars or (earned!) Medicare benefits.
When it comes to photo ID laws, Republicans at least have the outward semblance of an argument: they're trying to prevent voter fraud. There's no evidence of more than a tiny handful of people ever committing the kind of fraud that photo ID would stop, but at least it's an argument. But pair that up with the recent jihad against early voting hours, and even the pretense of an argument goes away. There's nothing these two things have in common except for their unusually negative impact on demographic groups—including blacks, Hispanics, students, and the poor—that tend to vote for Democrats. It's the GOP's last-ditch effort to stave off demographic apocalypse.
Is there any kind of silver lining here? Probably not, but if there is one, it's this: it might backfire. The GOP has been so ravenous in its desire to suppress the vote of groups it doesn't like that it might make them more motivated than ever to vote. We'll see.
In the meantime, the MoJo team is following reports of voter suppression throughout the election tomorrow. Our summary of voter suppression around the country is here. Check out the main site and the political blog to keep up to date.