There's lots of chatter this morning about Mitt Romney's "Benghazi moment" last night, and Ed Kilgore wonders if Romney will keep up his attacks on Obama's handling of Libya next week. "Given the extremely narrow nature of Romney's foreign policy critique of Obama last night and throughout the campaign, you do have to wonder what the final debate next week will be like. Will Romney continue to conduct an inquisition of exactly what Obama said when on the Libya killings, treating the incident as a sort of domestic version of Fast & Furious, a key to the Vast Liberal Conspiracy?"
That's pretty much my question too. Adam Serwer has a good rundown of the bickering over whether Obama really referred to Benghazi as an act of terror in his Rose Garden speech the next day, or whether he was just generically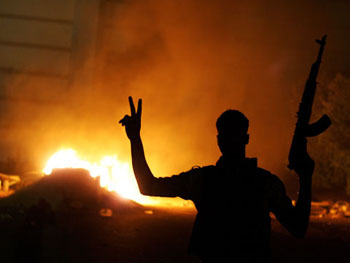 referring to acts of terror, and anyway, even if he did, why did he then decline to do it again a few days later, etc. etc. That's all fine, I guess, just part of a tight campaign entering its closing days.
But what I really wonder is: how has this become a serious question anyway? Why does anyone care if it took two weeks to decide that Benghazi was an act of terror? Two weeks! That's not exactly an eternity. Even if it were true that Obama spent a few days waiting for firm intelligence reports before making firm statements, is there anything wrong with that? Isn't that what a president should do?
Republicans seems to think that this is some kind of huge gotcha moment that will show Obama as a weak and flailing leader on the world stage. But I suspect they're caught up in their own echo chamber, the same one that insists Obama wants to take your guns away and has spent the past four years apologizing for America. Unfortunately, the more they dive into the conspiratorial weeds on this, the worse they look to ordinary Americans who don't really mind that President Obama waited a few days to sift through the evidence instead of going off half cocked within a few hours. That approach brings back sour memories of George Bush, while the endless forensic analysis of exactly what Obama said and when he said it probably brings to mind fever swamp Kennedy assassination obsessives poring over frames of the Zapruder film.
I really doubt that Romney is doing himself any favors by keeping this up. Fairly or not, Candy Crowley put a stake through the Republican storyline when she embarrassed Romney over his slipshod accusation, demonstrating vividly that he had mindlessly bought into yet another Great White Whale from the right-wing outrage machine without bothering to check things for himself. That's not Moderate Mitt, and that makes it a loser. He'd be well advised to move on to something that strikes average voters as a little less childish.