Fight disinformation:
Sign up
for the free
Mother Jones Daily
newsletter and follow the news that matters.
Earlier this morning I predicted that it wouldn't be long before political scientists began plugging second-quarter GDP numbers into the election models to figure out who's going to win in November. I predicted correctly! First out of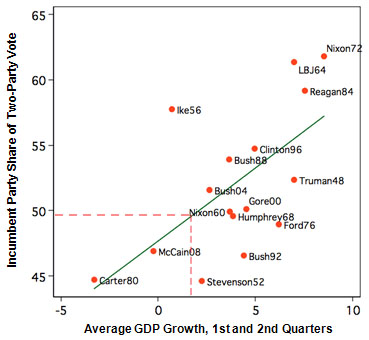 the gate — first that I've run across so far, anyway — is Seth Masket, who provides us with the chart on the right. I've added the horizontal dashed red line to show exactly where the latest numbers put us, and the news is slightly bad for President Obama: Masket's regression shows Obama winning about 49.7% of the popular vote. Masket provides all the proper caveats:
This isn't the strongest correlate with presidential vote shares. Real disposable income does a bit better, as do measures that incorporate third quarter growth. But still, by itself, this measure explains 39% of the variation in vote shares.

You'll notice that there's a red dotted line projecting the 2012 presidential vote based on GDP growth this year (an average of 1.75%). It basically hits the trendline right at 50%, continuing to indicate a really, really close contest. Notably, we're experiencing slower economic growth than George W. Bush had to contend with in 2004 or his father faced when he lost reelection in 1992.

Of course, I'm not making a forecast (political scientists are apparently terrible at that). I'm just suggesting that what we've seen so far this year from the economy is consistent with a very close election, and that things with more modest influences on the vote (campaign spending, voter turnout efforts, new voter ID requirements, etc.) could end up making all the difference.
Well, maybe Masket isn't making a forecast, but that won't stop the rest of us. Unfortunately, the numbers really are too close to be meaningful. It's not as if Obama is winning or losing by five percentage points or something. Given the limits of the model and the tightness of the numbers, Masket is right: it's still anyone's race. This year, at least, it looks as if the economic fundamentals are so evenly balanced that all the other campaign stuff really is going to make the difference. Just the way the media likes it.
POSTSCRIPT: Do you want my prediction? Sure you do! My guess is that the economic fundamentals really are on a knife-edge this year. However, voters usually keep parties in the Oval Office for two terms and toss them out after that. So if your party has held the presidency for one term, you have about a two-point built-in advantage. If your party has already held the presidency for two terms, you have about a two-point disadvantage.
It doesn't always work out that way, but take a look at all the outliers at the top right of the chart: they're all candidates running for second terms. Now take a look at the outliers below the green line. They're all candidates running for third, fourth, fifth, or even sixth terms (poor old Adlai in 1952).
Obama is running for a second term. So I'd add about two points to Masket's number and forecast a popular vote majority of around 51% to 51.5%. That's my current guess, unless something really huge happens between now and November.
UPDATE: Using a similar methodology to mine, Alan Abramowitz's model gives Obama about 50.5% of the popular vote.