Fight disinformation:
Sign up
for the free
Mother Jones Daily
newsletter and follow the news that matters.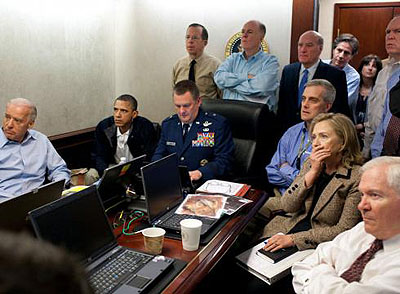 A few days ago I tweeted:
This post deserves an award of some kind. Nominations are open for type of award. ow.ly/azgix
And what was the mysterious post I was promoting? It was a gobsmacking piece of pretzel bending from Ben Shapiro taking a triple bank shot off a sentence in a memo that Leon Panetta circulated last year just before the bin Laden raid. The president has approved the operation, Panetta wrote, and Admiral William McRaven is in operational control. "Any additional risks are to be brought back to the President for his consideration." This is, needless to say, a nothingburger. Of course the military is in operational control of a special teams mission. Of course additional risks should be brought to the president's attention. This is the way things work. But Shapiro managed to figure out a different angle:
It doesn't show a president willing to take the blame for a mission gone wrong. It shows a CYA maneuver by the White House. The memo puts all control in the hands of Admiral McRaven — the "timing, operational decision making and control" are all up to McRaven. So the notion that Obama and his team were walking through every stage of the operation is incorrect. The hero here was McRaven, not Obama. And had the mission gone wrong, McRaven surely would have been thrown under the bus.

The memo is crystal clear on that point. It says that the decision has been made based solely on the "risk profile presented to the President." If any other risks — no matter how minute — arose, they were "to be brought back to the President for his consideration." This is ludicrous. It is wiggle room. It was Obama's way of carving out space for himself in case the mission went bad. If it did, he'd say that there were additional risks of which he hadn't been informed; he'd been kept in the dark by his military leaders.
This was so absurd that I thought nothing more of it. I was impressed at the level of creative nutbaggery involved, but that was all. I tweeted it and forgot it.
Today, however, Dave Weigel sets me straight. Shapiro's post apparently went viral among the Breitbart/Fox/Drudge set:
The Shapiro Theory got around the world faster than the swine-bird flu in Contagion. His post has been tweeted more than 160,000 times and shared on Facebook nearly 25,000 times. Time's original story has been shared on Facebook fewer than 100 times.

On April 30, three days after the memo was released, the Shapiro Theory became Michael Mukasey's theory….Four days later, Sean Hannity invited Mukasey onto his Fox News show to share the theory.

….To paraphrase Newt Gingrich: These are dispatches from Cloudcuckooland….This must be why the Obama campaign celebrates Christmas every day that the media discusses OBL — it drives Bush loyalists absolutely insane when they realize Obama gets the credit.
As always, I continue to be amazed at the creativity of the arguments conservatives come up with. It never would have occurred to me to interpret Panetta's memo the way Shapiro did, and if it had occurred to me I would never have said so publicly because it would have been too embarrassing to admit that the thought had crossed my mind. Going further and pretending that I actually took the idea seriously would have been flatly out of the question. The mountain of mockery I could expect even from my own partisans would have been too much for me.
But Dave is right: the idea of Obama getting credit for killing bin Laden just drives conservatives up a tree. At this point, many of them are, apparently, literally willing to believe anything that suggests otherwise. Shapiro's post is obvious claptrap, but that doesn't matter. It's an anti-Obama lifeline to cling to, so cling they will. Shapiro obviously knows his audience well.