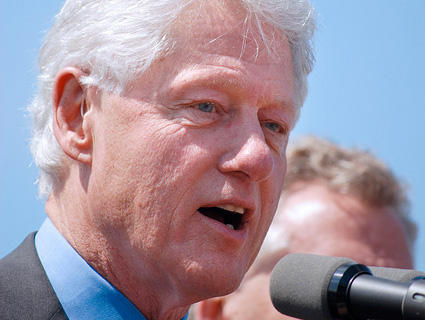 Fight disinformation:
Sign up
for the free
Mother Jones Daily
newsletter and follow the news that matters.
If there's any justice in the universe, Scott Walker will lose his job and never get another one that grants him power over the lives of other people ever again. Unfortunately, evidence of justice in the universe remains inconclusive at best, and downright contradictory at worst. And that's not even taking luck into consideration.
Still, it's probably good news that former president Bill Clinton is on his way to Wisconsin to campaign against the governor, whose anti-worker and anti-beer legislation has led to a recall election in that state.
For one thing, the recall effort is risky. If Democrats fail to unseat Walker on Tuesday, and Tom Barrett is defeated, Republican morale in the state is sure to surge, possibly leading to Wisconsin swinging for Romney in November. Meanwhile Walker will have even more of a mandate to tinker with workers' rights, women's rights, and education than ever before.
The Wisconsin protests last year were huge and impressive, but Walker has remained surprisingly popular. Budget concerns and middle class squabling between public and private sector workers have made Walker's policies more popular than they would be outside of a recession.
Can Bill Clinton work his magic and rally voters to the polls? Maybe. But it's going to be a close one.