Fight disinformation:
Sign up
for the free
Mother Jones Daily
newsletter and follow the news that matters.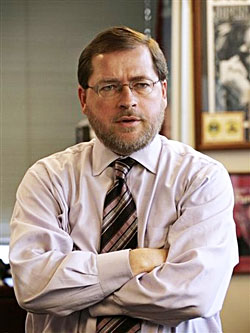 Grover Norquist explains to Politico how he keeps everyone in the Republican Party toeing the anti-tax line:
Sometimes, he said, he has to yank a wandering leader back into line, as he said he did with Senate Minority Whip Jon Kyl (R-Ariz.) in May. Kyl publicly ruled out raising tax rates to bring in revenue, which was interpreted by some observers as leaving the door open to a variety of tax increases that wouldn't involve rate changes.

"So, I call Kyl. 'What did you say? What did you mean? How can we work together on this?'" Norquist said, adopting the tone of a teacher scolding a second grader as he recalled the conversation. "Yes, I said rates," Kyl said, as Norquist recalled.

"And then," Norquist said, "he went down on the floor, and he gave a colloquy about how we're against any tax increases of any sort. Boom!"
Is Norquist exaggerating to make himself look good? Maybe. But this is a two-edged sword. In public, Norquist usually likes to pretend that he plays a modest personal role, and that's served him well. This kind of boasting probably doesn't. Even a bunch of anti-tax Republicans might start to rebel if they start hearing stuff like this from him a little too often.