Fight disinformation:
Sign up
for the free
Mother Jones Daily
newsletter and follow the news that matters.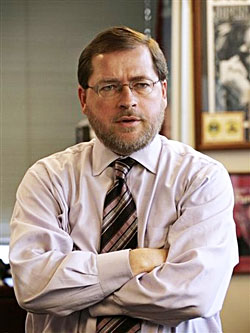 The Washington Post tells us today that several dozen Republican members of Congress have decided to brave the wrath of Grover Norquist:
A group of 40 House Republicans for the first time Wednesday encouraged Congress's deficit reduction committee to explore new revenue as part of a broad deal that would make a major dent in the nation's debt, joining 60 Democrats in a rare bipartisan effort to urge the "supercommittee" to reach a big deal that could also include entitlement cuts.

….Among those who signed were several dozen Republicans who had previously signed a pledge promising they would not support a net tax increase….Rep. Steven C. LaTourette (R-Ohio) said if he had a nickel for every one of the Republicans who said they supported the letter's goal but feared how Norquist would react, "I'd be rich and retired, and we'd have 200 signatures on the letter."

LaTourette, a close ally of House Speaker John A. Boehner (R-Ohio), said the new coalition was a sign that Republican leaders are now willing to unite with Democrats on a grand bargain that would address both revenue and entitlements, even if it meant leaving behind some of the GOP's hardline voices.
Even after all these years, I continue to marvel at the bizarre stranglehold that Norquist has on the Republican Party. Sure, LaTourette is exaggerating for effect, but if there are even a hundred Republicans who are tired of Norquist's schtick, why don't they band together to tell him to go to hell? His power depends on being able to pick off individual congressmen who stray from the oath, but he can't pick off a hundred at a time. One small show of collective action and they'd be free of him.
I conclude from this that LaTourette is being duped. Lots of Republicans tell him privately that they'd support him if it weren't for Norquist's baneful influence, but it's just a snow job. They really don't support him at all, and Norquist is just a convenient foil to hide behind. That may not be true for all of them, but I'll bet it's true for most. After all, collective action is what national political parties are all about. It isn't really all that hard to come up with if its members are truly serious about something.