Fight disinformation:
Sign up
for the free
Mother Jones Daily
newsletter and follow the news that matters.
Everyone took shots at Herman Cain's 9-9-9 plan tonight, but they mostly didn't draw much blood. Cain just out-blustered them, and he was helped by the fact that the rest of the field had a hard time really going after him hard. After all, how can a bunch of conservatives attack a plan that's basically conservative flat-taxism on steroids? It's especially hard when Cain is apparently willing to flatly lie about the fact that it would raise taxes on the poor and middle class by a lot.
(Cain kept claiming that a new report on his website showed that the poor and middle class wouldn't see their taxes go up. That apparently prompted enough excitement to crash his site. When it came back up, I found the report, which doesn't appear to include any kind of distributional analysis at all.)
In other news, Rick Perry was awake this week! Maybe a little too awake. His constant interruptions of Romney early in the debate didn't make him look good, and his obviously calculated resurrection of the 2007 foofaraw over Romney's gardening service employing illegal immigrants carried the stink of desperation to me.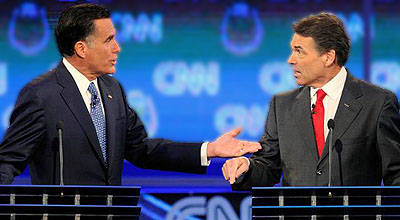 Perry didn't seem to have the audience on his side during these episodes, either.
Romney did fine, as usual, but looked a little more aloof than usual. But maybe I'm just imagining that.
Aside from that there wasn't much new. Perry wants to defund the UN. Everyone wants to slash foreign aid. Nobody even pretended to have anything to say about housing. The whole tone of the debate was testier than usual, something that will probably get even worse as we get closer to the primaries.
Those are just my initial reactions, of course, and as usual, I have no idea whether actual conservatives are likely to react the same way. Probably not.
UPDATE: Andrew Sprung's reaction:
There were so many lies, slanders, panderings, nostrums and nonsensical statements that it makes me weary to even think of itemizing them. I was happy, however, to note that this seven-headed monster spent a fair amount of energy biting itself — that is, several candidates accused each other of lying, flip-flopping, being unworthy of trust. Santorum accused Perry of being for TARP before he was against it — when in fact, it seems, Perry simply made good use in 2009 of his gutless equivocation in October 2008. Perry histrionically rehashed the 2007 debate charge that Romney hired illegal immigrants to mow his lawn and then lied about it, for which Romney's defense boiled down to "it's so hard to get good help these days" — and Perry, in a shoutfest, flat-out accused him of lying. Herman Cain did the job on himself without much help, claiming that he didn't say(or mean) three things that he's said quite recently — that the U.S. should put up an electrified border fence, that it should negotiate with al Qaeda if they took a U.S. hostage, and that the unemployed are to blame for their predicament. Michele Bachmann used every question as an occasion to demonize Obama and was duly ignored by everyone else.

Another edifying evening. I'd like to think that after a few more such victories Romney will be finished (for the general). Pretty to think so.
The most interesting assaults of the night came from Mitt Romney—and they were aimed at Rick Perry. Again and again, he manhandled the Texas governor, who is in single-digits in recent voter surveys. Every time, Perry toke a poke at Romney—on jobs in Massachusetts, on using a gardening firm that hired undocumented immigrants, on whatever—Romney was ready for him and slammed him in response much more effectively.

….Romney is worried about a Perry comeback. I didn't clock it, but it sure felt as if Romney spent more time with Perry in his sights than Cain. This would suggest that Team Romney considers Cain still the flavor of the nanosecond who will eventually flame out….Perry, though down and out (and downer and outer after this debate), could still revive—if only because he has the bucks to rebuild. He does have the money to wage a monumental ad campaign against Romney.
I agree. It's still a Romney-Perry race, and Romney knows it.