Fight disinformation:
Sign up
for the free
Mother Jones Daily
newsletter and follow the news that matters.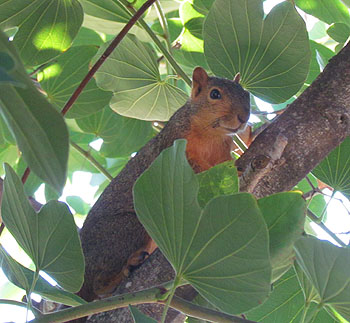 Our squirrel was back today. I know, I know, it's just a squirrel. Who cares? But there was some doubt about my report of its coloring the last time I mentioned it, and this time I got a picture of our little friend — which is harder than it sounds. They're quick little things. Quicker than the autofocus on my camera, anyway.
So, anyway, here it is, nature red in tooth and claw. Domino was fascinated for a while until the squirrel did something that scared her off. I can't imagine what, since it was hopping from tree to tree the whole time and never got closer to her than ten feet. But something happened, and she made a dash around the side yard. In any case, I assume that our resident squirrel experts can tell me what kind of squirrel this is now that I have a picture? Or maybe embarrass me by telling me that it's actually a chipmunk or something?
This soothing nature break has been brought to you by Emerald Nuts, the favorite of nut-hoarding squirrels everywhere. Frenetic political blogging will resume shortly.