Fight disinformation:
Sign up
for the free
Mother Jones Daily
newsletter and follow the news that matters.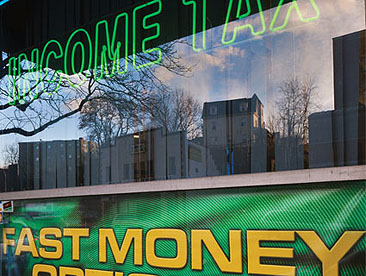 It's tax day, so you should go read Gary Rivlin's great piece in our current issue about the tax prep business and its laser-like focus on the desperate and the easily scammed:
"We recommend that you locate your office where the household income is $30,000 or less," the Instant Tax manual counsels. Each franchisee attends a week of training sessions where "unbelievable emphasis was put on poor minorities," according to former franchisee Habtom Ghebremichael, who recalls a trainer telling his group, "We cater to the 'hood." His archetypal customer, Ogbazion says, is an assistant manager at a fast-food restaurant earning $19,000 a year. "They've burned the banks," he says. "They've bounced too many checks. They've mismanaged their finances." Experience has taught him that a few amenities (a ficus tree, free coffee, TV in the reception area) go a long way in making customers feel welcome. "At the check-cashing place, they're talking to someone behind bulletproof glass," Ogbazion continues. "The welfare building—you can imagine what that's like. Here, we treat them well, and they want to come back."
The emphasis of the piece is on Refund Anticipation Loans, the high-cost loans that these places will give you as soon as they've finished your tax return and figured out how big your refund will be. To my surprise, though, that's not really where the money is. RALs are indeed lucrative, usually generating fees of over $100 on a risk-free loan of a couple thousand dollars. But this is just what gets the marks in the door. The real key to the inner city tax prep business is that they charge several hundred dollars to prepare a simple tax return that a legitimate accountant would likely do for no more than a hundred bucks — and that the IRS would do for free. All together, your average working poor schmoe probably pays upwards of $400 or more to get that instant refund.
Lately the low-end tax prep business has gotten a little tougher, as big banks have stopped providing credit lines and the IRS has stopped telling preparers which of their customers are likely to have their refunds garnished — something that actually makes RALs legitimately risky. Click here for the whole story.